Morgan Stanley (NYSE:MS), the sixth largest US bank by assets, reported net income applicable to the company of $1.45 billion, or 74 cent per share, compared $936 million, or 48 cents per share, a year earlier. These numbers indicate a 55 percent jump in first quarter earnings. Higher than expected income is mostly supported by the increase in revenue from institutional securities business.

(Source: Morningstar)
Year to date stock performance has been full of ups and downs as visualized below. In line with this development I believe that the stock will likely face some headwinds, but I also believe that there are some tailwinds in the horizon.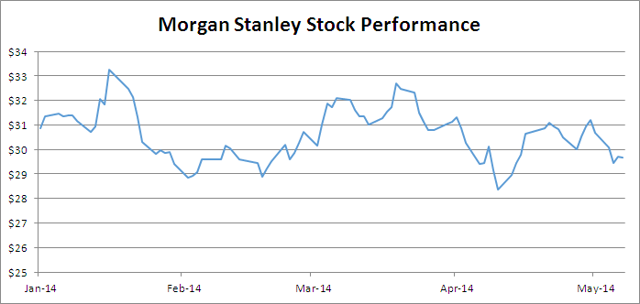 (Source: Yahoo Finance)
First let me talk about the headwinds. As I noted above better than expected results are mostly due to developments in revenues of the institutional securities segment. Compared to the last quarter Morgan Stanley saw its total sales and trading revenues double (see the table below). It roughly presents 70% of the total revenues generated in the segment.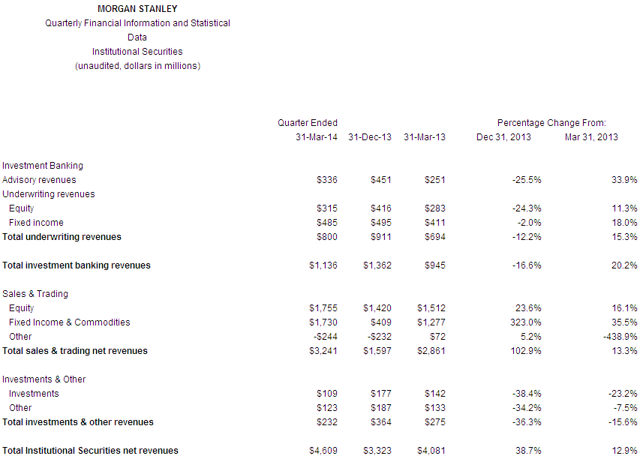 (Source: Morningstar)
Many investment banks today look more like hedge funds rather than traditional firms serving as intermediaries between the users and suppliers of capital. Therefore substantial changes will be needed in this business model under the Volcker rule. And here is the catch, as the concerns around the future of investment banking rise, the sustainability of the rising revenues in the institutional securities segment of Morgan Stanley remain highly questionable. Even Chief Executive Officer James Gorman settles for the end of the golden age of investment banking with the new regulations.
But it is not all doom and gloom. The bank plans a consumer banking push to be able to take the advantage of the US economic recovery. With a move deeper into the territory of traditional banking, Morgan Stanley executives are trying to find ways in which the bank could lend more and offer new deposit products to retail customers. In this way the bank will focus on lending to existing brokerage clients, particularly mortgages and loans secured against customers' portfolios of securities. By this the bank will be able to make a fresh push into consumer banking. Launching new business in consumer lending area would help the bank to boost the profit. However, it also should be pointed out that lending to existing clients might become a problem and cause a big provision for bad loans to be taken.
Trading at 11.8x 2014E P/E, I believe that the stock mostly priced in the above-mentioned favorable and unfavorable trends. Therefore I would rather wait for a better entry point and utilize potential weaknesses to build positions. As of now I remain strictly neutral on Morgan Stanley.
Disclosure: I have no positions in any stocks mentioned, and no plans to initiate any positions within the next 72 hours. I wrote this article myself, and it expresses my own opinions. I am not receiving compensation for it (other than from Seeking Alpha). I have no business relationship with any company whose stock is mentioned in this article.