After beating analysts' expectations by $0.05 (7.9%) in its third-quarter fiscal 2014 earnings report, Microsoft Corporation's (NASDAQ:MSFT) stock price has remained almost unchanged. However, since the beginning of the year MSFT stock has risen 5.7%, while the S&P 500 index has risen 1.6%, and the Nasdaq Composite Index has declined 2.5%, and since the beginning of 2013 MSFT stock has risen 48.0%, while the S&P 500 index has risen 31.7%, and the Nasdaq Composite Index has risen 34.9%. Nevertheless, MSFT stock is a good combination of excellent value and solid growth dividend stock, and in this article, I will explain why, in my opinion, Microsoft stock is a remarkably promising long term investment.
Major Developments
On April 25, Microsoft announced that it has completed its acquisition of the Nokia Devices and Services business. The total transaction price was about $7.16 billion. The two companies formed a partnership in 2011 to develop smartphone handsets, with Nokia eventually abandoning its own Symbian smartphone operating system in favor of Microsoft's Windows Phone OS. According to IDC, Windows Phone is the fastest-growing ecosystem in the smartphone market, and its portfolio of award-winning devices continues to expand. Windows Phone reinforced its position as a top three smartphone operating system and was the fastest-growing platform among the leading operating systems with 91 percent year-over-year gain.
On February 04, Microsoft announced the appointment of Satya Nadella as CEO. Mr. Nadella is leading a shift to focus on selling devices and software delivered over the Internet, both for Microsoft's own Windows operating system and rival programs. Rising sales of Web-based tools, such as Office software and Azure cloud services, are helping the largest software maker grapple with shrinking personal-computer demand and a failure to gain ground in tablets and phones.
In my opinion, both recent developments are extremely beneficial for the company; with the Nokia mobile phone business, Microsoft will target the affordable mobile devices market, a $50 billion annual opportunity, delivering the first mobile experience to the next billion people while introducing Microsoft services to new customers around the world. Furthermore, Mr. Nadella's focus on cloud and cloud infrastructure projects is highly logical, given the growing importance of cloud-based services and the fact that enterprise software has become the primary driver of results over the last few years. Sales from Office 365, the cloud-based subscription version of Microsoft's productivity programs, already more than doubled in the quarter that ended March 31, as did revenue from Azure.
Valuation Metrics
The table below presents the valuation metrics of MSFT, the data were taken from Yahoo Finance and finviz.com.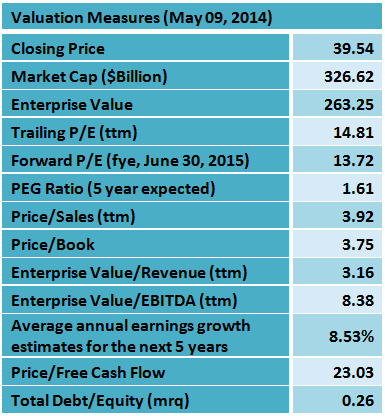 Microsoft's valuation metrics are pretty decent; the company has a low debt, and the Enterprise Value/EBITDA ratio is very low at 8.38. According to finviz.com, MSFT's next financial year forward P/E is at 13.72, and the average annual earnings growth estimates for the next 5 years is at 8.53%, these give a PEG ratio of 1.61 while it is not a low PEG ratio, it is also not a high ratio.
Dividend
Microsoft has been paying uninterrupted dividends since 2003. The forward annual dividend yield is at 2.83%, and the payout ratio is at 39.6%. The annual rate of dividend growth over the past three years was very high at 20.9%, over the past five years was also high at 15.9%, and over the past ten years was very high at 27.7%. I consider that besides dividend yield, the consistency and the rate of raising dividend payments are the most crucial factors for dividend-seeking investors, and MSFT's performance has been impressive in this respect.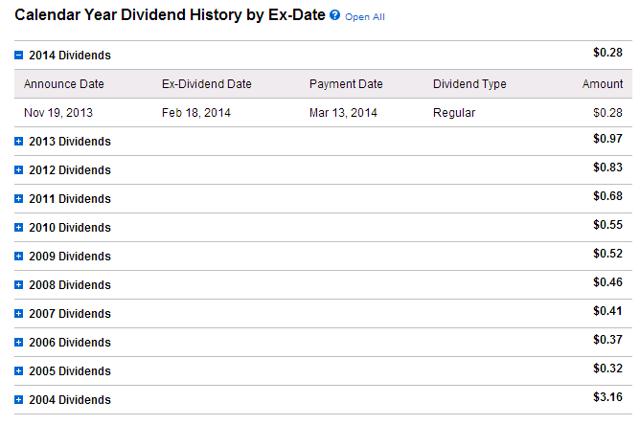 Source: Charles Schwab
Latest Quarter Results
On April 24, Microsoft reported its third-quarter fiscal 2014 financial results, which beat EPS expectations by $0.05 (7.9%) and were in-line on revenues.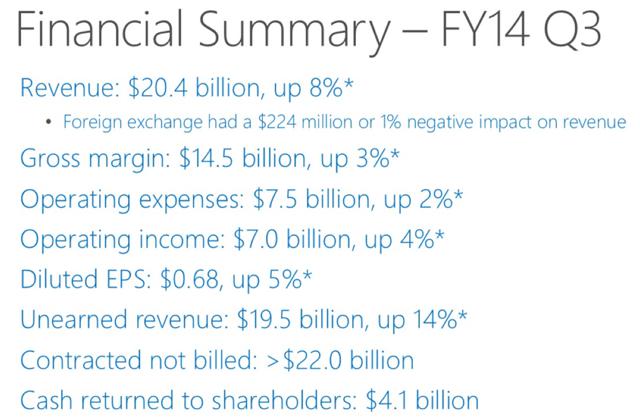 Source: Microsoft s Earnings Call Slides
In the report, Satya Nadella, chief executive officer at Microsoft said:
This quarter's results demonstrate the strength of our business, as well as the opportunities we see in a mobile-first, cloud-first world. We are making good progress in our consumer services like Bing and Office 365 Home, and our commercial customers continue to embrace our cloud solutions. Both position us well for long-term growth. We are focused on executing rapidly and delivering bold, innovative products that people love to use.
Competitors and Group Comparison
A comparison of key fundamental data between Microsoft and its main competitors is shown in the table below.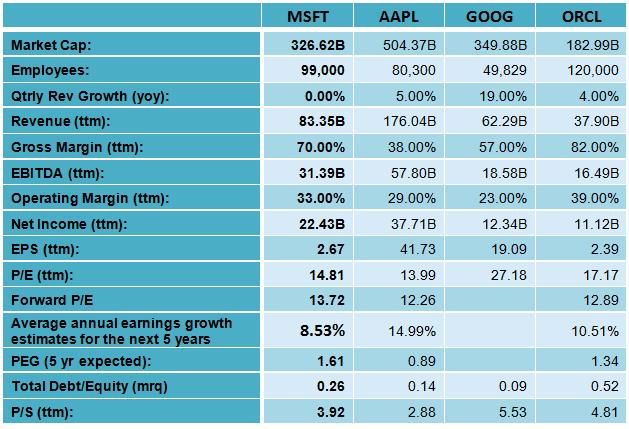 Source: Yahoo Finance, finviz.com
Microsoft's valuation metrics are not as good as those of Apple (NASDAQ:AAPL), but comparing it to Oracle (NYSE:ORCL), MSFT has a lower debt and a higher PEG ratio.
Microsoft's Margins and Return on Capital parameters have been much better than its industry median, its sector median and the S&P 500 median, as shown in the tables below.


Source: Portfolio123
Ranking
According to Portfolio123's "All-Stars: Greenblatt" powerful ranking system, Microsoft stock is ranked fourth among all S&P 500 tech stocks. Only CA Technologies (NASDAQ:CA), Cisco Systems, Inc. (NASDAQ:CSCO), and Apple Inc. (AAPL) are ranked higher (see my article about CSCO). The " All-Stars: Greenblatt " ranking system is taking into account just two factors; Return on Capital and Earnings Yield (E/P) in equal proportions. Back-testing has proved that this ranking system is one of the best free available ranking method. I recommend investors to read Joel Greenblatt's book "The Little Book That Beats the Market", where he thoroughly explains his system.
Technical Analysis
Personally I am using only fundamental analysis for my investment decisions. After many years of experience, and after having tried all kinds of decisions making including technical analysis, I have reached the conclusion that relying on fundamental information is giving me the highest return. Nevertheless, some investors are successfully using technical analysis to find the proper moment to start an investment (I am not talking about traders; my analysis is only for investors). The charts below give some technical analysis information.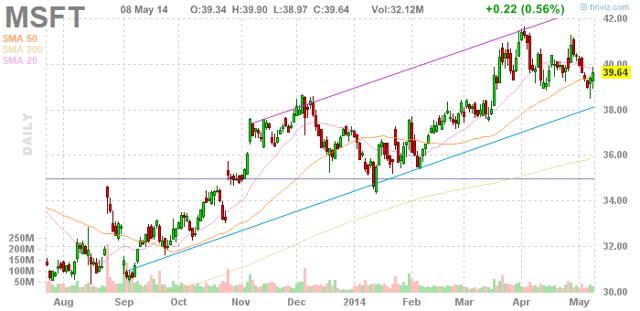 Chart: finviz.com
The MSFT stock price is 0.69% below its 20-day simple moving average, 0.11% above its 50-day simple moving average and 10.01% above its 200-day simple moving average. That indicates a short-term downtrend, and a mid-term and a long-term uptrend.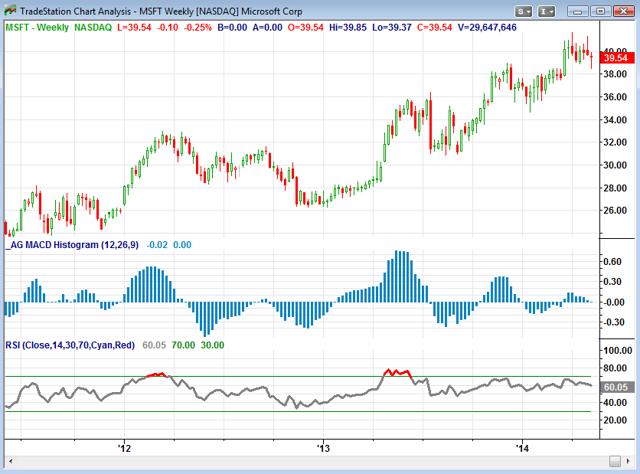 Chart: TradeStation Group, Inc.
The weekly MACD histogram, a particularly valuable indicator by technicians, is negative at -0.02 and descending, which is a bearish signal (a rising MACD histogram and crossing the zero line from below is considered an extremely bullish signal). The RSI oscillator is at 60.05 which do not indicate oversold or overbought conditions.
Analyst Opinion
Analyst opinion is divided, among the thirty five analysts covering the stock, five rate it as a strong buy, six rate it as a buy, twenty one rate it as a hold and three analysts rate it as an underperform.
TipRanks is a website that ranks analysts according to their performance. According to TipRanks, among the analysts covering MSFT stock there are only fifteen analysts who have the four or five star rating, five of them recommend the stock, nine have a hold rating on the stock, and one analyst rates it as a sell. On April 22, Jefferies' analyst Ross Macmillan reiterated a buy rating on Microsoft with a price target of $46. I consider Mr. Macmillan's analysis very valuable, since he has 5-Star rating from TipRanks for the accuracy of his previous calls.
Conclusion
As the world's largest software developer, Microsoft will benefit from its move into the cloud and cloud infrastructure projects. Microsoft has a very strong balance sheet; it has $88.4 billion in cash and equivalents, and only $22.7 billion in debt. Microsoft is generating strong free cash flows ($22.7 billion ttm) and returns value to its shareholders by stock buyback and by increasing dividend payments. Microsoft repurchased $6.1 billion of its stock in the first nine months of FY14, ahead of last year's pace of $4.3 billion. The company bought back about $5 billion per year in FY13 and FY12. Microsoft stock is ranked fourth among all S&P 500 tech stocks, according to "All-Stars: Greenblatt" supremely powerful ranking system. All these factors bring me to the conclusion that MSFT stock is a smart long-term investment. Furthermore, the rich growing dividend represents a gratifying income.
Disclosure: I am long MSFT. I wrote this article myself, and it expresses my own opinions. I am not receiving compensation for it (other than from Seeking Alpha). I have no business relationship with any company whose stock is mentioned in this article.