Annaly Capital Management (NYSE:NLY) reported first quarter 2014 results on May 7, 2014 which missed analysts' earnings estimates. The mREIT reported core earnings for the first quarter of $0.23 per common share which compares unfavorably against analyst consensus estimates of $0.27 per common share.
For the first quarter 2014 Annaly Capital Management further reported:
Core earnings of $239.7 million ($0.23 per common share) compared against $350.1 million ($0.35 per common share) in the previous quarter and compared against $296.4 million ($0.29 per common share) in the year ago quarter. On a per share basis, this reflects a sequential decline of 34% and a y-o-y decrease of 21%. Core EPS of $0.23 for the first quarter is also substantially lower than the current $0.30 per share that the mREIT pays in dividends.
A GAAP net loss of $203.4 million ($0.23 per common share) compared against GAAP net income of $1.0 billion ($1.07 per common share) in Q4 2013 and compared against $870.3 million ($0.90 per common share) in the year ago quarter. The table below reconciles Annaly Capital Management's GAAP net income to core earnings.

(Source: Annaly Capital Management, Inc. First Quarter 2014 Results Press Release, May 7, 2014)
An average interest spread of 0.90% down from 1.43% in Q4 2013 and down from 0.91% in Q1 2013.
While Annaly Capital Management's results clearly do not give investors reason to cheer, some good developments happened during the most recent quarter as well:
Most notably, Annaly's per share book value erosion has come to a stop -- for now. For the first quarter 2014 Annaly Capital Management reported a per share book value of $12.30, up slightly from $12.13 reported for the fourth quarter 2013 but still down meaningfully from $15.19 reported for the first quarter 2013. Annaly Capital Management now trades at a 6% discount to book value. Annaly's closest competitor, American Capital Agency Corporation (NASDAQ:AGNC), currently also trades at a 6% discount from its net book value of $24.49 per share. A large part of my short thesis with respect to both Annaly Capital Management and American Capital Agency Corporation was driven by the trend of persistent book value erosion. I have since closed my short position in AGNC as the mREIT posted a sequential increase in per share book value in the most recent quarter. I have argued in the article "Have mREITs Finally Reached The Bottom?" that a return to positive book value growth justifies a reevaluation of mREITs.
Annaly Capital Management's leverage ratio stayed low: The mREIT reported a leverage ratio of 5.2:1 in Q1 2014 which compares against 5.0:1 in Q4 2013 and against 6.6:1 in Q1 2013. Decreasing leverage ratios is an important move for Annaly to de-risk its balance sheet.
Share performance
Weak first quarter results and a sizable earnings miss sent shares of Annaly 3% lower yesterday. However, Annaly Capital Management has rebounded nicely from its 52-week Low of $9.66: The stock is up 19% since and up 15% YTD.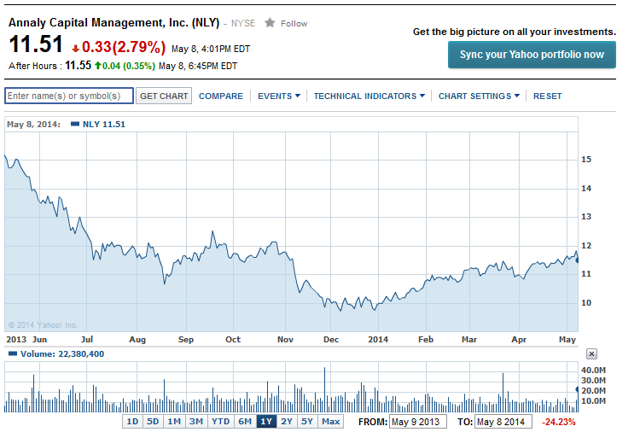 (Source: Yahoo Finance)
The tenacity of mREIT investors has been extensively tested over the last two years. Increasing interest rate volatility and the nearing end of QE had a massively negative impact on share prices of major mREITs Annaly Capital Management and American Capital Agency Corporation. Both companies have destroyed vast amounts of shareholder value since 2012.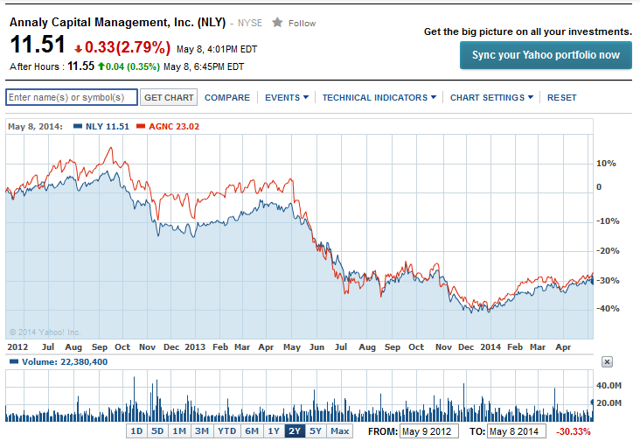 (Source: Yahoo Finance)
Dividends and yields
Of course, like many of you know, I have seen Annaly's dividends critically for a long time in terms of sustainability and I forecasted lower dividends and cyclical adjustments to its payout policy in 2014. Ms. Wellington Denahan, Chairman and Chief Executive Officer of Annaly Capital Management, commented on Annaly's dividend policy during the Q1 2014 conference call:
Finally, one important distinction I would like to make about the second quarter and beyond, going forward, our dividends will reflect the true earnings power of our portfolio. And under current market conditions, coupled with this quarter's repositioning of our short dated legacy hedge position, which is not reflected in our Q1 results, we feel comfortable maintaining our dividend at the $0.30 level in the quarters ahead.
Her comment about the relationship between Annaly's prospective dividends and 'the true earnings power' implies, that past dividends may not necessarily have reflected Annaly's true earnings power. In other words: Past dividends were indeed unsustainable -- which validates my point about expected dividend adjustments made earlier.
For the time being, Annaly Capital Management pays $0.30 per share which translates into a forward dividend yield of 10.43%. Compared to other mREITs in the sector, Annaly now scores at the lower end of the yield spectrum. Companies against which Annaly Capital Management is benchmarked include: AGNC, Capstead Mortgage (NYSE:CMO), ARMOUR Residential (NYSE:ARR), American Capital Mortgage Investment Corp. (NASDAQ:MTGE), Hatteras Financial (NYSE:HTS) and CYS Investments (NYSE:CYS).
(click to enlarge)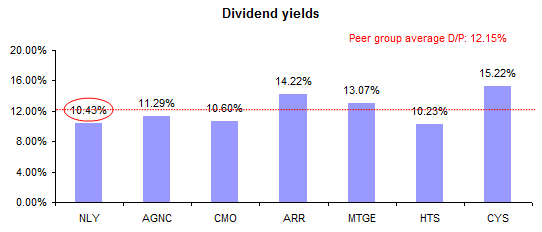 (Source: Achilles Research, Finviz.com)
Conclusion
Since I have already closed my position in AGNC, I am trending toward closing my short position in Annaly Capital Management as well. Most notably, Annaly's positive sequential book value growth is a positive for shareholders and could mark an important inflection point. On the other hand, I am still skeptical with regard to Annaly's dividend policy: Annaly's core EPS took a serious nosedive this quarter and isn't covering the dividend. Moreover, Denahan appears to manage dividend expectations. If Annaly achieves a reversal in underlying profitability and presents another sequential increase in book value per share growth, it might be just the time to abandon the short thesis.
Disclosure: I am short NLY. I wrote this article myself, and it expresses my own opinions. I am not receiving compensation for it (other than from Seeking Alpha). I have no business relationship with any company whose stock is mentioned in this article.