At the end of February the year to date performance for the dividend payers in the S&P 500 Index significantly trailed the performance of the non-payers by a large 673 basis points. Two months later, at the end of April, the year to date average return of the payers now exceeds the non-payers by 66 basis points.
Much has been written about the bubble bursting in some of the momentum names, like Amazon (NASDAQ:AMZN) down 26.7% YTD, Verisign (NASDAQ:VRSN) down 19.8% YTD and Yahoo (YHOO) down 16.5% YTD, all non-dividend paying stocks. Conversely, the telecommunication and utility stocks have significantly outperformed the overall market. The utility ETF (NYSEARCA:XLU) is up 11.3%, CenturyLink (NYSE:CTL) is up 14.8% and Winstream Holdings (NASDAQ:WIN) is up 15.2% this year, all dividend payers.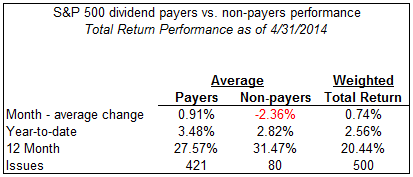 From The Blog of HORAN Capital Advisors
Source: S&P Dow Jones Indices (xls)
The other factor influencing investor returns in March and April is the the outperformance of mega cap stocks like Exxon Mobil (NYSE:XOM), Apple (NASDAQ:AAPL), Microsoft (NASDAQ:MSFT), Johnson & Johnson (NYSE:JNJ) and Chevron (NYSE:CVX). These stocks are all dividend payers and top holdings in the Guggenheim Russell Top 50 Index (NYSEARCA:XLG).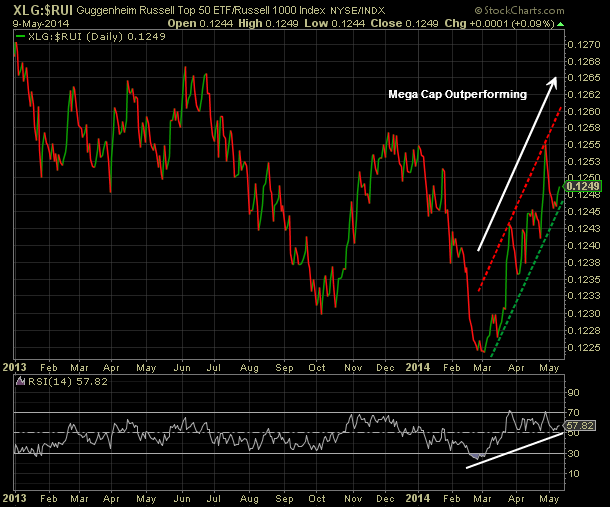 From The Blog of HORAN Capital Advisors
The sideways trending market this year, along with investor cautiousness as the "sell in May" seasonality phenomenon gets much attention, both have contributed to investors seeking safety in these higher quality mega cap dividend payers.