Church & Dwight (NYSE:CHD) is a manufacturer of a diversified mix of consumer products. Operations are set up into 3 different divisions: Domestic Consumer Products, International Consumer Products and Specialty Products. Domestic Consumer Products is by far C&D's biggest division, accounting for about 3/4th of its revenues and profits, but the international division is growing strongly. Little more than 10 years ago, Church & Dwight was, for all intents and purposes, a company which did its business in just the United States. Presently, around 17% of sales are from foreign countries. Fully operational subsidiaries exist in Canada, Mexico, U.K., France, Australia and Brazil, and exports are currently being made to 90 countries.
Church & Dwight sells over 80 different brands, but 9 of them are particularly valuable for the company. These brands are Arm & Hammer, First Response, Nair, Orajel, Oxiclean, Spin-Brush, Trojan, Vitafusion & L'il Critters and Xtra. Four of those 9, Arm & Hammer, Oxiclean, Trojan and Vitafusion & L'il Critters, are particularly important, as 60% of sales come from these 4 brands.
Total compound annual shareholder return over the past decade has been approximately 16%, far surpassing the 3% offered by the S&P 500. Worldwide net sales increased 9.3%, and EPS increased 13.9% in 2013, marking the 13th consecutive year that greater than 10% EPS growth has been achieved. In late January of this year, an 11% dividend increase was announced. The recently declared dividend marks the 453rd consecutive regular quarterly dividend. That stretches back all the way to 1902-quite a streak.
Church & Dwight's consumer products portfolio consists of nearly an even split between premium and value products, which enable the company to succeed in various different business environments. While outperforming the market during the last 5-year bull market, C&D also was among one of the best-performing stocks during the depths of the recession. The lack of volatility coupled with relative outperformance offered by C&D shares is unique for a company with a market cap under $10 billion.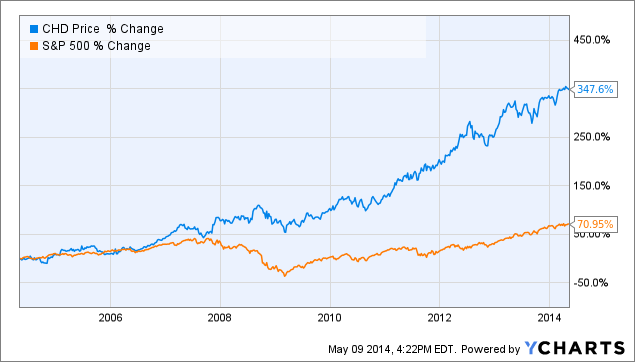 3%-4% organic sales growth should be expected in 2014, as product innovation continues strongly among the 4 mega brands. Arm & Hammer is creating a premium cat litter and new premium toothpaste. Oxiclean is entering 3 new categories: laundry detergent, dishwashing detergent and bleach alternatives. Both new vitamin and condom lines are also in the works. Constant innovation has been a key tenet of the company's, as 25% of 2013 sales were from products launched after 2007.
The track record for acquisitions over the last decade or so has also been excellent. In fact, 3 of C&D's 4 mega brands were acquired in the last 12 years. The most recent promising acquisition was Avid Health in October of 2012, the maker of gummy vitamins for both adults and children.
With $500 million in cash from operating activities minus the $67 million spent on capital expenditures, C&D had free cash flow of $433 million in 2013. Over the last 10 years, that number has increased by $269 million. With around $1.5 billion in free cash flow anticipated to be generated in the next 3 years, healthy acquisitions and capital investments should continue.
C&D is excellent at controlling costs. Overhead costs as a percentage of revenue sit at only 13%, helping to make the company claim that they have the highest revenue per employee of any major consumer packaged goods company. Meanwhile, financial leverage is also reasonable. 2013 Debt-To-EBITDA was 1.4.
Unfortunately, at these price levels, Church & Dwight is a little bit pricey. The current P/E is 24.7 and the forecast 12-month forward PEG ratio is 2.2. Further, the last quarter was a slight disappointment.
An increased cost of sales led to a 4.7% drop in first quarter earnings. Cost of sales rose 3.1% to 442.6 million. Full-year earnings guidance was tightened by the company, as management now expects 2014 earnings to grow 7% to 9%, putting that 13-year streak in jeopardy.
Nothing major that changes C&D's long-term story took place, but I'd still like a lower entry point before accumulating shares. Nevertheless, this situation brings to mind investment advice from Warren Buffett, when he stated "It's far better to buy a wonderful company at a fair price than a fair company at a wonderful price."
Disclosure: I have no positions in any stocks mentioned, but may initiate a long position in CHD over the next 72 hours. I wrote this article myself, and it expresses my own opinions. I am not receiving compensation for it (other than from Seeking Alpha). I have no business relationship with any company whose stock is mentioned in this article.