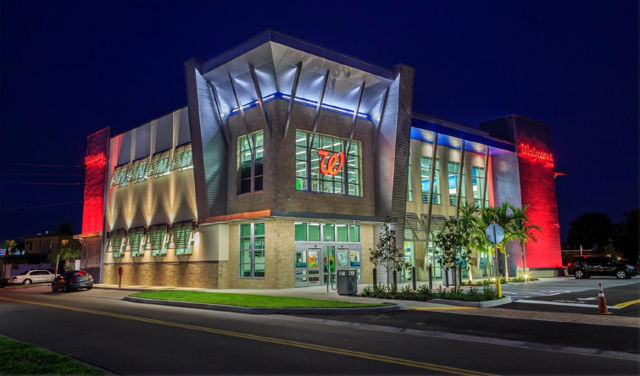 Walgreen's (WAG) mission is to help people get, stay, and live well. The business has over 8,200 drugstores, 370 distribution centers, and close to 90 million square feet of selling space. Walgreen operates its drugstores primarily in the U.S.
Shareholders of Walgreen have been rewarded with 38 years of increasing dividends. The business has paid a dividend for 81 consecutive years, and was founded in Chicago in 1901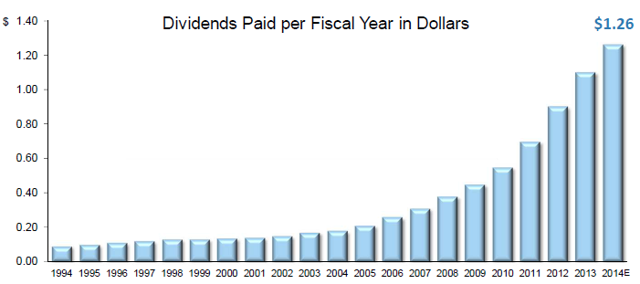 Source: JP Morgan Healthcare Conference Presentation
Current Events
Walgreen is set up for growth due to the aging of the U.S. population. Every day, about 10,000 people in the U.S. turn 65. As the "baby boomer" generation ages, it will require more prescriptions; Walgreen is set to be a beneficiary of this demographic trend.
Walgreen's comparable store sales have been increasing, bucking a trend in decreasing same store sales.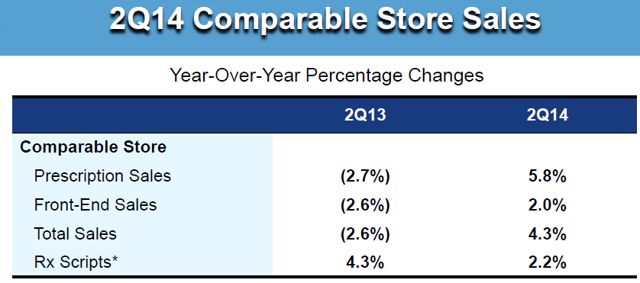 Source: Walgreen's 2nd Quarter Earnings Presentation
Walgreen is expanding its business through 3 initiatives:
Create a "well" experience
Advance the role of the community pharmacy
Establish an efficient global platform
Create a "Well" Experience
Walgreen is rethinking the layout of its stores. The business has opened or renovated 600 Wellness layout stores. This layout focuses on extraordinary customer care and optimization of product offerings. Walgreen is using data from its 80 million active enrollees in the Balance Rewards card program to drive layout and product offering innovation.
Customer traffic decreased 1.4% for the 2nd quarter, while comparable store basket size increased 3.4%. Same store front end sales were up 2% for the quarter.
Walgreen's private brands continue to perform well. Private brand penetration increased 1.8 percentage points in 2013, up to 22.4% in 2013.
Advance the Role of the Community Pharmacy
Walgreen is advancing the role of the community pharmacy by increasing patient time with pharmacists. One-on-one time with a pharmacist has been proven to increase patient adherence to prescription drugs. Walgreen currently controls 19% of the prescription market in the U.S.
The business is also focused on increasing the number of immunizations administered each year. In 2013, Walgreen administered 8.7 million immunizations, versus 7.8 million in 2012.
Establish an Efficient Global Platform
With the 45% acquisition of Alliance Boots in 2012, Walgreen has a presence in 25 additional countries, primarily in Europe. Walgreen is expected to acquire 100% Alliance Boots in 2015.
Walgreen has also formed a strategic alliance with AmerisourceBergen (NYSE:ABC), entering into a 10-year primary pharmaceutical distribution contract with the company in 2013.
Walgreen's recent acquisition and partnership show the business is focused on global growth as opposed to growth only in the U.S.
Comparison to Other Businesses with 25+ Years of Dividend Increases
Years of Increasing Dividends
Walgreen has increased its dividend for 38 consecutive years. More impressively, the business has paid a dividend for 81 consecutive years.
Why it matters: The Dividend Aristocrats (stocks with 25+ years of rising dividends) have outperformed the S&P 500 over the last 10 years by 2.88 percentage points per year.
Source: S&P 500 Dividend Aristocrats Factsheet, February 28 2014, page 2
Dividend Yield
Walgreen's dividend yield of 1.84% ranks it at 76 out of 105 stocks with 25+ years of consecutive dividend increases. Walgreen's dividend yield was significantly more attractive in 2012, when it was north of 3%.
Why it Matters: Stocks with higher dividend yields have historically outperformed stocks with lower dividend yields. The highest-yielding quintile of stocks outperformed the lowest-yielding quintile by 1.76 percentage points per year from 1928 to 2013.
Source: Dividends: A Review of Historical Returns
Payout Ratio
Walgreen's payout ratio of 42.5% is lower than the median payout ratio for other stocks with 25+ years of increasing dividends. Walgreen ranks at 47 out of 105 based on payout ratio.
Why it Matters: High-yield, low-payout ratio stocks outperformed high-yield, high-payout ratio stocks by 8.2 percentage points per year from 1990 to 2006.
Source: High Yield, Low Payout by Barefoot, Patel, & Yao, page 3
Long-Term Growth
Walgreen has grown revenue per share at 7.75% over the last 10 years. The company's growth compares very favorably to other stocks with a long history of dividend increases. Walgreen has the 19th highest growth rate of all dividend champions.
Why it Matters: Growing dividend stocks have outperformed stocks with unchanging dividends by 2.4 percentage points per year from 1972 to 2013.
Source: Rising Dividends Fund, Oppenheimer, page 4
Volatility
Walgreen's 10-year standard deviation is 26.38%. This ranks it at 38 out of 105 Dividend Champions.
Why it Matters: The S&P Low Volatility index outperformed the S&P 500 by 2 percentage points per year for the 20-year period ending September 30th, 2011.
Source: Low & Slow Could Win the Race, page 3
Conclusion
Walgreen does not rank as a buy based on the 5 buy rules from the 8 Rules of Dividend Investing. The company's long dividend history, payout ratio, and volatility are all favorable. When Walgreen's dividend yield increases, it will rank higher.
Walgreen's long history of dividend increases shows that it can adapt to the changing healthcare industry. The company's expansion into overseas markets through its acquisition of Alliance Boots and favorable demographic shifts will likely drive Walgreen's future growth.
Disclosure: I have no positions in any stocks mentioned, and no plans to initiate any positions within the next 72 hours. I wrote this article myself, and it expresses my own opinions. I am not receiving compensation for it (other than from Seeking Alpha). I have no business relationship with any company whose stock is mentioned in this article.