Q1 2014 results
On May 1st, Immersion Corporation (NASDAQ:IMMR) reported Q1 2014 results.
Revenues of $15.4 million were 11% higher compared to $13.9 million recorded in Q1 2013 - however, excluding a one-time benefit related to the multi year license agreement with Samsung signed in March 2013, and that positively impacted Q1 '13 revenues, the real increase was 29%.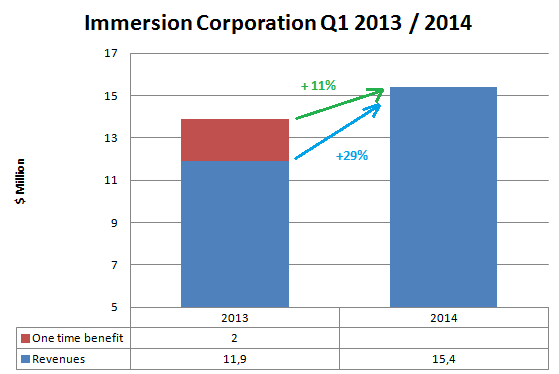 Mobility represented about 50% of revenues in Q1 2014, and fixed rate license agreements amounted to more than 50% of revenues in Q1 2014. We speculate this higher percentage reflects more fixed rate agreements in the mobility vertical.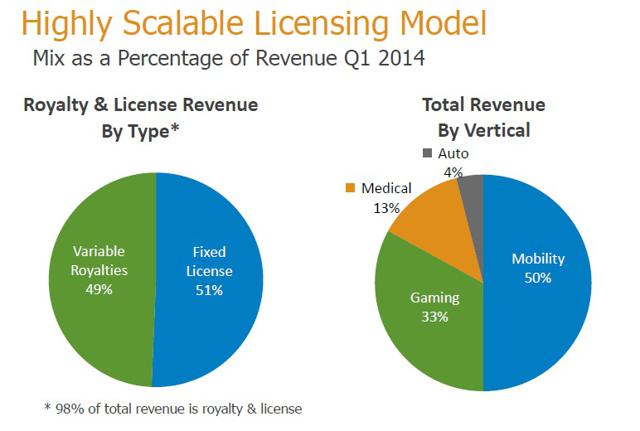 We waited for the 10Q to be released before writing this short commentary as we were expecting that it could shed some additional color about some behind-the-curtain developments that were not discussed at the conference call. We noticed that the company is now disclosing two major customers which represent about 28% of revenues: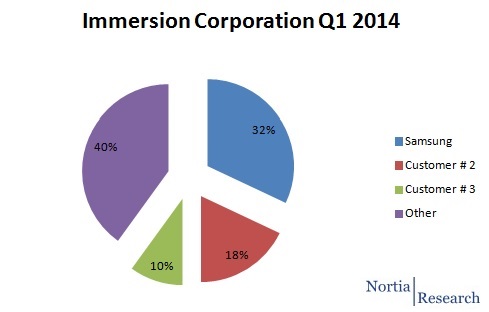 We speculate that customer # 2 is Sony, while customer # 3 could be Chinese smartphone producer Xiaomi.
As far as Sony is concerned, if our speculation is correct, it looks like the launch of the new PS4 had a positive impact of about $2 million on the quarter (on top of the revenues still recorded from Sony after the 2007 settlement between the companies).
Here is also a quick look at Immersion's performance per business unit on a Y/Y basis: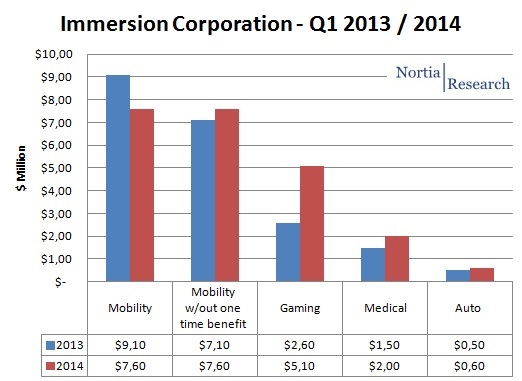 As we may notice, excluding the onetime benefit of more than $2 million in royalties due to an overlapping receipt of both tail period and new revenues under the Samsung agreement that expired and was subsequently renewed in Q1 2013, all verticals were positive in the quarter.
Gaming, however, had the most important positive impact on revenues, growing by 96% compared to Q1 2013.
As we quickly resumed in our opening remarks, the market did not react positively to these numbers, which were basically in line with expectations (although their analysis has probably shed some unexpected light on how they were obtained).
Here is a short list of a couple of catalysts that may positively impact the company in the remaining of the year, in our opinion, with a reminder about a new vertical that may have a longer term impact on revenues.
China as a possible 2014 catalyst
On a mobile contacting front we continue to engage with the number of potential OEM customers in China where we're seeing great enthusiasm for our new demonstrations and an understanding of how haptic technology can be a valuable product and platform differentiator. We've established a strong sales team in the region and are building our technical teams in order to provide rapid local response to these potential customers in China and we look forward to updating you on our progress with new licensees in the region.
This comment was made during the latest conference call by Immersion's CEO, Vic Viegas.
Let's have a quick look at the Chinese smartphone market in Q1 2014, thanks to Counterpoint Research (our notes added to the chart):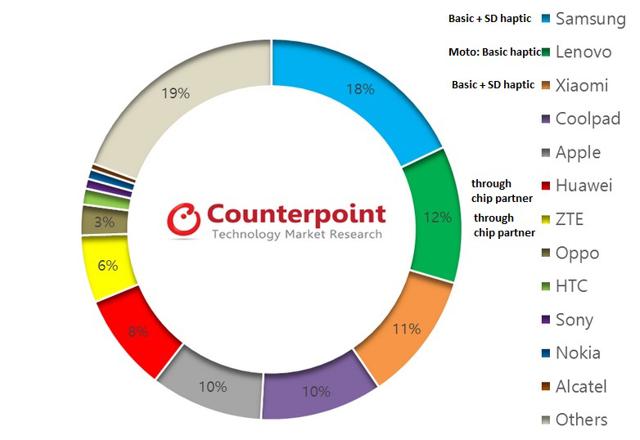 Right now, Immersion is licensing its basic and SD haptic technology to Samsung and Xiaomi, while Lenovo has recently acquired Motorola, that negotiated the rights to use the company's basic haptics technology in a 2012 settlement signed between Google (NASDAQ:GOOG), Motorola and Immersion Corporation.
Huawei and ZTE are currently indirect customers through the company's chip partners that incorporate Immersion's basic haptic technology [mainly Imagis, Texas Instruments (NYSE:TXN) and Atmel (NASDAQ:ATML) ].
We do expect one or more agreements to be announced soon, with Lenovo as the most likely candidate to sign a new agreement for both its Motorola and Lenovo brands.
The impact of these new licensees could be material to 2014 revenues.
HTC trial as a longer term catalyst, unless settled before
Lastly, we have concluded the fact discovery phase of our lawsuit against HTC Corporation in the U.S. District Court in Delaware and now moved into expert discovery. Our trial is now less than a year away commencing on March 23, 2015. We remain extremely confident in our case. (emphasis added)
The last part of this comment, also made during the conference call, was encouraging as it was followed a discovery conference that was held in court on April 29th.
Immersion, so far, has never lost a court case, and HTC represents, in our opinion, a much weaker opponent than Motorola when it comes to know how about haptic technology.
We still believe that a settlement would be more beneficial (and probably much cheaper, given the legal fees that both companies are suffering) for HTC than insisting in this case.
Media as a long term catalyst
At this point we believe we are on track to launch commercially and achieve our first content in media revenue as early as the end of 2014.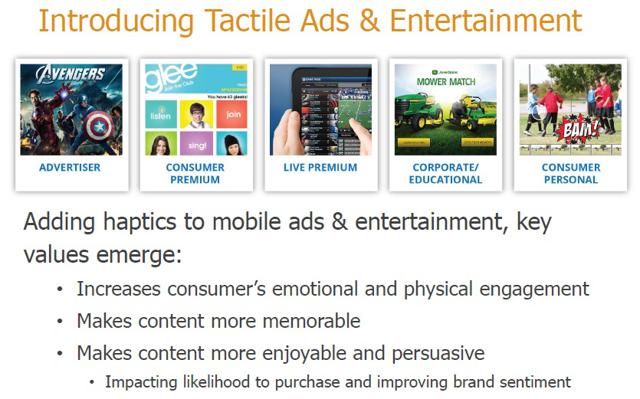 While it is too early to evaluate the potential impact of this vertical for Immersion, it is worth noting that the company is now expecting to be relatively close to seeing a commercial launch (and corresponding monetization) of its efforts.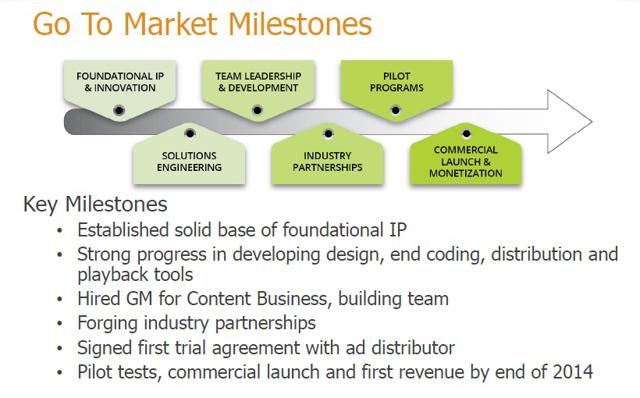 While we still model that this vertical will only represent a cost for Immersion in 2014, we will keep monitoring the segment to try understand the potential impact on a longer term horizon - and hope we may add it to the automotive sector as a growth driver in 2015 and beyond.
Disclosure: I am long IMMR. I wrote this article myself, and it expresses my own opinions. I am not receiving compensation for it (other than from Seeking Alpha). I have no business relationship with any company whose stock is mentioned in this article.