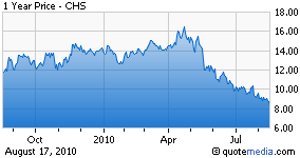 Chico's FAS (NYSE:CHS) is a specialty retailer of casual-to-dressy clothing, intimates, and other accessories. Chico's offers its products in over 1,109 specialty stores in 48 states, the District of Columbia, the US Virgin Islands and Puerto Rico. The majority of Chico's products are private branded clothing and accessories offered under the Chico's, White House | Black Market, and Soma Intimates names. Chico's operates 650 boutiques under the Chico's brand, with a target market of women 35 years of age and over. There are 353 boutiques operating under the White House | Black Market brand (fashionable black and white clothing and accessories), with a target market of women 25 years of age and over. Lastly, there are 106 boutiques operating under the Soma Intimates brand, which offers intimate apparel.
In an effort for full disclosure I must clarify three things. First, I am not a female, so I am unsure of the integrity of Chico's FAS products, but my wife assures me that their product quality is competitive with the best of them. Second, although I have written previously on the retail industry (see article: here), I am not a retail industry expert. Third, I am not as smart as Michelle Tan of Goldman Sachs, who, on July 26, 2010, rated CHS a sell, with a price target of $8.00 per share (see article: here ). Mrs. Tan noted that Chico's has seen a major positive turnaround since early 2009, when they implemented a new management team. In my opinion her largest motivator for rating Chico's a sell was due to her seeing, "notable risk that momentum slows faster than investors anticipate." In other words, Goldman Sachs believes that Chico's expectations are set far higher than what they are capable of in the future.
Let me repeat again, I am not smarter than Michelle Tan, and I am not smarter than Goldman Sachs, but I think Chico's may be a case where projecting future cash flows using the discounted cash flow model has higher risks in itself, than looking at Chico's historical performance. After all, I would rather buy a company on strong fundamentals and historical performance, than try to predict the future. Since my profession is in the engineering field, I believe using the discounted cash flow method (DCF) is similar to calculating the thermal conductivity of a material. There are so many variables in both the DCF and thermal conductivity calculations, that if one variable varies by a small amount (say, changing the area of a material by 0.02in), the end result could be the difference in overheating a circuit card, due to poor thermal conductivity.
Goldman Sachs' fear that expectations are far too high for Chico's is a real concern. At the end of the day, if market sentiment is negative on a particular stock, the stock price will go down, regardless of how great of a company it is. While there is truth to ingest in this statement, if I managed my portfolio based off of what I thought market sentiment was going to be like, I don't think I would have exemplary results by simply following the heard. So let's get down to the nitty-gritty.
Income:
The Commerce Department on Friday, August 13, 2010, said that retail sales rose 0.4% in July, which was below analyst forecast of a gain of 0.5%. When auto's and gas were taken out of the retail sales equation, the retail sales actually declined. Currently, there are many relatively cheap value stocks in the retail sector because of subpar sales performance and economic outlook, which Chico's is not immune to. While Chico's reported better comparable earnings per share of $0.20 than their competitors last quarter, their gross margin increased from the previous year's comparable quarter by only 1.6%, versus an average of 3.3% for the apparel sector, as noted by Michelle Tan from Goldman Sachs (see article: here). When looking at Chico's direct competitors (Macy's (NYSE:M), Talbots (NYSE:TLB), AnnTaylor (NYSE:ANN), Nordstrom (NYSE:JWN)), Chico's gross margin increase from the comparable quarter last year is in the middle ground above both M and JWN, and below ANN and TLB. Out of the past ten years Chico's has only had one year of negative earnings, which is better than all their competitors (M, TLB, ANN), except JWN. Their return on total capital (ROTC) has averaged 19.88% over the past ten years, with a recent decline in ROTC in 2008 and 2009, which would give a trailing three year average of 5.1%. Chico's operating profit after depreciation as a percent of sales has averaged around 11% for the past five years, and was around 12% in the latest quarter, which is better than all previously mentioned competitors. Lastly, revenue at Chico's has increased in the latest quarter from the comparable quarter last year by 17.29%, which is a 4.61% larger increase in revenue than Chico's closest competitor.
Management:
Management seems to have addressed the issues related to negative earnings in 2008. With the new management changes in place, efficiency has increased, and margins have shown a positive trend upwards. Management has used their retained earnings fairly well, and their free cash flow (FCF) per share has been positive for the past 5 quarters, after having a negative annual FCF in 2008 and 2009. Management recently declared a quarterly cash dividend of $0.04 per share amounting to a current annual dividend of 1.8%. Additionally, Chico's management owns less than 1% of all shares outstanding, which can be a warning sign that management does not have a vested interest in Chico's performance, both from a bottom line and stock price standpoint. On a side note, management is currently pursuing a lawsuit against Cache (NASDAQ:CACH), for allegedly stealing trade secrets of Chico's, when Cache hired two employees of Chico's. Cache allegedly proceeded to create an entire spring collection in 2010 based off of these trade secrets.

Balance Sheet:
The first thing that stands out on Chico's balance sheet is the fact that currently 32% of their assets are in marketable securities. This differs from their competitors, whom have the majority of their short term instruments in cash. $226.3M of Chico's marketable securities are in variable rate demand notes, with varying maturities, $133.9M is in instruments with maturity dates of less than one year, and $89M are in securities with maturities between one and two years. While these instruments are relatively free from risk, the longer maturities are more risky than simply having cash as Chico's competitors have. Looking at other variables of Chico's balance sheet:
History of liquidity with current ratio averaging 2.93 for the past five quarters (better than their competitors)
Average Debt to Equity ratio for the past five quarters 0.38 (better than their competitors)
Long term debt less than their net current assets (shows financial stability)
Inventory as a percentage of total assets is much lower than competitors (shows efficient management inventory control)

Investment Strategy:
If you are currently looking to get into Chico's I believe the best way would be to sell the September 18, 2010 put contract, with a strike price of $8.00. If you were to sell 20 contracts, you could earn a 3.60% premium after transaction costs in approximately a month (assuming a premium of $0.30 per share), and the stock would be able to decline 12.77% from its current price before you breakeven. If Chico's stock price went below the breakeven price of $7.71 after transaction costs, the put would likely be exercised and you would take ownership of Chico's stock at $7.71 per share, which would equate to a P/E based on the trailing 12 months of 15.1. A P/E of 15.1 is a little high for my liking, but it is better than the current P/E of 17.33.
After doing the research I personally would want to wait and see how Chico's plays out (possibly waiting until they report quarterly earnings on August 18th) before I initiate a direct long position, but I would entertain the thought of selling the put contract mentioned above. There are a couple reasons why I would not take a direct long position at the current time. For starters, as mentioned previously, the current P/E is at 17.33 when the industry average is around 15, which is a top level indicator that the stock is too rich for my blood. Digging deeper one could notice that while the ROE and ROA have performed well over the last ten years, the past two years have been mediocre. Third, as Michelle Tan from Goldman Sachs noted, expectations for Chico's are far higher than their competitors, and as we all know, it's better to be the underdog, than to be the top dog and get upset.
I believe that Chico's is a fine company, with better than average margins, management, balance sheet, and efficiency. Being a deep value investor, though, makes me pull the reigns in, and wait it out until the margin of safety is increased through a reduction in the stock price, even though the stock price is sitting close to its 52 week low. Also, my current exposure in the retail sector has grown recently due to market sentiment pushing retail stocks into the undervalued territory. In essence, I have found larger margin of safety opportunities in the retail sector outside of Chico's target market, but Chico's would likely be next on the list.
So, as I can agree with Goldman Sachs on the need for a lower price point, I would have to respectfully disagree with the buy rating they have on competitor Ann Taylor. I believe that Chico's across the board is a better company; the only thing Chico's has going against them is high expectations. As I said before, for those who don't want to wait without any reward, look at selling the September 18th put contract to collect a premium while you wait, with the worst case being taking ownership of a good company at a good price.
Disclosure:
No position