The ensuing article is a supplement to a more extensive report about Sequans (NYSE:SQNS) that I wrote a few months ago, discussing its potential venture-like returns and risks. I encourage readers to review this previous report, to put the comments below in better perspective.
In two months, Sequans stock has lost 56% of its value from a peak close of $3.27 on March 11 to $1.45 today. Previously, the stock rallied from $2.00 at the start of 2014 driven by 2013 Q4 Verizon (NYSE:VZ) network design wins announced in Q1, plus the demo of Sequans LTE broadcast technology with Verizon at the Super Bowl. So year-to-date, Sequans is down 28%, after falling 15% in 2013 and crashing 92% from its peak price of $19.17 in May 2011. Sequans stock collapse was caused by the rapid decline of the WiMAX chip market, drastically reducing revenues from $94M in 2011, to $22M and $14M in 2012 and 2013, respectively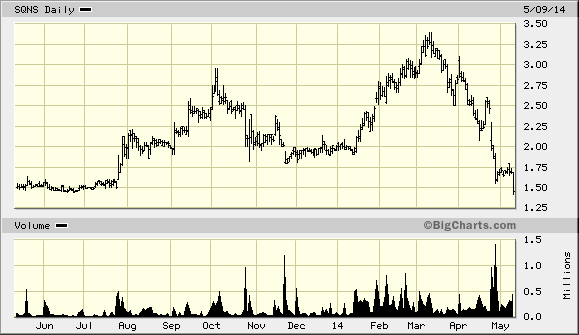 Since 2010, however, Sequans has increasingly focused on the LTE (long-term evolution mobile standard) chip market. LTE has a similar technical foundation to WiMAX, but LTE is a larger potential market. Sequans announced several design wins in the LTE single-mode market over the past year, which is just starting to take off. But as those design wins have yet to translate into substantial revenues, Sequans has been a volatile story stock, trading on its perceived LTE chip market potential.
Since our last article, Sequans reported a slightly disappointing Q1, with revenues of $4.5M versus guidance of $4.5M to $5.5M, and guided Q2 to $5M - $6M versus $7m consensus. Simultaneously, tech stocks crashed. The higher risk stocks with rich valuations and/or negative cash flow like Twitter, (NYSE:TWTR) as well as Sequans, were hit the hardest, as investors have become more cautious. This combination of underwhelming results/guidance and the tech stock malaise drove the huge sell-off in Sequans shares.
In the last Sequans article, I presented the following bear case:
In a negative scenario, Sequans could be a loss-making company for the next three years and require more capital (i.e. dilution) by 2016. Larger competitors could try predatory pricing to knockdown Sequans' margins and market share in some applications. Assuming no strategic floor value and a multiple of 2x $40M in annual revenues, the net present value of Sequans stock today would be $1 or about one-third of today's current price.
To elaborate further, below I fully present Sequans' negatives (and provide rebuttals in italics) so that investors are aware of what they are getting into if they buy the stock today (some of these points were not publicly released, but certain investors may be aware of this news).
Only shipped 300k in unit volume in Q1, a fraction of the millions needed for 2014 revenues to reach current consensus estimates of $32M. Sequans is already shipping to the home/portable router market with 15+ design wins, and planned volume increases in these shipments are a good bet. This will get Sequans half-way there. On the other hand, slightly less visibility exists for the mobile computing designs wins to convert to 2014 revenues.
Revenue break-even rose from $20M to north of $25M per quarter for several quarters due to low-margin modules entering the product mix. But clearly outweighed by this strategic Verizon win, and modules over time will be replaced by a system-on-a-chip solution.
All single-mode LTE suppliers including Sequans lost-out on major China Mobile orders. For now, China Mobile is focused on TD-SCDMA multi-mode solutions. But Sequans won 30% of China Telecom's home router tender. Also, previously Sequans won a comparable (~30%) share of the China Mobile's first bid as well. This means Sequans solution is certified by China Mobile, while most other suppliers are not. So, Sequans is well positioned when China Mobile begins to purchase single-mode LTE solutions.
Lost an initial Softbank LTE purchase order to a competitor in Q1. But this is really a non-event. Softbank is moving slowly, ordering small quantities for rural deployment from multiple vendors. The fact that the first order did not go to Sequans has limited long-term relevance. Sequans has an ongoing relationship with Softbank focused on supplying advanced technology for its critical needs, including a successful trial of Sequans' unique interference rejection technology, which competitors cannot offer.
A division of a large global electronics manufacturer using Sequans LTE chip design was sold. A subsequent decision was made in Q1 to cancel all of that company's US projects, including that of Sequans, in order for that manufacturer to focus on the Japanese market. This was more than offset by three more design wins in Q1, including home/portable router, mobile computing, and metering machine-to-machine (M2M) application.
Competitor Altair's claimed advantage in terms of a more mature RF-block in FDD transceivers is fading away, as Sequans RFICs have now been around for nearly two years. The last remaining advantage claimed by Altair is first-mover, as peers may need to be better than Altair to remove Altair from its existing customer base. But this first-mover advantage is overblown, as this nascent single-mode LTE market has very few customers today - mainly Verizon and Yota in Russia. Secondly, Sequans has Verizon and numerous other LTE customers including Gemtek, Huawei, Linkem, Netcom, Pinyon, among others. Finally, Sequans' new LTE-advanced platform called Cassiopeia has set a new bar for competitors to match.
A bigger worry is competitive pressures from semiconductor behemoths like Qualcomm (NASDAQ:QCOM), Intel (NASDAQ:INTC), Broadcom (BRCM), and Marvel (NASDAQ:MRVL) down the road. Today, Sequans has smaller, lower power, higher fidelity LTE chips than its larger competitors. It will take another two years for large peers to catch up (and Sequans will not be standing still). These large multi-mode LTE chip vendors cannot just shut-off 2G/3G functionality, or they will have a large, expensive, power-hungry solution. In order to compete effectively in single-mode LTE, potential large competitors will have to develop a single-mode architecture from scratch. This should provide a lot of interim orders for Sequans. Secondly, Sequans planned ahead by partially focusing on attractive niches like M2M and other data areas, as opposed to the larger but more commoditized phone baseband opportunity.
The risk of price cutting when large competitors enter the single-mode LTE chip market, as large players like Intel and Marvell are already discounting their multi-mode LTE chips. Maybe they will exhibit the same behavior when entering the single-mode market. Price cutting only works if functionality is comparable.
The longer-than expected adoption of LTE. Carriers like AT&T (NYSE:T) are currently moving slowly. But this is a "when", not an "if" issue. AT&T has a more complex topology to deal with, which takes more time. The good news is that AT&T has been in discussions with Sequans for a while.
Sequans is burning a lot of cash, and could need another financing round to stay afloat. Sequans is good for at least another year or two. In addition to $28M in cash, Sequans is due to receive $8M in French tax credits and $1.5M in R&D credits in 2014. On the Q1 results conference call, the CFO continued to target exiting 2014 at a revenue level approaching breakeven, with a significantly lower cash burn in the second half of 2014 compared to the first half of the year.
Currently priced at $1.45, Sequans market cap has shrunk to $86M. But operationally, not much has changed from when the stock was over $3 in March. So a lot of bad news is priced-in today. At current price levels, even a below-consensus revenue ramp in the second half would move Sequans shares higher, which is likely given home/portable router visibility plus some mobile computing revenues in Q4.
Friday's -14% SQNS sell-off on +0.5% Nasdaq tape seemed bizarre. I spoke with the company, and there has been no fundamental change at Sequans. Rumors about TSMC going on allocation in Q3 due to capacity constraints were blamed; but even if true, would affect 28nm node customers like Broadcom, not Sequans at 40nm node. Also, an unconfirmed rumor about an investor selling for technical reasons, that even if true, creates a more attractive entry point for long-term investors.
While our Quan Technology Fund was a buyer of SQNS on both Thursday and Friday, Sequans is not a stock for the faint-hearted. There are no current cash flows to anchor the stock. Revenue upside is enormous, but in a high-stake communication chip technology sector with large competitors waiting in the wings. As detailed in our last article, Sequans has an NPV of $13 in an optimistic scenario and $1 in a pessimistic scenario. Both scenarios are feasible. Thus, SQNS is an attractive stock, but only for risk-tolerant investors.
Disclosure: I am long SQNS. I wrote this article myself, and it expresses my own opinions. I am not receiving compensation for it. I have no business relationship with any company whose stock is mentioned in this article.
Editor's Note: This article covers one or more stocks trading at less than $1 per share and/or with less than a $100 million market cap. Please be aware of the risks associated with these stocks.