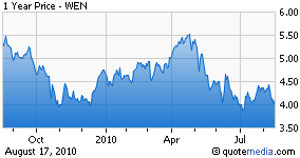 Based on the large number of moving pieces noted in last Thursday's Wendy's/Arby's Group (NYSE:WEN) earnings call, we thought some expanded comments were in order (see conference call transcript here).
Once again, there was little franchisee related discussion or questions, which is surprising considering that the company is 76% franchised. We often hope of more franchisor disclosure.
Wendy's:
While we were one of those who didn't see many US synergies in the 2008 Triarc buyout, one can't deny a lot of progress and action underway at Wendy's. The R&D new product hole has been filled; Wendy's menu today is far more robust than what it was two years ago. With really good fresh burgers, consistent reemphasis to its fresh strength theme, Wendy's could be a powerhouse once breakfast is fixed and reimplemented. Its nice $1.5M AUV base will serve as a great platform; though not likely soon can catch McDonald's (NYSE:MCD) $2.5M US AUV. And, as they planned, restaurant level margins have improved almost 600 bpts since pre-merger levels.
Marketing and product development seems truly bar bell balanced, not relying on just dollar items (there are only 5 items at $.99 in the markets I survey).
They are testing unit/zone/geography pricing and just signed a 180 unit potential Wendy's/Arby's dual branded franchise agreement for Russia, and a 24 unit Caribbean agreement. In the past, YUM (NYSE:YUM) was the major dual concept operator, but even that thrust cooled. We were skeptical in the past (see my seeking alpha post of July 1 2009), but it may work.
Arby's:
We doubt Arby's is overpriced and feel its issues more has to do with menu mix and the age of its unit base. It has not been able to sustain many salads and its 2001/2002 Fresh Choice sandwich line likewise has faltered over time, and only two seem to be left. That is a signal.
Much has been made over the Arby's somewhat higher average check, but we wonder if that's just a difference in breakfast menu mix versus MCD, Jack in the Box (NASDAQ:JACK) and others.
Rollie Smith reported the average check was down 9%. That's pretty steep. With the recent Arby's value menu implementation, only four sandwich items are at $1 in the markets we survey.
Similar to the issue of KFC struggling with its roots, Arby's may be struggling with its customer and location mix. Perhaps the answer is variable menus for different markets. The US and the rest of world is so diverse now, one cookie cutter approach can't fit all, especially for chains with 10231 worldwide units.
Finally:
The WEN stock price has been in the $4 range since October, 2008. We don't expect to see any breakouts until US employment levels improve.
Disclosure: No positions