What would you say if I told you a company beat handily on both the top and bottom line? Then, I told you that the company announced a new $1 billion buyback that will start after its current $1 billion plan ends. The company also announced that its quarter's free cash flow was up nearly 30% over the prior year period.
You might normally think this is great news. On the face of it, I agree that the headlines appear quite positive. However, when it comes to Keurig Green Mountain (NASDAQ:GMCR), you really have to dig deeper. The single serve coffee maker did announce the results I noted above with its fiscal second quarter report, but the headlines don't tell the whole story. Today, I'll detail why, and discuss if investors should consider a short position in this name.
Did the company sandbag guidance?
If you go back to Green Mountain's quarterly report in February, you may remember that very light guidance was given. The company guided to revenue growth in the low to mid single digits, and non-GAAP EPS of $0.93 to $0.98, which included some items but excluded others. Analysts were looking for 8.1% revenue growth ($1.09 billion) and EPS of $1.02 at that time, so guidance was seen as disappointing. However, almost nobody was focusing on it, since the major story was the big deal struck with Coca-Cola (NYSE:KO). So the presumption then was that the company sandbagged guidance because it knew the Coke deal would trump everything else.
By sandbagging guidance, the company could easily set up a beat for when Q2 was reported. Well, a beat did occur. The company came in with revenue growth of 9.78% to $1.10 billion and non-GAAP EPS of $1.08. Both numbers handily beat analyst estimates for $1.05 billion (4.3% growth) and $0.94. But if you look above, the company barely beat revenue estimates from where they were at the Q1 report. Additionally, the 14 cent bottom line beat was after EPS estimates came down by 8 cents. You could make a strong case that the company sandbagged guidance since it had the Coca-Cola deal lined up. Q2 was not as impressive as it first looked.
Free cash flow again due to reduced capex:
One item that I have detailed in recent years with my GMCR articles is the issue of free cash flow. The company has been known for increasing its free cash flow numbers at times and announcing free cash flow stats that appear tremendous. However, when you dig deeper, it's not because the business is doing that much better than expected. You have to look at a second level.
First, let me start with what I said above. Green Mountain's headline in the first part of the earnings release said that free cash flow was up 30% over the prior year period. Well, the company rounded up from 29.67% actual growth. I know that this might seem like nit picking. However, this isn't the first time in recent years where I noted that the company has used rounding to make some numbers look more impressive than they actually are. A number starting with a "3" looks much better than one starting with a "2". Additionally, while free cash flow was up 29.67%, net income was only up 22.43%. Additionally, capital expenditures were actually down more than 10.38%. So the "30%" rise in free cash flow wasn't wholly due to business performance. Another round of reduced capital expenditures plus balance sheet changes had a large impact.
Additionally, the company again raised its yearly free cash flow forecast by reducing capital expenditures. The company is now guiding to free cash flow of $250 million to $350 million, up from its previous guidance of $200 million to $300 million. However, the company stated that capital expenditures will now be $350 million to $400 million, down from previous guidance of $400 million to $450 million. Last quarter, the company stated that capital expenditures were "primarily to fund new system introductions." So is the company now not going to launch as much, or did it again provide high guidance initially so it could "raise" the free cash flow forecast throughout the year?
The reason I've been criticizing the company for cutting capital expenditures is that growth has almost completely stalled. Two years ago in fiscal Q2, this name grew revenues at more than 36.6%. The year before, growth was over 101%, with some acquisition help. In this quarter, revenue growth was under 10%. The growth slowdown was even worse in fiscal Q1, as I previously detailed. Perhaps if the company had not slashed capital expenditure guidance by several hundred million in recent years (which really boosted free cash flow and helped the buyback), revenue growth would not have dropped precipitously. Revenue growth is expected to accelerate a bit in the company's next fiscal year (ending September 2015), but there are some issues there that I will detail a bit later.
Guidance was not impressive:
Well, perhaps I am not surprised here. Because the company had such a large beat and announced an expanded partnership with the JM Smucker Company (NYSE:SJM), guidance could afford to be a little light again. The Smucker's partnership was originally struck in 2010, and Green Mountain gets further access to brands like Folgers.
So for fiscal Q3, the company guided to revenue growth in the high single digits. Analysts were looking for 8.7% growth, so I guess you could say this guidance is in-line. On the bottom line, the company gave non-GAAP EPS guidance of $0.83 to $0.88, which looks a little light as analysts were looking for $0.88. However, there are a couple of items here. First, the company included a negative hit of $0.10 per share from two equity deals plus currencies. However, this guidance assumes the company does not take any actions to offset dilution, like the buyback. So in the end, EPS will probably come in a bit above expectations again, especially if analysts cut estimates.
New $1 billion buyback - not exactly what it seems:
One of the issues involved with the Coca-Cola deal was dilution. Green Mountain sold a large number of shares at under $75, but the stock soared after the deal, hitting a high of just under $125. The company had a $1 billion buyback in place, but we knew shares would be bought back at prices well above what they were sold at. What we didn't know at the time is that the company also sold just over 1.4 million shares to Luigi Lavazza S.p.A to maintain Lavazza's ownership percentage in Green Mountain. That deal was also struck at the same price of the Coca-Cola deal, and Green Mountain banked another $105.5 million from that deal. It's more dilution, however.
Green Mountain had a $1 billion buyback going, which was expected to reduce some of the dilution from the Coca-Cola deal. During the quarter, the company bought back over $750 million in stock. Most of that ($700 million) was through an accelerated repurchase plan through a financial institution. We won't know until late 2014 or early 2015 what the final number of shares bought back and the average price paid was. 4.3 million shares were retired initially under the accelerated repurchase. You can view the press release for more details. The company bought back over $58 million in the open market during Q2, at an average price of over $107. Additionally, since the quarter ended, the company bought back another $67 million worth of shares around $101.
Including the shares recently bought back, the company had about $288 million left on the current buyback. Additionally, the company announced a new $1 billion buyback to take place over the next two years. That does seem very positive, but it is not what it seems. The company has still diluted investors a bit, and more dilution through executive options is coming. According to the 10-Q filing for fiscal Q2, the outstanding share count was just under 162 million shares at the end of Q2. Going back to the end of December Q1 period, it was 148.75 million shares (before the Coke deal). So for this nearly $1.3 billion remaining, a lot of it will be used just to negate the dilution of the Coca-Cola and Lavazza deals, and don't forget about further dilution from executive options. Yes, the buyback will be positive for shares, but the company also has to time things right. Shares rocketed from $80 to $124 after the Coca-Cola deal, but they were down to $90 just before earnings. The company will look very foolish if it buys shares back well above $100 and then they fall back into the high double digits.
Keurig cold versus reduced margins:
One of the big items this company is heading towards is the Keurig Cold platform, which many think will rival SodaStream (NASDAQ:SODA). The Keurig Cold platform is expected to launch in fiscal 2015, and of course this is where the Coca-Cola deal comes in to play. Current analyst estimates, which I'll discuss later on, call for revenue growth to accelerate next year as the company starts to push Keurig 2.0 later this year as well.
However, there is one issue that investors need to be aware of, and the company is already starting to spread caution. As investors know, Green Mountain has seen gross margins spike in the last year or two, primarily due to a sharp drop in coffee prices. The company has taken advantage of the fall in prices, but coffee prices have been on the rise recently. For the remaining two quarters of this fiscal year, Green Mountain is locked in for coffee prices. However, on the conference call, the company mentioned that it was just 50% locked in for fiscal 2015, and those locked-in prices were above those from prior year rates. Here are some statements from the 10-Q filings that detail this issue. Let me first start with what the company said a quarter ago with the 10-Q for Q1.
At December 28, 2013, the Company had approximately $268.6 million in green coffee purchase commitments, of which approximately 90% had a fixed price. These commitments primarily extend through fiscal 2015. The value of the variable portion of these commitments was calculated using an average "C" price of coffee of $1.21 per pound at December 28, 2013.
Now, here is what the company stated at the Q2 10-Q filing, which I linked to above:
At March 29, 2014, the Company had approximately $409.2 million in green coffee purchase commitments, of which approximately 81% had a fixed price. These commitments primarily extend through fiscal 2016. The value of the variable portion of these commitments was calculated using an average "C" price of coffee of $1.85 per pound at March 29, 2014.
Just as Green Mountain's revenues start to accelerate, gross margins are going to take a hit from higher coffee prices. Look at the jump in the coffee price that the company is using for the variable portion above. The company may lock in more coffee costs during Q3, but they are going to be at substantially higher rates. The company may also see some increased product costs from the new line of systems, at least at the beginning. Don't forget, the company is seeing gross margin tailwinds from the prices it is receiving for products. Gross margins have been expanding because of the reduced coffee prices, so this really becomes a double tailwind for gross margins.
On the flip side, the company is reducing operating expenses, but you figure not all expenses can be cut here. Marketing costs will rise as new systems are launched, especially as the company tries to steal the spotlight away from SodaStream. Thus, it will be very interesting to see what happens to earnings per share. Investors might need to temper expectations here a bit. Remember, in the first half of the fiscal year, non-GAAP earnings rose by 21% over the prior six-month period. That growth may be extremely hard to achieve with a series of tailwinds coming.
The short squeeze thesis has nearly vanished:
One of the bull theories for Green Mountain heading into 2014 was the potential for a major short squeeze. In December 2013, more than 41 million shares were short, which is quite a lot considering an outstanding count around 150 million. Obviously, the Coca-Cola deal set up the major short squeeze, sending shares up more than 50% in the days and weeks following the deal. However, the short squeeze notion really can't be applied at this point. As you can see in the chart below, short interest has plunged recently.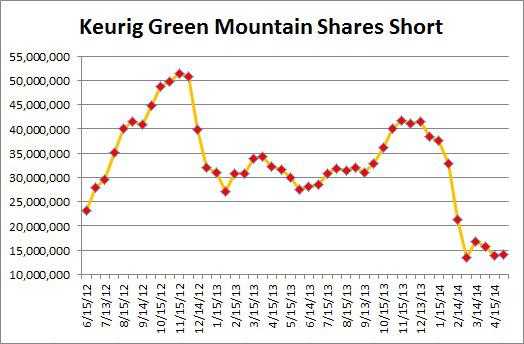 Nearly two-thirds of the shares short from mid-December 2013 have been covered. The latest update on short interest shows just over 14 million shares short. That's less than 10% of the outstanding share count, as opposed to the roughly 30% count from late 2013, and even higher from late 2012 as you saw above. Right now, there is more downside potential from new short sellers entering than there is potential for a short squeeze. Green Mountain knows what it is like for a major short seller to go after this name. If it happens again, look out below.
A stock that's too expensive?
Green Mountain is no longer the huge growth company that it was in previous years. This is not a company growing revenues at 50% or 100% year over year. In fact, in recent quarters, revenue growth has been in the single digits. While I understand that investors like the buyback and the potential for Keurig 2.0 and Keurig Cold down the road, I think the stock has already priced in a lot of future growth. In the table below, I've compared Green Mountain against some other names in this space, including Starbucks (NASDAQ:SBUX) and PepsiCo (NYSE:PEP). The table shows current analyst estimates for growth as well as associated valuations for each fiscal year.

Green Mountain is an expensive stock when compared to the rest of the space. Yes, the company certainly has the potential for future growth, but you are paying a decent premium for that growth. Green Mountain gets lumped in often with the momentum names, and this certainly is a volatile stock. I think a good trading range for the name is roughly 20-30 times forward earnings, which in my opinion is the next fiscal year (ending September 2015). I think a fair value would be 25 times earnings. With analysts currently looking for $4.03 a share, that means $100.75. Right now, the stock is almost $8 above that price. I do feel that a short position should be considered for this stock, however, I would wait until the $110 to $115 range at least before shorting. I think the current run might have one last leg to it, before we see a pullback like we did after the Coca-Cola deal. That was a sizable pullback as well, and while I don't expect that kind of fall this time, I still think shorts could easily make $10 or so to the downside if timed right.
Final thoughts:
While the headline numbers for Green Mountain appeared positive, the details may tell another story. It certainly looks like the company sandbagged guidance at the prior quarter because the company had the Coca-Cola deal lined up. Like many previous reports, free cash flow numbers were impressive because capital expenditures have been cut. Perhaps if the company spent more on the business in recent years, growth would not be stalling as much. Additionally, the buyback will be mostly offsetting dilution from the Coca-Cola and Lavazza deals, plus executive options. Just when the company's revenue growth is about to start accelerating a bit later this year and into 2015, the company will be hit by rising coffee prices. For a company whose growth is not what it used to be, this stock is priced well above many others in the space. A short position may be warranted once this name gets a bit above $110. I think this stock is worth about $100, but even that valuation would be a premium in this space, and there are many things here that I just don't like.
Disclosure: I have no positions in any stocks mentioned, and no plans to initiate any positions within the next 72 hours. I wrote this article myself, and it expresses my own opinions. I am not receiving compensation for it (other than from Seeking Alpha). I have no business relationship with any company whose stock is mentioned in this article.
Additional disclosure: Investors are always reminded that before making any investment, you should do your own proper due diligence on any name directly or indirectly mentioned in this article. Investors should also consider seeking advice from a broker or financial adviser before making any investment decisions. Any material in this article should be considered general information, and not relied on as a formal investment recommendation.