Normally you don't find too much hope around a name that has shown two straight years of revenue declines and plunging earnings. If I told you the company has not raised its dividend in nearly two years and isn't buying back as much stock as it used to, you'd probably see even less potential in the name.
But the market seems to be feeling just the opposite when it comes to chip giant Intel (NASDAQ:INTC). The company is starting to make its heavy push into mobile, with 40 million tablet chip shipments expected this year. While the PC business is still in decline, the hope is that Intel can become a mobile mammoth. This process will take time, and it has depressed results a bit in recent years. However, the market's view of Intel has certainly changed in recent months. Today, I'll detail an important psychological shift, and what investors should do with this stock currently.
Short interest has dropped:
Intel is not a heavily shorted name when compared to momentum names like Tesla Motors (NASDAQ:TSLA) or Twitter (NYSE:TWTR). However, when you look at some of Intel's large-cap tech peers like Apple (NASDAQ:AAPL) and Microsoft (NASDAQ:MSFT), Intel has been fairly heavily shorted. Short interest in Intel soared throughout 2012 and into 2013 as the company issued disappointing results and cut its revenue forecast multiple times.
However, even though Intel's results have not completely turned yet (more on that later), short interest started to trend lower late in 2013. That process continued in January 2014, but investors were a little disappointed when Intel reiterated its 2014 forecast at the Q4 report, so short interest ticked up into mid-March. April turned out to be a crucial month for Intel's short interest, as seen below.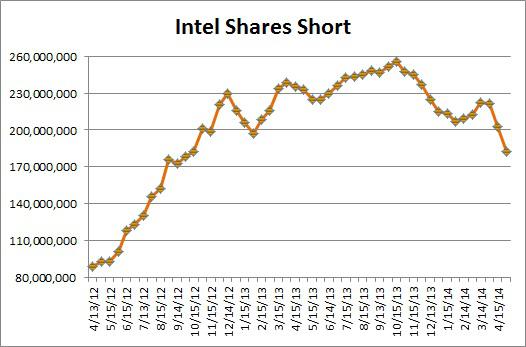 The latest short interest update from NASDAQ showed that more than 39 million shares were covered during April. Intel's short interest at the end of April was under 183 million shares. This is the first time that this has happened since October 2012, about a month after Intel's huge Q3 warning that sent shares spiraling downward. Since the 2013 peak, almost 73 million net shares have been covered, a decline of about 28.5%.
Intel is still more shorted than other large-cap techs, including Cisco Systems (NASDAQ:CSCO) and Qualcomm (NASDAQ:QCOM). In the chart below, I've compared the five industry giants in terms of their short interest as a percentage of the stock's float. You can view Intel's float data here, and get to all other names from that page. The chart shows each name's percentage at the end of April compared to the end of November 2013, numbers detailed in the article at the beginning of this section.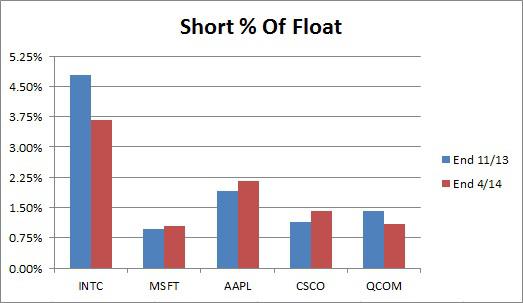 Even after all of this short covering, investors still seem to be the most bearish on Intel when it comes to these five tech giants. Intel's end of April number was around 3.7% of its float short, about 150 basis points higher than the next highest name, Apple, at a little under 2.2%. Interestingly enough, Microsoft, Apple, and Cisco have all seen their percentages increase since the end of November. The two chip companies, Intel and Qualcomm, have seen their percentages decrease a bit over the five-month period.
Current comparisons between these names:
About a month ago, Intel reported fiscal first-quarter results. Overall, it was a mixed report. Intel missed on the top line but beat by a penny on the bottom line. Q2 guidance was fair and Intel raised its gross margin forecast for the year. The company did not raise its revenue forecast, something that many were hoping for, but I've stated in many recent articles that the company usually waits until Q2 to make revenue forecast changes. The company also increased its operating expense guidance for the year. The report was not the one many were hoping for, as many believed stronger-than-expected Q1 PC sales were going to lead to a big beat. However, it certainly wasn't a terrible report for Intel, and shares have decreased slightly since the report.
In the table below, I've compared the five names from above in terms of growth and valuations for their respective fiscal years. These represent analyst estimates as of Sunday and valuations based on Friday's closing prices and those estimates.

*EPS growth and P/E are non-GAAP.
Intel still slots in fourth place when it comes to growth this year. However, Intel's valuation is the third highest, even after converting the two non-GAAP numbers to GAAP. There's a debate to be had over the Intel to Apple valuation difference, but that's for another day. Right now, I don't think Intel is a screaming buy, but it is not a screaming short either. I've recommended it over the past few months as a strong dividend play, as Intel's dividend yield is the highest in large-cap tech. Intel probably won't raise the dividend this year unless it decides to change its payout strategy.
Intel shares are about a dollar off their 52-week high, and I think that's mostly because investors see potential in Intel's mobile strategy. While Intel may not offer the best growth in large-cap tech, investors think that the chip giant's revenues are starting to trend higher. This could be a really interesting play for 2015. For investors looking to buy Intel, perhaps on a pullback, you might want to look at dividend yield points. For instance, you could buy Intel when it hits a 3.50% yield, which currently would be $25.71. That would be a little more than 2% below where shares closed Friday. Should we get a small pullback in the markets, Intel could easily drop 60 cents to this level.
Final thoughts:
Intel's short interest took a dive in April, reflecting a sizable shift in sentiment regarding the chip giant. Short interest is now at its lowest point in about a year and a half. While the chip giant is not back on the revenue growth trail in a meaningful way yet, investors are hoping that the company's tablet strategy will help. Intel's stock is towards the upper end of its recent range, so I would not be opposed if investors wait for a slight pullback before buying. The 3.50% yield point looks like a good point to start accumulating shares. In the end, the market is starting to believe in Intel again, and that is reflected in a notable decline in short interest.
Disclosure: I have no positions in any stocks mentioned, and no plans to initiate any positions within the next 72 hours. I wrote this article myself, and it expresses my own opinions. I am not receiving compensation for it (other than from Seeking Alpha). I have no business relationship with any company whose stock is mentioned in this article.
Additional disclosure: Investors are always reminded that before making any investment, you should do your own proper due diligence on any name directly or indirectly mentioned in this article. Investors should also consider seeking advice from a broker or financial adviser before making any investment decisions. Any material in this article should be considered general information, and not relied on as a formal investment recommendation.