BlackBerry (BBRY) has clearly stated that it sees itself being cash flow neutral from operations near the end of FY15 and aims to be profitable in early FY16. From the last earnings report we learned it was one quarter ahead of schedule for becoming cash flow neutral. Although it beat adjusted loss estimates, this news was contrasted by the huge miss on revenue.
There has been talk of potential revenue coming from BBM which now has a solid monetization plan, and QNX by attacking new verticals. Although these concepts sound nice they are not going to contribute enough to BlackBerry's top line this year, and I deem them relatively insignificant. Sure, any surprise profit would be nice but until some concrete numbers are shown those two areas do not deserve much attention (at least not right now).
It is the handsets and enterprise divisions that deserve attention. Here I want to lay out three pieces that are closely related and should take BlackBerry from a company just flirting with breakeven to a profitable business.
1) The "Jakarta" Z3 device - The Inflection Point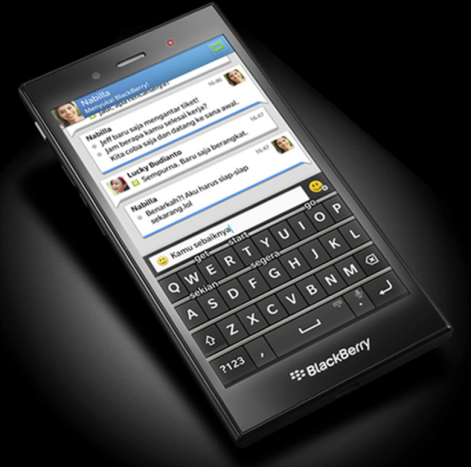 Source: Crackberry.com
On December 20, 2013 I woke up early in the morning eager to hear John Chen's first conference call as the new BlackBerry CEO. The stock price was down a large amount in premarket hours but a plethora of information had been released and needed to be digested. One of the highlights included the five-year partnership with Foxconn. John Chen went on to reveal plans for its first joint product to come out in the April timeframe and that it would be a 3G touchscreen device. Codenamed the "Jakarta", this was perhaps the first time in BlackBerry history that a CEO dropped a codename in an earnings conference call.
Four months have passed since then and this team effort has seen the "Jakarta" Z3 device designed, tested, and delivered; a swift delivery not seen under the previous management. Presales for the Z3s began in Indonesia late April through three different channels and sold out within the first day, showing great demand for the product. The phones will officially be unveiled in Jakarta, Indonesia on May 13th with CEO John Chen in attendance. Competitively priced at about US$189, this phone is BlackBerry's first actual entry-level phone and is poised to do quite well in its targeted markets.
From that same December 20 call John Chen let us know that BlackBerry has "another maybe six or seven different markets that we identified, that we would like to take these devices to." These markets are of course where BlackBerry believes there is still demand for its phones and include India, Thailand, Africa, Mexico, and Latin America. Indonesia will really serve as the low-risk test market as BlackBerry and Foxconn gauge the reaction to their new product and can tweak their strategy accordingly for the remaining markets. Next, we should see the phone being pushed out to other regions in Southeast Asia, primarily India and Thailand.
In March BlackBerry celebrated 10 years of being in India and dropped the prices of its Z10 and Q10 models for 60 days. With the Z10 model being priced at just under US$300 and about half the cost of the Q10 we saw Indian retailers completely sell out of the phones in a few days. This case confirms that the right price makes a huge difference and, thus, the sub-US$200 Z3 (rumored to be released in India by June) should do really well.
Although 3G phones are adequate where LTE is not supported, they just will not be enough in markets where LTE is the standard. BlackBerry is addressing this by working on an LTE version of the Z3 device. I believe after launching in its targeted emerging markets BlackBerry will have completed an LTE version of the Z3 phone for global distribution. Seeing how quickly the Z3 project was completed it would not be a stretch to see the Z3 with LTE become available before the end of summer. This point is paramount as enterprises will then look at the LTE Z3 as a viable option. Reviewing press releases of BES10 selection I learned that in cases where BB10 devices were purchased corporations were selecting the cheaper Z10 and Q5 models. This, of course, makes sense as companies have to keep their costs low. With the LTE Z3 being perhaps cheaper than both the Z10 and Q5 models, I foresee greater enterprise adoption of these handsets, especially in markets like Canada, Australia, Germany, and Brazil.
The important takeaway here is BlackBerry's handset division has essentially seen the bottom now. From the last quarterly results we saw a huge reduction of one third in channel inventory. This could be due to its shop, BlackBerry.com website, selling unlocked phones of almost all BB10 models in Canada, US, and the UK. Customers in those markets can buy their devices directly from BlackBerry instead of having to battle sales people pushing the latest Android or iPhone. Going forward, with Foxconn managing the inventory, BlackBerry has minimal inventory risk. Further, BlackBerry is focusing on what will be the strength and real driver of profits in the future: Enterprise Software.
2) Enterprise - The Higher Margin Profit Machine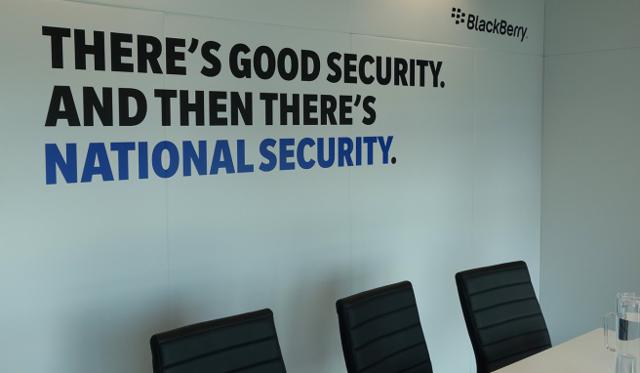 Source: Crackberry.com
The market's perception of BlackBerry has significantly improved since just a few months ago, and CEO John Chen is the man to thank. Gone is the worry that BlackBerry may be broken up, sold for pieces, or go bankrupt. The message is getting out there that BlackBerry is now enterprise focused and the team is being aggressive in delivering that message. Mr. Chen is keeping its customers informed on how it is much better than all of its competitors. Additionally, several BlackBerry Experience Events have been set up for this month in large cities across eastern North America and Europe. These half day events will let IT managers and the big decision makers learn about BES12 and how the BlackBerry solution is simpler and more cost effective.
Security is still of utmost importance to BlackBerry and it continues to deliver on being the best, most secure solution available:
No other MDM vendor has achieved the "Full Operational Capability" level of certification for operation on U.S. Department of Defense Networks
BlackBerry has the only EMM solution that is fully FIPS 140-2 validated for BlackBerry 10 and Secure Work Space for iOS and Android
BES10 and Blackberry 10 smartphones were the first to be approved by NATO for classified communications up to "Restricted" level
BlackBerry earns two Govie Awards for outstanding security in the categories of Data Security and Access Control for BlackBerry Enterprise Service 10 and Secure Work Space for iOS and Android respectively
Always moving forward, BlackBerry continues to innovate and lead the EMM market. In an effort to migrate its already 80,000 existing BES customers it has created BES12, which is backwards compatible and future proof, and will support cloud capabilities. Additionally, with this came a new EZ Pass Program allowing active BES customers and those with other MDM vendors to receive Silver level BES10 licenses. Just recently, a report by the global market research firm Strategy Analytics found that BES10 is the most cost effective multi-platform enterprise mobility management solution, based on a five year total cost of ownership.
The BES12 platform will only be available around November 2014 (about six months away) which may cause some concern due to the lengthy wait. That being said BlackBerry is doing a phenomenal job at communicating its roadmap to BES12 and will be implementing an early adopter program beginning this summer. Every month for at least the past 6 months we have seen very big companies from all over the world select BlackBerry's BES10 solution and this trend will pick up steam as free trial licenses expire.
Launching in tandem with BES12 will be the Classic QWERTY device, aimed at those consumers that are still stuck to their legacy BBOS7 devices. This phone, which includes the "toolbelt" and a screen larger than the Q10, merges the classic Bold efficiency with the elegant BB10 operating system.
"Customers love our keyboard, the track pads, the utility belt, the email services, the cut and paste.., and the battery life." -John Chen
The Classic handset will be targeted at enterprises and what I really feel will be the most attractive part of the Classic will be the price. Although this is supposed to be a high-end device it is still one that will be produced by Foxconn. We have already seen the BB/Foxconn partnership produce a sub-$200 touchscreen phone. The Q5 and Q10 can currently be purchased unlocked from the BlackBerry website for US$349 and US$399, respectively. If the Classic can be released at a price that remains competitive to its siblings it will see even greater adoption in the enterprise space. Combine this with the well priced Z3 LTE and you have a recipe for success. All of the previously mentioned factors should combat the risk seen from the continued decline in service access fees.
3) BlackBerry 10.3.1 Operating System - The Game Changer
BB10 officially launched early in 2013. More than a year has passed since its release and we have seen great improvements in its operating system. Seeing how far it has come gives perspective to just how unpolished and lacking the OS was when it initially launched. The latest official release is 10.2.1 which was rolled out through February. Its official press release listed numerous enhancements but there was absolutely no mention of its new ability to directly install Android apps.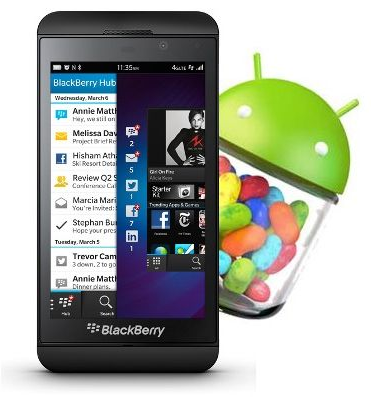 Source: phonandroid.com
BB10 users with 10.2.1 are capable of directly installing Android .apk files. These files can be downloaded through apps such as the Amazon Appstore, 1mobile market, Snap, or from apktrain.com. With this capability the "app gap" that plagued BlackBerry had officially been closed. The only problem is these capabilities were never officially announced or marketed. BlackBerry loyalists have cried out about the lack of marketing of such features and excellent devices. But what must be realized is that at a time when the company was struggling to survive, all funds had to be rationed wisely. Furthermore it did not yet have a fully polished product. Even with the ability to install Android apps, there is no elegant manner in which this is done, like on a true Android device. Nor do you receive notifications on available updates for these Android apps. Also, installing Android apps compromises the device as it becomes prone to the security risks of the app as one cannot control the app permissions. And since BlackBerry prides itself on its security, I can understand why it has been hesitant to announce this.
Well the team at BlackBerry obviously knows this and must be working on a solution. It is only natural that the next major version release of the operating system contains this solution. BlackBerry's roadmap has been published for developers and we can see that there is a runtime update to support Android 4.3, although there is no mention of whether there will be any sort of direct access to Google Play. Further, BB10 OS 10.3.1 should be released towards the end of the year and I feel like this version will have the solution. The timing of this all perfectly coincides with BES12 and the Classic release. This would be the perfect time to go on a marketing rampage! At that time BlackBerry would have a very mature and complete OS with several devices at different price-points. With BlackBerry's EMM business out in full swing this may even be a good time to come back to the consumer market and release a new phone. Maybe even a tablet. After all, John Chen did say he would revisit the North American consumer market eventually.
Conclusion
Even with all these positives mentioned there is still risk associated with BlackBerry. The stock was hammered in the past week, but as no negative press was released I could attribute this to macroeconomic factors. As such I view the current price to be a great entry point. Even in the next few months as BlackBerry continues to work towards profitability, there will still be a great deal of volatility in price and there is still a great amount of short interest, so cautious investors may want to stay away.
That being said, BlackBerry's dualistic approach of covering the low-end consumer market and the high-end global enterprise market should lead to its success. It no longer has to fight the losing battle with Apple and Samsung in the crowded high-end consumer space. The high grade quality and security of its enterprise software asserts its dominance in this market. It will require flawless execution to get BlackBerry back to profitability but Mr. Chen is surely the man to get the job done.
Disclosure: I am long BBRY. I wrote this article myself, and it expresses my own opinions. I am not receiving compensation for it (other than from Seeking Alpha). I have no business relationship with any company whose stock is mentioned in this article.