Charles & Colvard Ltd. (NASDAQ:CTHR) is a leading manufacturer, wholesaler and retailer of Moissanite and other jewelry products. Moissanite is a diamond-like gem and this company is the only significant source for these gems and jewelry. Moissanite was named after Henri Moissan who discovered it while examining a meteorite. At first, he believed it was a diamond since it looked the same and because it was so hard. Moissanite is very rare in its natural form because it is found in meteorites and other rare deposits. However, Charles & Colvard has developed a proprietary process to create Moissanite from silicon carbide. Moissanite is so similar to diamonds that it can take an expert to notice the difference and sometimes only by doing an electrical conductivity test. This makes it very ideal for consumers, especially since Moissanite has a refractive index that is 10% more brilliant than a diamond. Moissanite also appears to be more environmentally and morally correct when compared to mined diamonds which have been called "blood diamonds" or "conflict diamonds". Charles & Colvard is in a unique position to market Moissanite jewelry and this is why a sharp drop in the stock is a major buying opportunity. I recently wrote about this stock, but wanted to further develop a few points in this article as well as present a sum-of-parts valuation which shows this stock is too cheap to ignore.
In my last article on this stock, I suggested that after a 50% drop over disappointing earnings, this stock is very cheap and now trading way below book value of about $2.81 per share. At just about $2 per share, I also said it could have about 50% upside in the short term and possibly much more in the long run. After the article was published, a couple of interesting posts were made by some Seeking Alpha members which I would like to address now. One concern brought up is that a patent owned by Charles & Colvard would expire in the next couple of years. This is not a major concern for a number of reasons. One is that the market has known this for a very long time and (as posted by one Seeking Alpha contributor), the market was still willing to pay over $8 per share for this stock in the past 52 weeks (even knowing one patent that covers the technical process of making Moissanite gems is going to eventually expire). Another reason why this appears to be a non-issue is because Charles & Colvard has already developed the brand names like "Forever Brilliant" (which is a registered trademark known by consumers), a significant distribution network, and it also owns and will continue to own the Moissanite.com website, even long after any patent expires. For consumers looking for Moissanite gems and jewelry, almost any search will always lead to Charles & Colvard since it owns that valuable website. Furthermore, this is a niche business which Charles & Colvard has a leading position in, and the technical know-how and barriers to entry will remain relatively high for an industry of this size, even long after a patent expires. For all of these reasons, the future for Charles & Colvard remains positive and it is likely to remain the premiere manufacturer and retailer of Moissanite gems and jewelry for many years to come.
As I explained in the recent article on this stock, the company posted a loss when it reported financials. However, much of this was due to the fact that this company asked a customer to return about $800,000 in merchandise because of non-payment. This was a smart move by Charles & Colvard since it will re-sell this merchandise. It is also a one-time event which is why the recent drop in the stock from about $4 in March to around $2 per share, appears to be a major overreaction. Let's take a look at a sum-of-the-parts valuation of the company below which will show why this stock is just too cheap to ignore:
First of all, with the share price at just around $2, the current market capitalization is about $39 million. This company has no debt on the balance sheet, and it does have plenty of other assets which the market seems to be overlooking (at least for now). As of March 31, 2014, this company has inventory that is valued at $43.7 million. This alone is worth more than the current market capitalization. The company could probably liquidate this inventory very quickly for more than $43.7 million since it represents a valuation that is even below wholesale values. There are also a number of other significant assets which includes $2.5 million in cash, registered trademarks such as "Forever Brilliant" and the Moissanite domain name and E-commerce website which are also likely worth a few million. Based on these values and the book value of $2.81 per share, it is easy to see that this stock is trading way below liquidation value. Remember that the inventory value alone (and at cost) is worth about $2.20 on a per share basis and the cash on the balance sheet, domain names/website, trademarks and other assets all add a substantial amount of additional value to the stock. This means that investors who are selling now are essentially selling way below the liquidation value of this stock. With a strong cash-rich and debt-free balance sheet, this stock clearly deserves to be trading for more than the value of the inventory.
After the sharp pullback due to a disappointing quarter, this oversold stock is building a solid base at around $2 per share. The next likely move is for the stock to gap up from this oversold level in a rebound. Remember, the disappointing first quarter it recently announced appears to be due to very harsh weather conditions and a one-time customer return of about $800,000. As explained in my previous article, this company has posted solid profits in the past, and at its peak before the 2008 financial crisis, this stock even traded for over $25 per share. Just a few weeks ago, this stock was trading for more than $4 per share (on March 26th). After a huge drop, the stock is now oversold and building a solid base at around $2 per share. The volume which spiked at the peak of the sell-off has started to normalize. This is usually the indicator that the pullback is worth buying as oversold stocks often rebound once the selling pressure is absorbed and then comes to an end with trading volumes returning to more normal levels. For these reasons, I believe this stock is poised for a solid rebound in the coming days and weeks. It is worth noting that multiple insiders bought this stock in March for about $2.93 per share, which is also detailed in my last article. Investors should consider buying this stock for both a short-term rebound in the stock price, as well as for the longer-term upside which could come with improved financial results.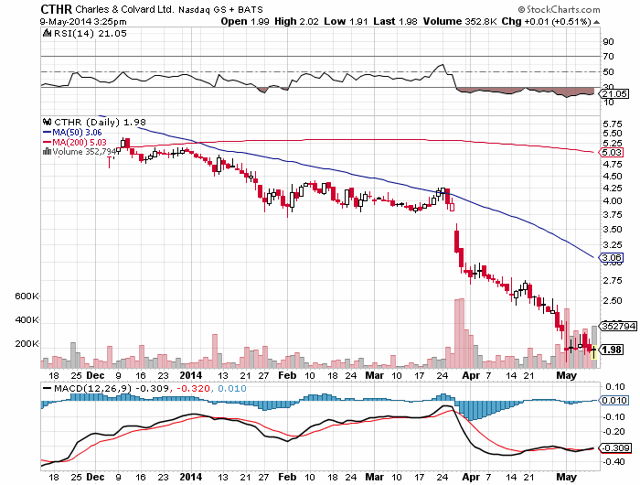 Here are some key points for Charles & Colvard
Current share price: $2
The 52-week range is $1.87 to $8.34
Annual dividend: none
Data is sourced from Yahoo Finance. No guarantees or representations are made. Hawkinvest is not a registered investment advisor and does not provide specific investment advice. The information is for informational purposes only. You should always consult a financial advisor.
Disclosure: I am long CTHR. I wrote this article myself, and it expresses my own opinions. I am not receiving compensation for it (other than from Seeking Alpha). I have no business relationship with any company whose stock is mentioned in this article.
Editor's Note: This article covers one or more stocks trading at less than $1 per share and/or with less than a $100 million market cap. Please be aware of the risks associated with these stocks.