Details: Orthofix International (NASDAQ:OFIX), $31.60, Healthcare - Medical Appliances and Equipment
Recommendation: Buy Orthofix at $31.60, Target $40, Stop Loss at $29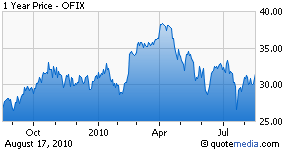 Thesis: Orthofix shares are a strong buy on valuation despite weakening industry trends that have priced in the worst for shares of orthopedic device stocks, and the upside potential for industry consolidation is an added attraction. As the larger players like Zimmer (ZMH) and Stryker (NYSE:SYK) have disappointed investors, Orthofix has beaten estimates handily and is operating at a high level. Orthofix fits the bill for recent M&A in the industry, with a market cap of $557.6M with steady earnings, high margins, growth, and is a niche player. Shares traded as high as $60 in late 2007, and as low as $8.75 in 2008, and this turnaround story looks to have further upside potential. Osteotech (OSTE) was bought out by Medtronic (NYSE:MDT) Tuesday for a 65% premium, also a player in orthopedic applications.
Overview: Orthofix, based in the Netherlands, designs and manufactures medical equipment for orthopedic applications, such as spinal implants/fusions, bone reconstruction, and bracing products. Orthofix sells its products in the US, UK, Italy, Switzerland, Germany, Austria, France, Belgium, Mexico, Brazil, and Puerto Rico.
Fundamentals: Orthofix shares trade 12.44X earnings, a PEG of 0.63, 0.99X sales, 2X book value, and 27.8X cash flow. The Company does have a long term debt/equity ratio of 0.81, so it is leveraged, but also has plenty of coverage to make payments with a quick ratio of 2.73. Operating margins are at 16.56% and ROA is at 7.5%. It trades with the second cheapest PEG among all the medical device stocks (34 Micro+ Market Cap Companies), fourth best on price/sales, and ninth best on price/earnings. Orthofix has an EV/EBITDA of 7.3.
Industry and Macro Analysis: The orthopedic industry has come upon tough times with recent earnings from ConMed (NASDAQ:CNMD) [see transcript], Symmetry (NYSE:SMA) [see transcript], and Stryker [see transcript] citing pricing pressures and weak demand in hip, knee, and spinal segments. The orthopedic market is sensitive to the economy as even with the insurance, the out of pocket costs for surgery can be extensive, and in weak economic environments with a lot of people out of jobs, or not willing to risk taking time off, the surgeries are often delayed or even postponed indefinitely.
However, compared to other industries, the orthopedic industry is somewhat recession resistant due to Government sponsored care for the elderly, and many of the concerns seem to have already been priced into the stocks in this group, trading at major discounts. Also, we have likely seen the trough in unemployment, and any improvements on the jobs front will benefit these stocks.
Demographics are driving growth in the industry, looking for 6% growth per year the next 5 years, with 40 million people over the age of 65 currently, a number that will grow to 71 million by 2030. Also, only 20% of Americans engage in a high level of physical activity, and more than 50% of the population is overweight, so the demand for orthopedic devices should continue to grow. The solution to pricing concerns may be further M&A, as the larger companies look to take out the smaller competition and gain some pricing leverage. The biggest problem with pricing is that more surgeries are moving from surgeons to hospitals, so the device selectivity is reduced.
Analyst Coverage: Orthofix is covered by Sidoti, SIG, Wells Fargo, Jefferies, Summer Street, Canaccord, Lazard, and Boenning & Scattergood. Shares were started Outperform at Boenning & Scattergood on June 21st with a $45 Target and also started a Buy at Lazard on June 2nd with a $50 target.
Short Interest, Ownership and Options Analysis: Orthofix has a 5.33% short float, nearly 8 days to cover short ratio. Short interest has risen from 0.55 million shares short in March to around 0.93 million shares short as of August 1st, an increase of 80%. 91% of the float is owned by Institutions and Mutual Funds. FMR owns 14.3% , Columbia Wanger owns 9.3%, and Snyder Capital Mgmt. owns 6.3% of shares outstanding. Orthofix is not an optionable stock.
Technical: Orthofix shares have traded increased volume the past two weeks, showing some additional interest in the name following a strong earnings report [see transcript]. Shares have clearly defined support and resistance levels, with $33.40 the next major level of resistance, and a level that needs to be broken to disrupt the potential for a head and shoulders pattern to develop. Above that level the $38.50 highs are an easy target, and a move past that level would target $50, the price target at Lazard. Shares are nearing a bullish MACD crossover on the weekly chart, and recently broke past trend resistance on the CCI Indicator. A move close above $32.10 would be a major trend reversal shift, as shares would be above the IchiMoku Cloud.
Click to enlarge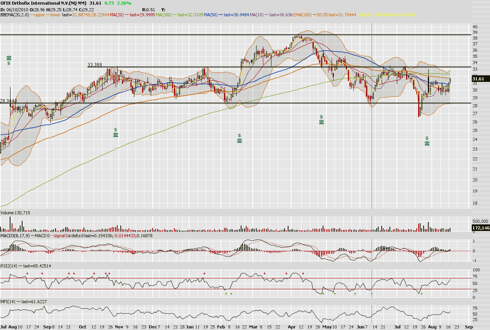 Recent News and Upcoming Catalysts: Orthofix reported Q2 results on July 28th, beating Street estimates by 15% on the bottom line, and also raised full year guidance above Street estimates. This came after a big 20% bottom line beat in Q1 and a full year guidance raise. The Company introduced the new Fusion XT knee brace Tuesday, a positive sign of innovation.

Trading Strategy: Long Orthofix Equity at $31.60

Risks: Nuvasive (NASDAQ:NUVA) / Osiris (NASDAQ:OSIR) filed a patent suit in April 2010 regarding Orthofix's Trinity Evolution product

Disclosure: Long OFIX at $31.60