According to a filing on the Shenzhen Stock Exchange (Chinese: Link), Tencent acquired 11% stake in A-share listed NavInfo (002405 CH) for RMB1.17b, or US$187m. I see this as a risk to Baidu (NASDAQ:BIDU), since Baidu Map relies on NavInfo for content. If Tencent were to acquire the remaining stake in NavInfo, then Baidu's LBS and O2O market share gain would be greatly hindered.
NavInfo wins with a large user base
According to Enfodesk, AutoNavi leads China's mobile map market with 37% of total user base compared with Baidu Map's 32%. However, excluding the 6% contribution from Apple iOS, Baidu Map has a 1% lead over AutoNavi.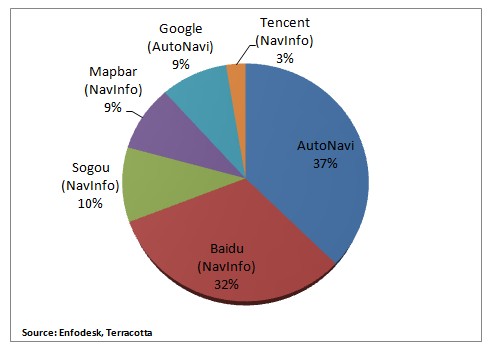 NavInfo handily beats AutoNavi in terms of user base market share due to its partnership with major map providers including Baidu, Sohu (NASDAQ:SOHU) and MapBar. I estimate that NavInfo has 54% of China's mobile map market share compared to AutoNavi's 46%.
Tencent and Alibaba cornering Baidu in mobile maps
Tencent may eventually acquire the entire NavInfo, just like how Alibaba acquired the remaining stake in AutoNavi after a partial acquisition two years ago. In my view, Tencent's acquisition of NavInfo will negatively impact the progress of Baidu's mobile internet strategy, particularly the integration of Baidu's services with Baidu Map. Tencent may terminate NavInfo's business relationship with Baidu, which would allow Tencent to gain a sizeable market share in the mobile map market immediately.
If Baidu were to lose its business relationship with NavInfo, it may partner with another map content provider of a smaller scale. I do not expect Baidu to turn to Alibaba for map content sourcing. Baidu may have to make multi-year investment into mapping. It is likely to be less efficient than AutoNavi. A costly solution to Baidu is to acquire NavInfo at a premium. Although doing so makes sense in the long term, the high price tag may be prohibitive.
Baidu currently trades at 20x FY15 consensus earnings compared to Tencent's 25x. Baidu has exposure to search, travel, online video and app distribution, while Tencent has a leading position in desktop/mobile games, social networking and mobile messaging.
Disclosure: I have no positions in any stocks mentioned, and no plans to initiate any positions within the next 72 hours. I wrote this article myself, and it expresses my own opinions. I am not receiving compensation for it (other than from Seeking Alpha). I have no business relationship with any company whose stock is mentioned in this article.