A lot of people assumed that interest rates would continue to climb rapidly in 2014. Many exited bonds and stocks that invested in Agency MBS such as Annaly Capital Management Inc. (NYSE:NLY). However, as of May 9, 2014 the yield on the 10 year US Treasury Note is 2.62%, which is down 10 bps from March 31, 2014 and down 41 bps from December 31, 2013. In other words the book values of fixed rate Agency MBS have gone up so far in 2014. This is a big positive for NLY and like companies.
Despite the above, there are those who continue to maintain that interest rates will skyrocket in 2014. However, evidence increasingly indicates that this is unlikely. The US Q1 2014 GDP growth rate first estimate was only 0.1%. The HSBC Chinese Manufacturing PMI (48.1 for April 2014) has indicated contraction for the last several months. The IMF says that Russia is already in a recession; and the sanctions by the US, EU, etc. can only be exacerbating Russia's economic problems.
Russia's problems are sure to have a negative effect on the EU's economy. For instance, six EU countries (Bulgaria, Latvia, Lithuania, Finland, Estonia, and Slovakia) are 100% dependent on Russian supplied natural gas. Across the entire EU, Russia supplies 34% of the total natural gas used each year. If there is a natural gas embargo by Russia, EU economies are sure to be adversely effected. The natural gas problem is just the tip of the iceberg. There are many other areas of the EU economy that will suffer greatly. Russia/Ukraine could easily become the event that sends the EU into a deep recession. It is already having a negative effect. Even US companies like Visa (NYSE:V) are estimating negative earnings effects.
Given the above, the odds of a rapid increase in interest rates in 2014 seem small. In fact Jeff Gundlach of DoubleLine thinks there is a 30% chance that US Treasury yields will fall below their lows seen in July 2012 (1.39% on the 10 year US Treasury Note). He feels there are too many people short US Treasuries. Therefore if yields start to go down (in other words US Treasuries start to move upward), there could be a massive short squeeze that will drive yields far downward.
Further the yield on the 10 year Italian Note is 2.95% as of May 10, 2014. The yield on the 10 year Spanish Note is 2.92%. Both of these countries still have serious economic problems. For instance, the unemployment rate in Spain is still 25.93%. The 10 year Spanish Note yield should not logically be virtually on a par with the US 10 year Treasury Note yield, especially with the Ukraine problems adding to the likelihood of double dip recession for the EU (or a triple dip recession). On this basis, It seems likely that investors will eventually rush out of such weak EU country bonds; and they will rush into bonds that are viewed as more stable such as the 10 year US Treasury bond. Such a happenstance would almost certainly push US Treasury bond yields down.
In sum there may be more reasons to expect interest rates to go down in the next 1-2 years. Yes, the Fed is currently saying it will soon begin to start raising Fed Funds rates. However, the Fed does not want inflation with no growth (STAGFLATION); and that is what would happen if the Fed raised rates with a slowing Chinese economy and a slowing EU economy.
The Fed may keep tapering. After all the extra liquidity from QE3 seems to have been stimulating foreign countries' economies more than it was stimulating the US economy. In other words the Fed push of investors toward risk assets resulted in more investment in the stocks of other countries in QE3 (in my opinion). I and many others don't think it was a particular benefit for the US government (the Fed) to fund the competition (the emerging market economies and even the EU).
In QE1 most US stocks were downtrodden, therefore a lot of the extra liquidity provided through the Fed's machinations did go into US stocks. QE1 mostly WORKED. However, I think most can see that the same situation no longer exists. Instead when most investors think US stocks are already overvalued, the extra liquidity will largely tend to go out of the country; or it will go into already far overvalued momentum names. Perhaps the "taper" by the Fed is part of the explanation for the recent pullback in the momentum names?
This outlook for interest rate stability or even a pullback seems favorable for Agency mortgage REITs like NLY; and so far in 2014 this has proved true. The NLY book value increased from $12.13 at the end of Q4 2013 to $12.30 at the end of Q1 2014. NLY paid a $0.30 dividend per common share for Q1 2014 (10.3% annualized). Combining the two economic returns above NLY produced a 3.87% total economic return for Q1 2014 (or about 15.5% annualized). That is an excellent return for most investors.
Some will certainly point to the GAAP net loss of $203.4 million (or $0.23 per common share) for Q1 2014 as negative, especially compared to the GAAP net income of $1.0 billion (or $1.07 per common share) in Q4 2013. However, NLY management claims this was almost entirely due to unrealized losses on interest rate swaps and interest-only Agency MBS, and a net loss on trading assets. This is entirely believable. Interest rates on the 10 year US Treasury rose in Q4 2013 from 2.61% to 3.03% (+42 bps). Long-term hedges against rises in interest rates would tend to gain value in that situation. In Q1 2014, interest rates on the 10 year US Treasury fell from 3.03% to 2.72% (-31 bps). Long-term hedges against rises would tend to lose value during such a move.
More important to investors, NLY had Core Earnings of $239.7 million (or $0.23 per common share) in Q1 2014. This was still lower than the $350.1 million (or $0.35 per common share) in Q4 2013; but it was within reasonable proximity to the $0.30 per common share that NLY paid out as a dividend for Q1 2014. The main cause of this drop in Core Earnings seems to have been the large drop in the net interest rate spread from 1.43% for Q4 2013 to 0.90% for Q1 2014.
Fixed-rate Agency mortgage backed securities and debentures comprised 93% of the company's Investment Securities portfolio at March 31, 2014. They are still by far the most important part of NLY's portfolio. The net amortization of premiums and accretion of discounts on investment securities for Q1 2014 was $119.0 million. This was significantly higher than the $30.7 million in Q4 2013. This accounted for most of the difference between the $350.1 million in Core Earnings in Q4 2013 and the $239.7 million in Q1 2014. Part of the problem was also that NLY's average cost of funds on average interest bearing liabilities increased for Q1 2014 when compared to Q4 2013 due to higher interest rate swap notional amounts during the quarter (94% in Q1 2014 versus 92% in Q4 2013). Leverage on the Agency MBS portfolio also rose to 5.2x from 5.0x in Q4 2013.
It would appear that NLY management is expecting interest rates to go up as the tapering completes for QE3. The current market expectation for Fed Funds rate rises within a reasonable time after that no doubt encourage this expectation. However, the economic details discussed early on in this article would tend to argue against that expectation. They might even argue against any Fed Funds rate raises in the near future.
This then becomes an investor's call. If you believe NLY management is correct about interest rates heading upward soon, NLY is positioned to weather an upward movement in interest rates. Although some book value will be lost in the process, the net interest rate spread will increase. The net amortization of premiums and accretion of discounts on investment securities will likely decrease. NLY will likely grow the dividend if interest rates do not rise too quickly. If interest rates decrease, I would still expect the net amortization of premiums and accretion of discounts on investment securities to decrease, barring a huge move downward in interest rates in one quarter. NLY might even decrease its notional amount of interest rate swaps. This would decrease that cost. Further most of the refinancing activity due to the real estate crash of 2007-2010 is over now.
There is still HARP 3.0. This is expected to be passed soon; but this is meant to help people whose mortgages are not backed by federal agencies such as Fannie Mae, Freddie Mac, and the FHA. Since NLY is an Agency RMBS investor, it should be relatively unaffected by this. The securities it invests in should be relatively unaffected long term. However, short term they could lose some of their premium. In fact the expectation of this bill may be part of the explanation for the increase in net amortization of premiums and accretion of discounts on investment securities in Q1 2014. In other words, if all loans, including non-Agency loans, are in effect being guaranteed by the government (a near approximation if HARP 3.0 passes), why should Agency MBS sell at such high premiums?
Investors will have to wait in Q2 2014 to see if the elevated levels (relative to Q4 2013) of net amortization of premiums and accretion of discounts on investment securities continues. In any case NLY seems positioned to do reasonably well. If interest rates fall, it should see book value increases. Investors should not see stock value losses given that the stock price ($11.62 as of the close May 9, 2014) is already trading at a discount to its book value of $12.30 as of March 31, 2014.
As for the commercial side of the business, it appears to be holding its own. The commercial position grew 4.5% quarter over quarter. It now represents 12% of NLY's equity on a net basis; and it represented 14% of NLY's Core Earnings. NLY had commercial real estate debt and preferred equity of $1.6B with a weighted average yield of 9.13% at the end of Q1 2014. It also had $36.6 million of commercial real estate held for investment with a net equity yield of 11.69%. NLY is exploring ways to leverage this area of its business. It is reasonable to expect that commercial real estate investment yields will rise in future quarters based on leverage increases.
For those interested in the more specific portfolio descriptions, the Agency MBS and Debentures portfolio as of March 31, 2014 is below.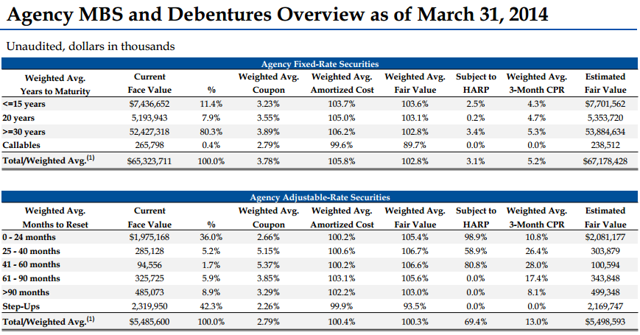 The second part is below.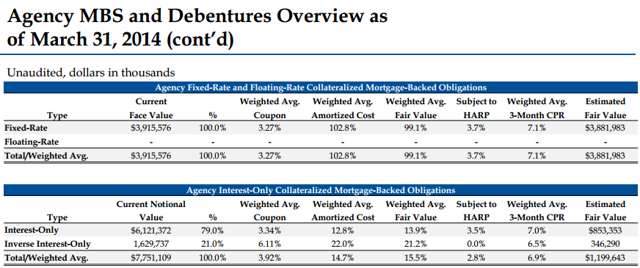 The Commercial Real Estate Overview as of March 31, 2014 is below.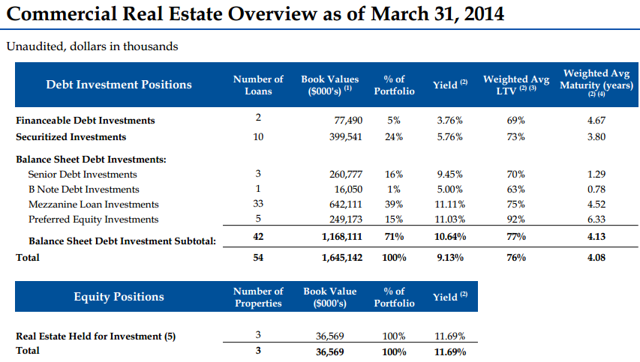 I hope the above helps readers get a better overall picture of what is going on at NLY. The stock with all of its faults is far from perfect; but it has a beta of 0.07. It should hold up well in a possibly troubled market in the near future, especially when it is trading at a discount to book value (about a 5.85% discount to the March 31, 2014 book value). Plus it pays a 10%+ annual dividend. It is hard to argue with all of that when the current market is so uncertain. Investors can always sell NLY, if they see the situation turning more negative. It is not likely to fall overly quickly, as many other stocks can. It is a buy.
The two year chart of NLY provides some technical direction for a trade.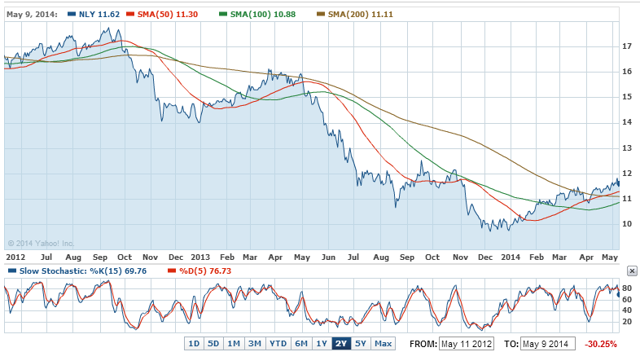 The slow stochastic sub chart shows that NLY is near overbought levels. The main chart shows that NLY apparently bottomed at the end of 2013. It has been in an uptrend since. This last earnings report should not necessarily interrupt that uptrend. At worst it might make NLY's stock price go sideways. This means NLY is a buy in the current market. The average analysts' recommendation is 3.0 (a hold). The CAPS rating is four stars (a buy). I think the CAPS rating more accurately reflects how the stock should be regarded by most investors, especially income investors.
The one caveat is that the overall market could be in for a significant pullback in the near future. If that happens virtually all stocks will fall. For that reason investors may wish to average into NLY over the next year or so.
NOTE: Some of the fundamental fiscal data above is from Yahoo Finance.
NOTE: For those interested in reading about other Agency REITs' recent performances, the article, "American Capital And CYS Both Posted Great Q1 2014 Results -- CYS Seems To Have Led The Way," provides you with a good analysis of two more good investment candidates.
Good Luck Trading.
Disclosure: I have no positions in any stocks mentioned, but may initiate a long position in NLY over the next 72 hours. I wrote this article myself, and it expresses my own opinions. I am not receiving compensation for it (other than from Seeking Alpha). I have no business relationship with any company whose stock is mentioned in this article.