Quite a few companies stood out this quarter for reacting strangely to their earnings reports. Amazon.com (NASDAQ:AMZN) is probably the first company that comes to mind, as it opened down nearly 12% on the earnings news and then reversed to close higher on the day. Its report day sticks out like a sore thumb in the first chart below. And since that initial gap down of 11.78% on July 23rd, AMZN is up 21.65%.
Netflix (NASDAQ:NFLX) and MercadoLibre (NASDAQ:MELI) are two other popular stocks that initially sold off hard on earnings news and have since come roaring back. Netflix opened down 8.5% following its report and is up 21.43% since then, while MELI opened down nearly 6% and has since rallied more than 17%. Charts of these two stocks are shown below as well.
images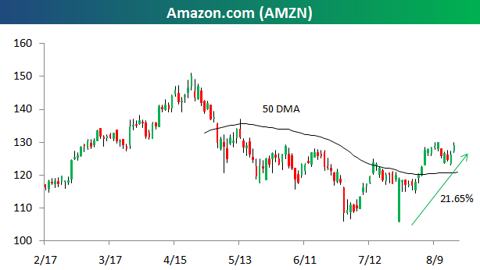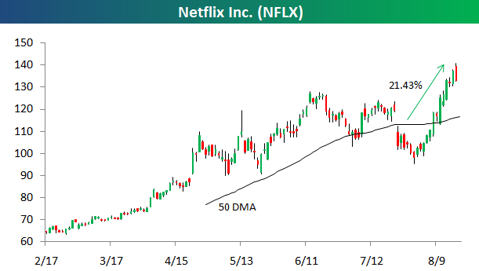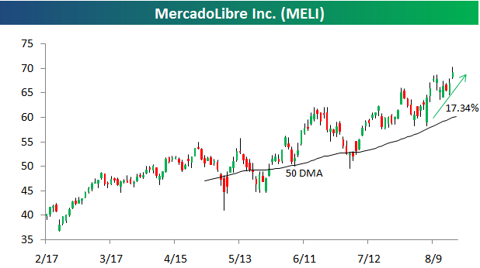 There were undoubtedly more of these negative earnings "pump fakes" throughout the reporting period. Here at Bespoke, we keep an ongoing database of earnings reports for every company, tracking the actual earnings numbers as well as how the stock reacts to the report. We can easily filter for situations similar to AMZN's where a stock gaps down big on earnings only to reverse and trade higher. Having access to all of this information can be very useful in tracking patterns and developing trading strategies.
Below is a list of all of the negative "pump fakes" that occurred this earnings season. These are stocks that opened down at least 5% following their earnings reports and have since climbed by more than 5%. Anyone that sold these names early on their report days is no doubt kicking themselves at this point. As shown, Amazon.com and Netflix actually had the two biggest pump fakes this earnings season in terms of how much they've rallied back, while MercadoLibre ranked sixth. Acme Packet (NASDAQ:APKT) ranked third after opening down a whopping 15.87% and surging back 18.46% since then. Other notable names on the list include Coinstar (NASDAQ:CSTR), Tupperware (NYSE:TUP), Akamai (NASDAQ:AKAM), and SanDisk (SNDK).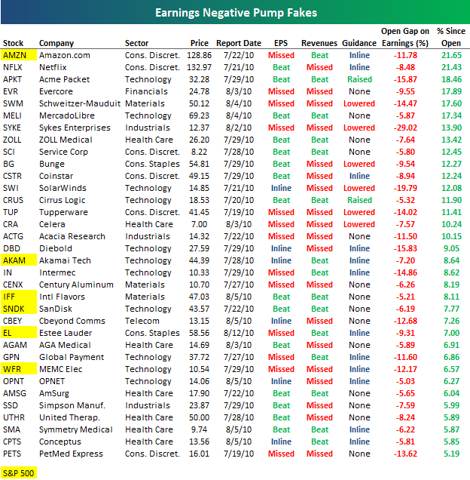 Just as there were negative "pump fakes" this earnings season, there were positive ones as well. These are companies that initially opened up big following their reports only to sink significantly lower thereafter. Below are all of the stocks that opened up at least 5% on their report days and have since declined by more than 10%. Most of these companies had strong reports -- beating earnings and revenue estimates and even guiding higher in some instances. For some reason investors felt that the initial rally was undeserved, however. The biggest name on the list of positive pump fakes is Intel (NASDAQ:INTC). As shown below, Intel reported an earnings triple play (beat EPS, revenues, and guided higher) and opened up 5% after its release in mid-July. But since that open, Intel is down more than 11%. Go figure.