Before writing this article, I had a look at BlackBerry's (NASDAQ:BBRY) earning call transcripts, annual and quarterly reports, press releases and financial statements, in particular, the income statement. In this article, I focus on revenue analysis, based on historical data as well as recent news about the company. My goal is to show you what we can expect from BlackBerry for the next quarter report. In my opinion, my forecasts are highly realistic, not speculative and, we could be positively surprised as a result. Next quarterly earnings report (Q1 2015) will be released the 19th June 2014.
Revenues breakdown
BlackBerry's revenues come from hardware sales, which are sales of legacy devices (BB7), playbook tablets and new BB10 devices, services and software. Services include old BES5 revenues, BES10, subscriber revenues from legacy devices (from BIS, BlackBerry Internet Service), which will decrease quarter over quarter in the future, due to the fact that BB10 devices don't need BIS to work. Regarding the software part, I assume revenues mainly come from QNX. As a footnote, I include "other revenues" in the software part, which are mainly sales of BlackBerry accessories. The company doesn't provide any additional information about it.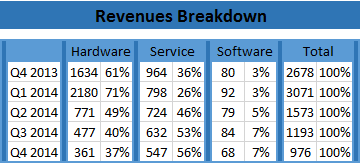 In the last quarterly earnings release, hardware and service sales were the most important parts of BlackBerry business and accounted for, respectively $361 million (or 37% of total revenues) and $547 million (or 56% of total revenues). On the contrary, software revenues accounted for about $68 million (or 7% of total revenues).
In the future, BBM will also contribute to service revenues with the newly developed BBM Protect (a BBM fully encrypted aiming to enterprise customers) and to a lesser extent, with BBM stickers, which was released earlier this year, and finally BBM Channels through sponsored adds. Furthermore, CEO John Chen expects that software revenues will become much more important in the future, thanks to QNX and the Internet of Things. BlackBerry's CEO said:
In this growing, connected world, it's more important than ever to create technologies that not only connect people to people, but that connect to machines and devices for greater communication and interaction. BlackBerry and QNX have a long history of developing solutions that do just that. Solutions that connect and support the Internet of Things, including embedded platforms, networks and devices, are at the heart of what QNX delivers. Consider this - while there are 5 billion handsets in the world that we want to connect to, there may be 500 billion devices out there that present a tremendous opportunity for an organization with the experience and track record of QNX.
Revenues Estimates
The goal of this article is to forecast revenues for the next quarterly earnings release. In order to do it, I divide my revenue estimates in three parts; Hardware sales, Service & Software sales and, sales of the new BlackBerry Z3.
Part 1: Hardware Sales
Devices sold have been decreasing quarter over quarter since Q1 2014. As a result, hardware sales tumbled from $2180 million in Q1 2014 to $361 million in Q4 2014. Nevertheless, Average Selling Price per device started to increase from $208.32 in Q2 2014 to $277.78 in Q4 2014. The main explanation for this increase comes from the fact that BB10 devices are pricier than old BB7 devices. And furthermore, BB7 devices start to become less important in volume in comparison with BB10 devices in my opinion. As a results, ASP rises.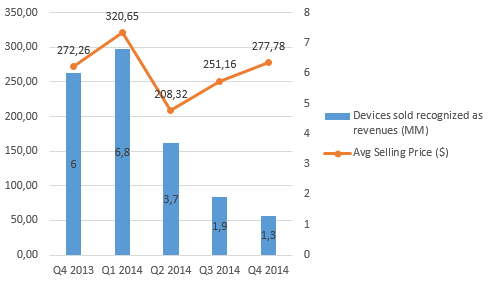 Update: As a reminder, I want to add that BlackBerry changes its revenues' recognition policy in Q2 2014. In fact, the company uses device shipments to assess its hardware sales (6 and 6.8million are shipments for Q4 2013 and Q1 2014). Afterwards, the company started to recognize revenues on devices sold during the quarter (3.7 million, 1.9 million and 1.3 million), resulting from the accounting policy change. But BlackBerry sold through to end users 5.9 million for Q2 2014, 4.3 million for Q3 2014 and 3.4 million for Q4 2014.
Devices recognized as revenues during the quarter and devices sold through end users should converge in the future. But I still don't know when. I would like to thanks readers for the help.
Now, it is time to forecast hardware sales for the next quarterly earnings, Q1 2015. In order to estimate the hardware sales, I use the Average Selling Price per device (in $) and the number of devices sold recognized as revenues (in million). Last quarter, the company sold 1.3 million BlackBerry devices with an ASP per device of $277.78.
I assume the company will recognize 1.6 million devices as revenues at an Average Selling Price per device of $250 (apart from the newly released BlackBerry Z3). Regarding the BlackBerry Z3, I'm going to discuss the topic later in this article.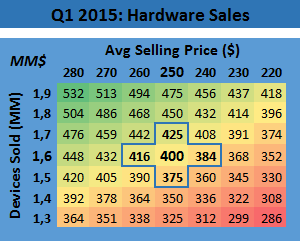 Now, I'm going to answer two questions. First: why did I choose 1.6 million units recognized as revenues (having increased by 300,000 units from last quarter)? Second: why did I choose an Average Selling Price per device of $250 (having decreased by $27)? There are several reasons for that.
BlackBerry devices are selling particularly well these days in certain emerging countries such as India, where there were several reports saying that the Z10 is out of stock thanks to a price cut.
I'm currently living in Saigon, Vietnam, and the Z10 is also out of stock everywhere in the city. Other models are also difficult to find. But there is one simple reason for that. As for India, BlackBerry drastically cuts the price one or two months ago.
In the last quarter report, the company recorded a BB10 inventory recovery of $149 million, which is a positive sign for the future quarter. In fact, the management was too pessimistic about the current inventory so they had to reassess its value. While this is a positive sign for next quarter sales, I didn't forget that BlackBerry recorded two massive inventory write-downs the previous quarters. But I mentioned it because it is encouraging for future hardware sales.
More and more enterprise customers are upgrading to BES10 and as a result, they buy BB10 devices. I attribute this reason to John Chen's confidence, which succeed to reassure its existing enterprise customers. John Chen's strategy to focus on enterprise customers starts to be successful, as shown by the EZ Pass Migration (800,000 new BES10 licenses have been activated in less than 2 months).
Part 2: BlackBerry Z3 Sales
The company will release the BlackBerry Z3 in May 13 in Indonesia. Two weeks ago, pre-orders for the new device started and shortly after, the device was already sold out in many reseller shops. While the "out of stock" sign is clearly a good start, it heavily depends on the number of units available at launch. Therefore, we should take this information with a grain of salt.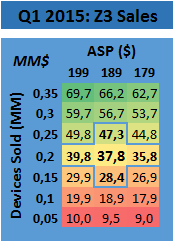 If I include the pre-order period, the BlackBerry Z3 will be available during one month of the Q1 2015 (ended in June 1). Therefore, I assume 200,000 devices sold at an ASP of $189 (official selling price). In Indonesia, BlackBerry is still the favorite brand of many people. Moreover, the price tag is specifically designed for emerging countries such as Indonesia. As a result, my forecast adds $37.8 million in revenues for Q1 2015.
Part 3: Service and Software Sales
For the service sales, I assume a declining rate of 13.5% in line with previous quarter decline of 13.62%, based on CFO's guidance. As I previously said, service revenues from BB7 subscribers will continue to decline quarter over quarter. On the contrary, BES10 sales are expected to increase in the future. Furthermore, BES12 will contribute to offset declining subscribers of BB7 service revenues in Q3 2015 (BES12 will be released in November 2014). In the last conference call, CFO James Yersh said:
While service revenue will continue to be generated by current and future users of BB OS devices, we expect revenue to decline in the first quarter of fiscal 2015 by a percentage consistent with the decline experienced this quarter. As John noted, we continue to see good traction with the adoption of BES 10. To help offset the lower service revenue generated by customers using BB OS devices, we expect to see gradual revenue contributions from BES 10 and the recently announced BES 12 beginning in fiscal 2015.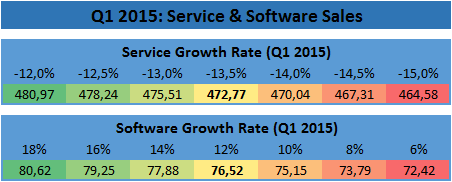 Regarding the software part, I assume an arbitrary growth rate of 12%, which leads to software revenues of $76.52 million for the next quarter. In my opinion, the company will benefit from the newly implemented Apple's (NASDAQ:AAPL) iOS in the Car, as well as further penetration rate in the automotive segment. I'm thinking of Ford, which ditched Microsoft's (NASDAQ:MSFT) Sync to QNX.
Analyst Estimates
Currently, analyst consensus is $967 million based on 30 estimates, varying from a low estimate of $755 million to a high estimate of $1,389 million. It is a slight decrease of 1% from previous quarter. Analysts estimate that BlackBerry's revenues will be flat on the quarter thanks mainly to higher hardware sales.
My own forecast comes in at $987 million, 2.6% higher than the consensus. Total sales come from service ($472.77 million, having decreased by 13.5% from Q4 2014), software ($76.52 million, having increased by 12%), hardware ($400 million, having increased by 10.77% from previous quarter) and BlackBerry Z3 sales ($37.8 million).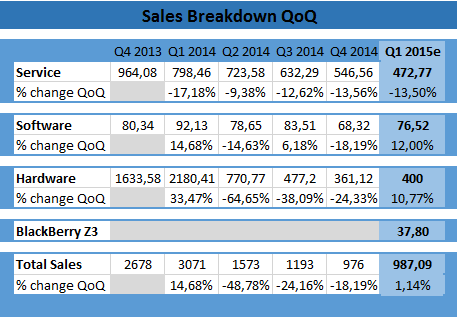 Conclusion
In this article, I analyzed BlackBerry's future quarterly revenues to show investors what's going on for the company in the near future. I plan to write other articles based on other topics to further explain BlackBerry's financial situation and to assess future growth opportunities for the company.
As a matter of conclusion, I would say that John Chen's strategy to turn around BlackBerry has been implemented and is quietly taking shape quarter over quarter. As everyone knows, a turnaround takes time. But, John Chen has done an unbelievable work at BlackBerry in just five months. I definitely have confidence in John Chen and in his strategy.
Disclosure: I am long BBRY. I wrote this article myself, and it expresses my own opinions. I am not receiving compensation for it (other than from Seeking Alpha). I have no business relationship with any company whose stock is mentioned in this article.