In recent developments, the second-largest lender in the United States, Bank of America (NYSE:BAC) has cut its overall exposure to Russia by as much as 22%, a decline that will be concentrated mainly in loans to Russian banks and energy companies. These changes at our Bank of America are due to mounting Central and Eastern Europe geopolitical tensions in the Ukraine.
Furthermore, the bank's concern with exposure in that country may actually get worse - if Russia decides to intervene in the May 25th election in the Ukraine, then US President Barack Obama together with German Chancellor have agreed to add new sanctions against Russia.
The Situation Remains Fluid
The North Carolina-based Bank of America stated in its quarterly regulatory filing that it remains open to even more new changes. In particular, it anticipates that if sanctions against Russia become even more severe, then Russia will probably respond with counter-sanctions. If this happens, it will affect Bank of America's exposure in Russia even further. As of March 31, net country exposure to Russia dropped to $5.2 billion. Risk was focused on commercial banks and oil and gas companies.
Top 3 Megabanks Affected By Sanctions against Russia
Bank of America is not the only major bank that has been affected by the United States and European Union sanctions against Russia. After Russia's military invasion in Crimea, enforced sanctions were used to show support for eastern Ukraine. Consequently, in compliance, Bank of America, JPMorgan Chase & Co (NYSE:JPM), and Citigroup Inc (NYSE:C) decided to reduce their exposure to Russia.
As a group, these three major banks will probably experience an estimated 13.6% earnings decline in the first quarter of the year.
Additional Banking Industry Challenges
This is not the only difficulties faced by the mega banking industry.
In a low interest rate environment, there is increasing evidence of weak loan growth. There is also less activity from both the consumer and corporate sector, which may be due to mounting legal costs arising from a decline in the mortgage market.
Adding to these difficulties, the mega banking industry is also facing an increase in stringent regulations. President Obama's prosecutors are working on making sure the banks are being held accountable for their activities and are working to enforce penalties without threatening to upset the economy by forcing bank charters to be revoked. All these factors are adding up to put pressure on the bank's top line.
Outlook For BAC Investors Not Good, With Added Political Turmoil
While Bank of America is complying in imposing sanctions on Russia during the first quarter, the negative effects of the political turmoil will further strain to the bank's precarious situation. Other bad marks recently include:
In Q1 BAC shares dropped nearly 3% following disappointing earnings.
Shortly after, the former CFO was exposed and fined for concealing information on Merrill Lynch's losses prior the merger with BAC.
A $4 billion accounting error, uncovered prior to the annual meeting, cost BAC what remained of a trustworthy reputation among shareholders.
President Obama's federal prosecutors are currently working with BAC on a ~$16 billion settlement for faulty mortgage securities prior to the 2008 crisis.
With additional political risk inflicted on some of BAC's important overseas investments, we recommend shareholders take profits in BAC before shares drop further in 2014.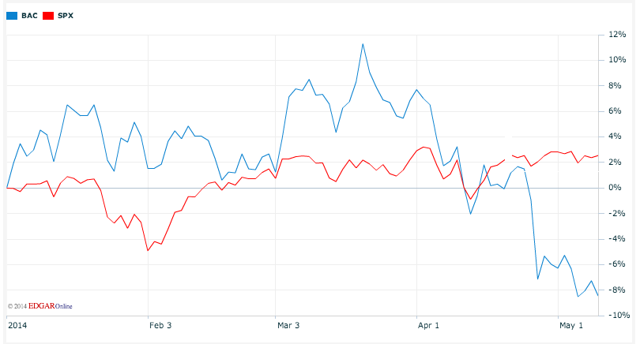 Disclosure: I have no positions in any stocks mentioned, and no plans to initiate any positions within the next 72 hours. I wrote this article myself, and it expresses my own opinions. I am not receiving compensation for it (other than from Seeking Alpha). I have no business relationship with any company whose stock is mentioned in this article.