Bank of America's (NYSE:BAC) business had grown more and more complex in the years leading up to the financial crisis compared to the company it used to be. It then purchased Countrywide and Merrill Lynch, adding layers of complexity to a business that once operated as a bank (imagine that!). The company has since divested non-core assets as a result of Project New BAC, but it is still unbelievably complex and thus, somewhat difficult to understand. In light of this, I thought it would be instructive to take a look at each line of business individually to understand what Bank of America is doing and what the sum of the parts may be worth.
We'll begin with the largest piece of the pie, the Consumer and Business Banking segment, or CBB. This is the "traditional banking" piece of BAC; it brings in deposits and makes loans to consumers and small businesses, including auto loans and credit cards. As a note, I pulled all data for the article from BAC's SEC filings.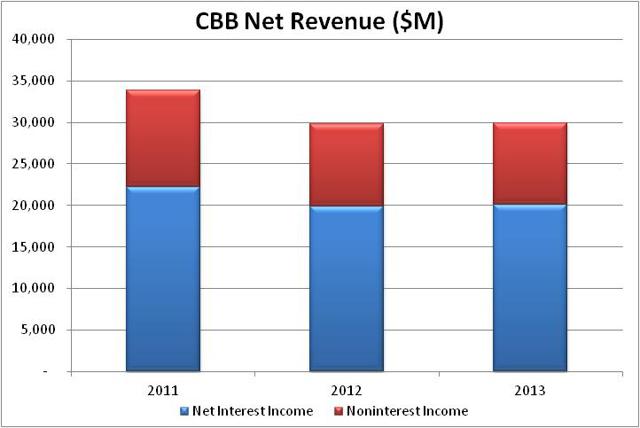 This chart shows us the revenue picture for CBB for the past three years. As you can see, 2011 was markedly bigger for revenue than the most recent two years, which are virtually identical. There is a good reason for this; BAC as a whole was a larger company in 2011, before the divestitures began as part of New BAC. As a result, net revenue has declined, but that is to be expected; CBB was not spared as the largest part of the company. In other words, the decline in revenue isn't a troubling as it may seem at first, because it was done on purpose.
The next big piece of CBB's financial health is the provision for credit losses. This item comes directly out of the income statement as an expense, so it is important to understand CBB's numbers.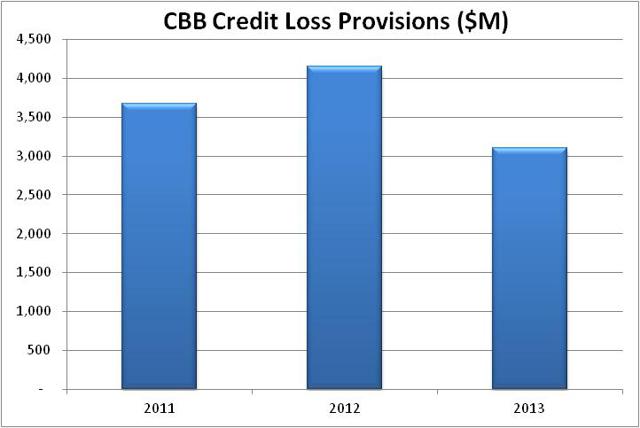 We can see that CBB produced sharply lower credit losses in 2013 as compared to 2012, and that flows directly to pre-tax income for the segment. It also indicates to me that the bank is more adept at lending responsibly, instead of just lending, a practice that got it into serious trouble leading up to the crisis. Apart from adding huge money to the bottom line, reduced credit loss provisions bode well for future margins at CBB, because it means the segment is losing less money to bad loans. Credit loss provisions are perhaps the easiest way for a bank to increase margins, due to the significant leverage that can be achieved by simply losing less money on bad loans, and CBB is certainly on the right path, with right at $1 billion in credit loss savings last year over 2012.
Finally, we see the end result of all of this, segment net income.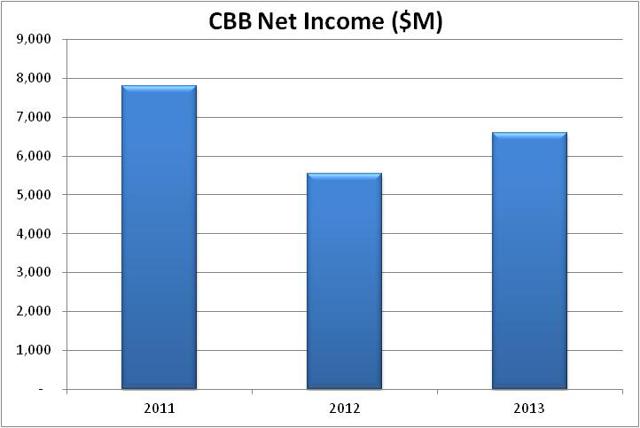 You can see here that CBB's net income is tied directly to how much it loses to bad lending, as we saw that the last two years' revenue numbers were nearly identical but that credit losses were significantly different. There are other pieces to the income statement, but the relationship is striking. We see 2013 produced about $1 billion more in net income for CBB as credit losses declined. This is significant, as I said before, because we've seen a broad trend for BAC's credit loss provisions over the past several quarters, and I think this bodes well for CBB. Even if we don't get increases in CBB revenue, the improving credit quality picture means higher net income from the segment.
So what does this mean for CBB's contribution to the consolidated company going forward? I think the revenue picture is mixed. We've got interest rates that have to move up at some point, which should improve spreads, but that hasn't occurred yet. Thus, I'll continue to hold CBB net revenue steady at $30 billion for 2014. However, with credit loss provisions continuing to improve for 2013 and into this year, I think there is upside to net income, based upon credit loss provisions coming down further. CBB is not the same division it once was, lending carelessly to all who would take its money. BAC has made a concerted effort to improve credit quality, and I think it is showing in the form of lower credit losses. Expecting another $1 billion drop in credit provisions is not realistic, but I think half that number, $500 million, is certainly possible. Thus, I think we'll see $30 billion in revenue and about $7.1 billion in net income as the credit quality picture continues to improve.
In the coming pieces in this series, we'll examine the remaining businesses BAC has, in order to put together a sum of the parts analysis and obtain a full picture of BAC's financials and varying lines of business.
Disclosure: I am long BAC. I wrote this article myself, and it expresses my own opinions. I am not receiving compensation for it (other than from Seeking Alpha). I have no business relationship with any company whose stock is mentioned in this article.