For the last few quarters, Intel (NASDAQ:INTC) has been trying to figure out a way to kickstart itself back into high growth gear. Its late arrival into tablet and mobile chips is finally starting to swing its way, as they've announced progress in this regard with their last earnings call.
Confidence has seemed to ebb and flow back into Intel's stock over the last couple of weeks. Intel has made a significant move upwards since the beginning of February, where it traded at the mid $23 range. It now holds support around the $26.25 level that has held for the better part of 6 weeks for the company.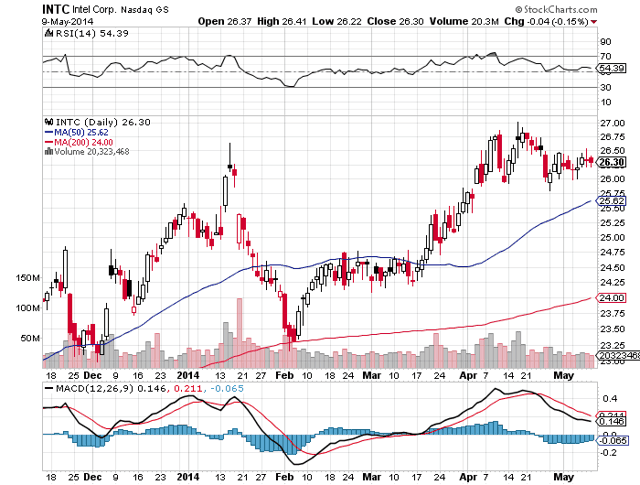 Additionally, over the past week, Intel has found itself in an entire new line of Google's Chromebooks.
Last week, it was announced that Intel was going to be pairing with Google (GOOG, GOOGL) and releasing the inexpensive Chromebooks from LG, Toshiba (OTCPK:TOSBF), Acer (OTC:ASIYF), and several other hardware makers. Intel is going to be cranking up the number of Chromebooks that it's in - from around four, currently, to over twenty, come the third quarter of 2014. The Chromebooks feature Intel's Celeron and i3 processors - hardly powerhouses, but enough power to get the job done.
This week, the news is Intel acquiring Ginger Software - a company that works on processing tools for use in electronic personal assistants.
I'm sure Apple (NASDAQ:AAPL) is keeping a close eye on this one.
Seeking Alpha reported:
So, just as Intel has done with tablet and mobile chips, it appears that they're worried about "missing the bus" with the mobile assistant niche. They're the latest of this long line of companies that are supporting this kind of software - notably pushed into the mainstream by Apple's Siri.
"We are not disclosing details about how Intel might use the Ginger Software technologies at this time and we are not disclosing terms of the deal. Please note - We're acquiring the assets and engineering team associated with Ginger Software's natural language processing tools and applications. We aren't acquiring Ginger Software's Grammar and Spell Checker."

-Intel, via techcruch.com
The acquisition is supposed to help bolster Intel's artificial intelligence niche. It's been reported that 16 staff members will move to Intel and the 40 others are going to stay at Ginger with the specific purpose of working on intelligent spelling and grammar correction.
Intel's Jarvis headset is supposed to be able to have the functionality of Siri, without the need for an internet connection.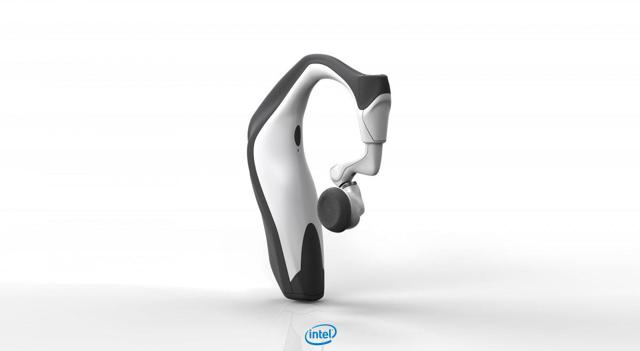 According the Inquirer:
Now it has emerged that Intel wants the headset, which it has named Jarvis, to work in all conditions, both online and offline, with the artificial intelligence working without an internet connection.

The Bluetooth headset will challenge Apple's Siri and Google Glass, as the wearable device listens to voice commands and acts upon them. The offline mode will see Intel doing something that Google Glass and Apple's Siri can't.

"How annoying is it when you're in Yosemite and your personal assistant doesn't work because you can't get a wireless connection?" Intel head of wearables Mike Bell told Quartz. "It's fine if [voice recognition systems] can't make a dinner reservation because the phone can't get to the cloud.

"But why can't it get me Google Maps on the phone or turn off the volume?"
It seems like Intel could potentially be chasing the idea of a customizable personal assistant - one that people could potentially develop for their own needs, similar to the way that Apple allows specific apps to be created for the iPhone.
If you could have with you a personal assistant expert on whatever it is that you're doing at the time, you've essentially unlocked millions of uses for this software that Apple doesn't feature (for now) in an assistant like Siri.
The question of whether or not this acquisition could eventually sour the company's relationship with Apple remains to be seen. As a hardware chipmaker, Intel's interests were generally always aligned with Apple's - they could exist together and compliment each other while not cannibalizing each other's revenues. Should this PDA market grow, Intel may eventually have to examine its potential negative effects for Apple, one of its largest customers.
For now, Intel's developments likely won't sour their relationship with Apple, but I'm sure it's perked some ears up.
I'll be watching closely for developments in this story, as they occur.
Best of luck to all investors.
Disclosure: I am long AAPL. I wrote this article myself, and it expresses my own opinions. I am not receiving compensation for it (other than from Seeking Alpha). I have no business relationship with any company whose stock is mentioned in this article.