Goldman Draws More Scrutiny From Regulators
The high-speed trading practices at Goldman Sachs (NYSE:GS) have attracted considerable notice recently. However, much of the attention has come from regulators and prosecutors.
Eric Schneiderman, Attorney General for the state of New York, sent a written inquiry to Goldman requesting detailed information about the firm's high-speed trading process, according to a source familiar with the situation, who has not received authorization to speak publicly.
In a regulatory report filed on Friday, Goldman disclosed that these practices have drawn additional scrutiny from federal regulators; however, the firm did not state which federal agency is conducting the investigation.
Questionable Ethics In High Speed Trading
Lately, federal regulators have expanded their examinations into high-speed trading at Goldman and other investment banks as well. The practice involves systems through which the investment banks can purchase or sell equities ahead of other investors.
In April, Eric Holder, Attorney General, stated that his Justice Department was conducting an investigation into high-speed trading "to determine whether it violates insider trading laws." Mr. Schneiderman referred to high-speed trading as "Insider Trading 2.0."
Goldman Faces Up To The Shady Details
High-speed trading has made headlines, and accusations and criticism of the method has increased significantly as more people become aware of it. Many have deemed the method as unfair, because the advantage of a split second in equity trading can result in large profits. The criticism extends to lawmakers who have not passed laws that address technological advances within the securities markets.
Goldman Sachs has been vocal throughout the controversy surrounding high-speed trading. In March, Goldman's chief operating officer, Gary Cohn, penned an article for the op-ed page of The Wall Street Journal that suggested ways to minimize the potential for trading abuses.
"While an industry-based solution is preferable, some issues cannot be addressed by market forces alone and require a regulatory response," Mr. Cohn wrote. "Innovation is critical to a healthy and competitive market structure, but not at the cost of introducing substantial risk."
That particular article ran prior to reports in April that suggested Goldman was seeking to unload its dark pool high-speed trading division known as Sigma X. The investment bank denied the report soon after news agencies picked up the story.
Inner Workings Of Dark Pools
Dark pools operate similarly to open stock exchanges; however, the trades remain anonymous and the fees for transactions are less than other options. Because the transactions remain unreported until completed, determining values such as trade-to-order volume ratios can be impossible to determine. Ultimately, this lack of transparency can hide the true value of a stock.
While some investment banks highlight the usefulness of dark pools for executing very large transactions without disrupting the general market, the disadvantages include the potential for price distortion.
Approximately 45 dark pools operate in the U.S. In addition to Goldman Sachs, Citigroup (NYSE:C), Morgan Stanley (NYSE:MS) and Credit Suisse (NYSE:CS) operate dark pools.
Trading Environment in 2014
Trading revenues among several megabanks, notably JP Morgan (NYSE:JPM) and Bank of America (NYSE:BAC) have declined in 2014. (Morgan Stanley stands out with a Q1 35% increase.) Overall, megabanks are down 10% in trading revenues from the same time last year. Many attribute this to tighter regulations on speculation and borrowing limits.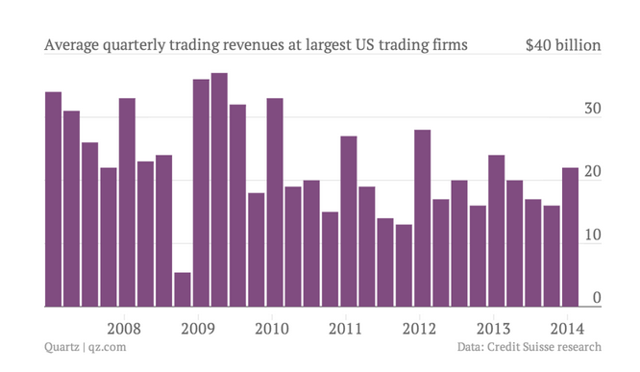 (Source: qz.com, via data from Credit Suisse Research)
A key paradoxical phenomenon is that technological advances, particularly high-speed trading, have actually reduced the profitability of equities trading overall as fewer opportunities exist for equities traders to match orders for commissions.
Goldman Also Under Scrutiny For Possible Violations of FCPA
The regulatory report that Goldman filed also disclosed that the investment bank faces investigations into possible violations of the Foreign Corrupt Practices Act (FCPA). The bank's overseas hiring processes are included in that inquiry.
Cautious Outlook For Goldman Investors in 2014
The increasingly debated risks of dark pools and high frequency trading-along with possible FCPA violations-are certainly concerning for Goldman Sachs.
The firm disclosed in its filing that the bank expects continuing litigation costs to remain high, and it reported that it has added to its reserves for those litigation costs from $3.6 billion to $3.7 billion-although refused to officially comment on the regulatory filing.
However, we are happy that Goldman is coming forward to shareholders about the risks associated with cutting-edge trading practices-to the point of possibly shutting them down.
Goldman's numerous other business platforms, including wealth management services, will continue to help this bailed out megabank in 2014.
Finally, we see GS competitors truly flailing under staggering legal fees, Q1 losses and public humiliation.
We reiterate our stance to take some profits in your Goldman holdings in 2014.
Disclosure: I have no positions in any stocks mentioned, and no plans to initiate any positions within the next 72 hours. I wrote this article myself, and it expresses my own opinions. I am not receiving compensation for it (other than from Seeking Alpha). I have no business relationship with any company whose stock is mentioned in this article.