The Valuation after the Recent Sell-Off
Medbox (MDBX) sells and services vending machines and dispensing systems for prescription medicines. The company has created a buzz for providing dispensing systems that can be used for safely storing and dispensing medical marijuana. The stock experienced a quick huge run-up in December 2013 into January 2014, rising from about $10 to over $70. The stock has sold-off significantly since then, and is now trading near $20. Unfortunately, Medbox still looks overvalued at these levels.
Medbox is now trading with a price-to-sales ratio of over 100 and a price-to-book ratio of over 100. This is still in overvalued territory, even by momentum stock standards. Momentum stocks such as Netflix (NASDAQ:NFLX) and Tesla (NASDAQ:TSLA) have ratios that are much lower than Medbox. Netflix has a price-to-sales ratio of 4.17 and a price-to-book of 13. Tesla has a P/S ratio of 10.64 and a P/B ratio of 24.18. When you have a stock that trades with P/S and P/B ratios of over 100, the stock is at risk of further sharp declines.
I took a lot of heat when I explained how marijuana stock Growlife (OTCQB:PHOT) was overvalued with a P/S ratio of over 100 back in this March 20 article. Those who were bullish on the stock gave a lot of criticism to my call that the stock was likely to fall. It turns out that the stock fell from $0.65 down to its current price of $0.11, representing an 83% drop since my article was written. I think that Medbox is also at risk of further downside due to its overvaluation. Medbox achieved $5.22 million in revenue for the past twelve months, but the stock has a market cap of $598 million. There is a huge disconnect there.
In addition to the high valuation, another major risk for the company is how it will be financed going forward. Medbox is showing only $353,000 in cash on its balance sheet as of December 31, 2013. For the past twelve months, the company has burned through $2.9 million in negative cash flow. If more states legalize medical marijuana, Medbox will need to finance its growth. The risk for the stock is a large secondary share offering, which could dilute the shares, thus leading to lower share prices. With the valuation so high and the need for significant financing in its future, I don't see Medbox as a buy right now.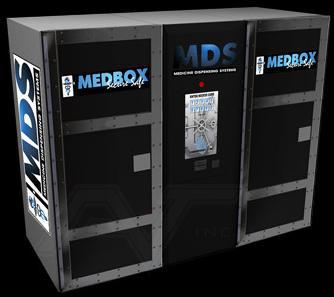 Picture Source: Medbox.com
Long-Term Prospects for Medbox
I like the story for Medbox for the long term. The story sounds great, with the company operating in its infancy, and many states still remain to legalize the use of marijuana. We can imagine the company's vending machines in medical offices and dispensaries all over the country. The company has been awarded patents in the United States and in Canada for its software and hardware related to its dispensing systems. Medbox also has a patent pending for a system that allows consumers to store and retrieve items from a storage locker after a card swipe and identity verification (Safe Access Storage Lockers). Another patent is pending for Medbox Rx, which is a system that allows pharmacists to store a filled prescription in an electronic lockbox for retrieval by customers using identity verification. The company has very innovative and practical technology that can help many patients in the future. If Medbox can get the proper financing for growth and the other states get on board with legalizing medical marijuana, then the future should light up brightly for Medbox. Overall, Medbox has the potential to become a large, profitable company.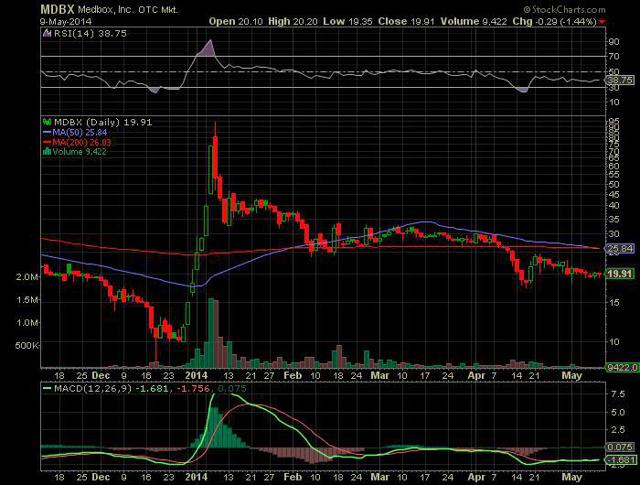 Likely Direction for the Stock
Unfortunately, the legalization of medical marijuana in many states could take many years to play out. The stock is overvalued by a wide margin when comparing other momentum stocks. The need for more financing still looms to grow the business. The risk of a secondary share offering that could dilute the shares is on the table. Therefore, I think that the stock is still at great risk for future losses in the short term. I don't think that the stock is worth buying at this point.
Disclosure: I have no positions in any stocks mentioned, and no plans to initiate any positions within the next 72 hours. I wrote this article myself, and it expresses my own opinions. I am not receiving compensation for it (other than from Seeking Alpha). I have no business relationship with any company whose stock is mentioned in this article.
Editor's Note: This article discusses one or more securities that do not trade on a major U.S. exchange. Please be aware of the risks associated with these stocks.