While you've been going about your business after the Super Bowl of this year, things have hit an all time low over at RadioShack (NYSE:RSH).
RadioShack is a company that I've been bearish on forever. Much like Sears, the allure of retail shopping has hit an all time low - and RadioShack seems to be one of the likely candidates to get wiped out first.
In the world of Tiger Direct and Amazon (NASDAQ:AMZN), electronic junkies are finding less and less of a reason to head into RadioShack stores. At some point, years ago, things inside the stores changed. The air went from electronics leader to the stink of desperation.
The Shack's CEO had a plan though. Joe Magnacca was planning on closing as many as 1,100 locations in an order to cut losses and turn around the chain. Now, it's looking like the company's lenders have different ideas.
Seeking Alpha reported:
RadioShack has lost almost half its market cap since the beginning of the year, plunging 9.5% today and coming within pennies of its all-time closing low after reneging on its plan to close up to 1,100 stores.
RSH said its credit agreement only allows it to close up to 200 stores per year and up to 600 over the life of its credit agreement, prompting Wedbush analyst Michael Pachter to respond that "the creditors clearly are in control of the ship, and in our view, the ship is sinking."
Pachter sees management and creditors trying to compromise on a smaller number of store closings; otherwise, RSH could declare bankruptcy, holding off the creditors and allowing it to close as many stores as it wants.
The stock continued to respond unceremoniously, to say the least.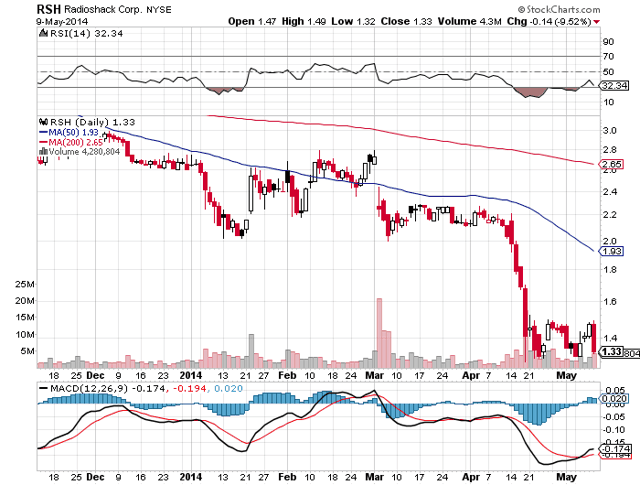 This is coming just weeks after RadioShack reported lackluster earnings. RadioShack execs claimed the results were catalyzed by poor holiday sales, advertising and promotional costs, and a very soft "mobility marketplace."
As I said in a previous article: You know those 17 year old kids that really want to sell you a cell phone when you step into the store? They're not pulling their weight.
RadioShack's CEO stated last month:
Over the past few months, we have undertaken a comprehensive review of our portfolio from many angles - location, area demographics, lease life and financial performance - in order to consolidate our store base into fewer locations while maintaining a strong presence in each market. The result of that review is our plan to close up to 1,100 underperforming stores. We will continue to have a strong, unmatched presence across the U.S. with over 4,000 stores including over 900 dealer franchise locations.
I was bearish on the company then, and the outlook isn't looking much better for the brick and mortar electronics store now.
One of the most popular articles I wrote on RadioShack was called "These 3 Retailers Won't Make It to 2020", back a couple months ago. And, from the looks of things in RadioShack's case, I could have titled it "These 3 Retailers Won't Make it To 2015".
People sure seem to have been stacking themselves up on the short side of this company for the last couple of years. Meanwhile, the company's net income has fallen off a cliff.
RSH Net Income (Quarterly) data by YCharts
On the other side of the coin, if RadioShack could pull their act together, this could be the time for the ultimate contrarian buy - even though I'm not, in any way advocating that. For instance, the company has a $133 million market cap currently. It's trading at a price/book ratio of 0.71 and still did $3.43 billion in revenue last year. That's $34.10 of revenue per share - how close can the company shave its shares without going into bankruptcy?
The company has $1.79/share in cash, as well.
These metrics could seem enticing to some, but with the way the company is losing money and its lack of a vision on turning things around, none of these matters. RadioShack, as a brand, has likely been tainted for the rest of the foreseeable future.
Would you dare buy RadioShack? I wouldn't.
Disclosure: I have no positions in any stocks mentioned, and no plans to initiate any positions within the next 72 hours. I wrote this article myself, and it expresses my own opinions. I am not receiving compensation for it (other than from Seeking Alpha). I have no business relationship with any company whose stock is mentioned in this article.