Shares of Exxon Mobil (NYSE:XOM) have shot up recently as part of a broader rally in energy stocks. With a challenging environment for traditional, fossil fuel-oriented energy companies (compressed refinery margins, low oil prices, the need to replace depleting oil and gas reserves), investors might wonder whether Exxon Mobil is a buy at current price levels.
In an earlier article about Exxon Mobil I tried to capture the expected momentum in oil and gas stocks and I recommended the stock at $92. Subsequently, Exxon Mobil's shares increased to more than $100, but may now be ripe for a correction.
Share performance
Exxon Mobil has had a good run since February when the sell-off in the equity markets came to a quick stop. Since the beginning of February, shares of Exxon Mobil have rebounded strongly and returned approximately 13% for shareholders.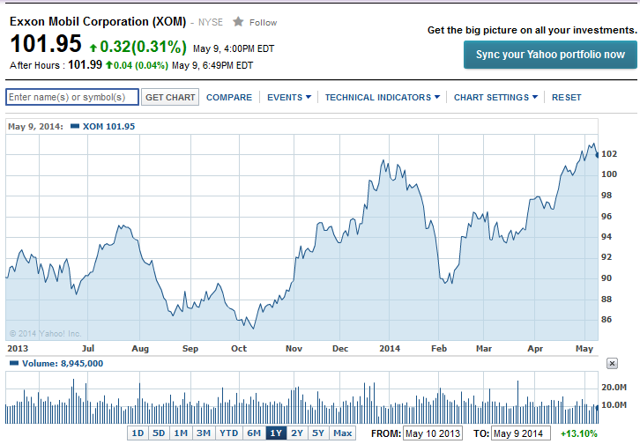 (Source: Yahoo Finance)
Though oil and gas companies have delivered solid returns over the last five years, Exxon Mobil still lags its U.S. competitors. ConocoPhillips (NYSE:COP) gained 132% and Chevron Corporation (NYSE:CVX) 90% while Exxon Mobil delivered a disappointing 48%.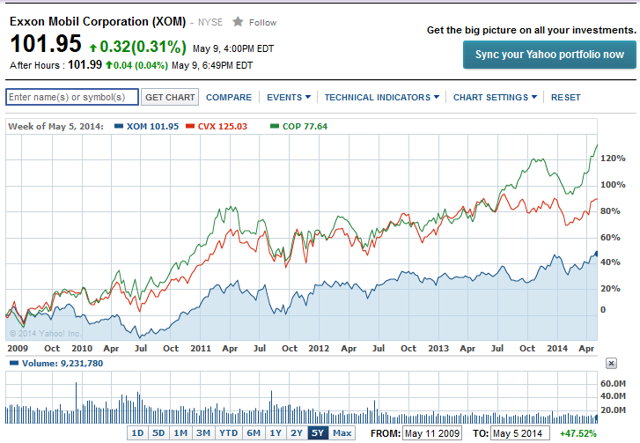 (Source: Yahoo Finance)
Background
It is no secret that energy exploration companies had a bad 2013. Refining margins contracted significantly and many oil and gas companies were, and still are, battling production decreases and higher maintenance expenses. While I acknowledge short-term headwinds (most notably, low oil prices around the $100 mark), the long-term earnings prospects of Exxon Mobil look very attractive.
The United States is slowly crawling its way back and China's real estate sector is still in rehab - both situations suggest continued upside potential in the coming years. Normalized global economic growth should translate into higher oil prices and an increase in upstream volumes - a key driver of shareholder value generation for Exxon Mobil.
Exxon Mobil's first quarter results have shown once more that challenges continue to exist and that a turnaround in operating performance has not been achieved yet: In the first quarter of 2014 Exxon Mobil earned $9.1 billion or $2.10 per diluted share which compares against $9.5 billion or $2.12 per diluted share a year ago. Probably one of the biggest near-term drivers of shareholder value relates to the reduction in Exxon Mobil's capital expenditures: In Q1 2014 Exxon Mobil reported capital expenditures of $8.4 billion which compares against $11.8 billion a year ago - a y-o-y decrease of 29%. Capex adjustments are an ongoing theme in the exploration sector in order to alleviate investor concerns about low free cash flow profitability. An earnings bridge for Exxon Mobil's first quarter 2014 results is provided below: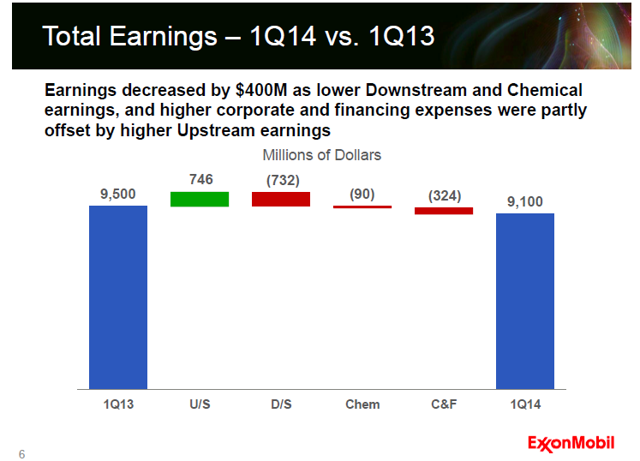 (Source: Exxon Mobil First Quarter 2014 Earnings Call Presentation, May 1, 2014)
Market valuation
Exxon Mobil is not the cheapest oil and gas company in the peer group - thanks to the run up in price over the last three and half months. In any case, the large-cap oil and gas sector remains undervalued with an average peer group P/E ratio of 12.42 (see below). Though Exxon Mobil trades at a nearly 8% premium to the peer group average, I think the company is not too expensive.
Long-term investors who want to add a dividend champion to their portfolios, however, may want to wait for a correction in Exxon Mobil's share price which, I believe, is long overdue.
Exxon Mobil currently trades at 13.38 times forward earnings (equivalent to an earnings yield of 7.5%) while both Chevron and ConocoPhillips trade at lower earnings multiples of 11.11 and 12.77, respectively.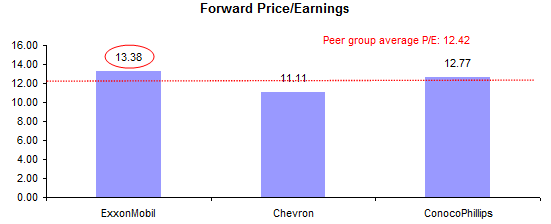 (Source: Achilles Research, Finviz.com)
The oil and gas sector has seen quite a few dividend increases lately. Chevron just hiked its quarterly dividend from $1.00 per share to $1.07 - a solid increase of 7%. Exxon Mobil also increased its quarterly payout to shareholders from $0.63 per share to $0.69 per share going forward, a gain of 10%. Exxon Mobil's annualized forward dividend yield now stands at 2.71% but still ranks at the lower end of the peer group dividend yield spectrum. Dividend increases usually signal the company's confidence in its future earnings prospects - a good thing for shareholders.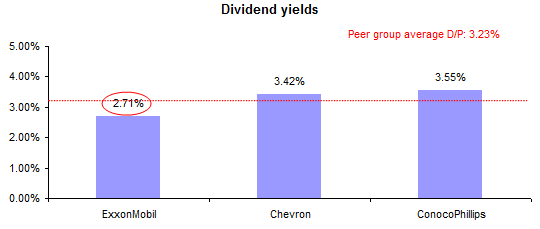 (Source: Achilles Research, Finviz.com)
A summary valuation table comparing Exxon Mobil to Chevron and ConocoPhillips can be found below:

(Source: Achilles Research, Finviz.com)
Conclusion
Long-term oriented investors who want to get exposure to a well-diversified, large-cap energy company with a solid dividend yield could consider Exxon Mobil on any pullback in share price. The recent dividend increase of 10% highlights that the company has confidence in its future earnings and that it remains committed to a shareholder-friendly remuneration policy. With higher fossil fuel demand from emerging markets, Exxon Mobil is a great long-term idea for investors who want to benefit from rising oil prices and a shifting supply/demand dynamic in the energy market. Exxon Mobil trades at a reasonable forward earnings multiple of thirteen and pays investors nearly 3% annually in dividends. This is a long-term buy on any correction in Exxon Mobil's share price.
Disclosure: I have no positions in any stocks mentioned, and no plans to initiate any positions within the next 72 hours. I wrote this article myself, and it expresses my own opinions. I am not receiving compensation for it (other than from Seeking Alpha). I have no business relationship with any company whose stock is mentioned in this article.