Aficionados of closed-end fund investing pay close attention to the spread between a fund's net asset value and the market price of its shares. Discounts tend to persist, and certain CEF's keep turning up at the top of the list (or bottom, depending on one's perspective).
The Game: The game is to figure out why. Big discounts can attract activists, but many funds trade below asset value for good reasons. Holdings may be illiquid, hard to value, or carried at highly optimistic "fair values". (Business Development funds come to mind.) Perhaps Mr. Market senses that the interests of a dominant shareholder might not align with those of other investors. (FOFI, DNY, BTF and BIF, perhaps.) And then there are the convertible twins: the Bancroft (NYSEMKT:BCV) and Ellsworth (NYSEMKT:ECF) funds, both advised by Dinsmore Capital of Morristown, New Jersey and both consistently trading 15% or so below the stated value of their holdings. Let's look at Ellsworth Fund and see if we can find the reason its shares are priced so far under NAV. If the discount isn't rational, then we may have found the proverbial "buy a dollar for 85 cents" that has long been the Holy Grail of closed-end fund investing.
The Fund: ECF is a small to mid-sized ($125 mm) CEF dating from 1986 which seeks total return by investing primarily in convertibles with some dividend-paying equities. It is unleveraged and currently yields at 2.78%. The management fee is relatively moderate: 75 basis points on the first $100 mm of assets and 50 bps on assets above that, plus 5 bps for administration. Total annual expenses are under 1.1% of assets. Trading volume is fairly light - at a daily average of 36,600 shares it would take some time to accumulate a meaningful position.
The Numbers: Statistically, ECF isn't bad. It's not good, either. Rather, it boasts consistently mediocre performance, reminding one of Churchill's gibe about the modest man "who has much to be modest about." ECF spins it positively, claiming that its returns, if not adjusted for expenses, fees and dilution, are in line with its benchmark index - which is like saying that a car gets excellent mileage if you don't count the gas it uses.
Morningstar ranks ECF 3 stars out of 5: Average to Below Average for both risk and return. Beta vis-à-vis the ML convertible index is .99, and Alpha is sporadically positive. The standard deviation exceeds the benchmark, while the Sharpe and Sortino ratios tend to lag. ECF does not appear to have a dominant owner: board members taken together own less than 1%, while institutions hold over 30% . Among the latter are several that have supported activists in the past, while others are nominee holders or unit trusts that would likely follow the crowd and mirror-vote their shares.
Overall, ECF looks like "An investment you can sleep with". There are lots of mediocre funds, so why should ECF trade at a bigger discount to asset value than the others? Consider that which eludes the quants - the human factor. Who runs ECF?
The Family: Meet the Dinsmores. ECF was founded in 1986 by Ronald Ellsworth Dinsmore (1926-1996), who become owner of the advisory firm (now Dinsmore Capital) following the death of his erstwhile colleague, Bancroft Davis. The portfolio managers now are Thomas H. Dinsmore (Ron's son), Jane Dinsmore O'Keefe (Ron's daughter) and James A. Dinsmore (Tom's son.) Other fund officers include Vice-President H. Tucker Lake, Jr. (Tom and Jane's first cousin) whose son Joshua held the post of Treasurer from 2002 to 2007, with sister Jennifer as Assistant Secretary from 2003 to 2005.
But not everyone at ECF is a Dinsmore. Gary Levine, who started with the fund in 1993, has been CFO since his father, Sigmund Levine, retired back in 2003. Nor are all the portfolio analysts Dinsmore kin - there's also Germaine Ortiz, who, we are told, is first cousin to Mr. Levine's wife.
The management company, Dinsmore Capital, is closely held, as one might expect. In addition to Tom and Jane, the owners have been Ron's widow, Jane Dinsmore, and Sally D. Finnican, the sister of Tom and Jane. Sally's husband, Peter Finnican, has been the marketing director at Dinsmore Capital since 2007 - at least according to his Form 3 disclosure as an "affiliated person" of ECF as filed with the SEC on January 24, 2013 - only 5 ½ years late.
Cryptic footnotes in old proxy filings indicate effectiveness. ECF's Form DEF14A dated 11/26/1997 says:
"CERTAIN TRANSACTIONS. Peter Finnican is the brother-in-law of both Thomas H. Dinsmore, Chairman and Chief Executive Officer of each of the Company, Bancroft, and Davis-Dinsmore, and Jane D. O'Keeffe, President of each of the Company, Bancroft, and Davis-Dinsmore. Mr. Finnican was a partner of Forum Capital Markets, L.P. (the "Forum Group") a broker/dealer located at 53 Forest Avenue, Old Greenwich, Connecticut until July 1997. While Mr. Finnican was a partner, his ownership interest in the Forum Group equaled approximately 6%. During fiscal 1997, the Company acquired $1,750,000 of securities from the Forum Group in transactions in which the Forum Group acted as principal."
The footnote does not say what became of those investments. A little sleuthing reveals that Forum was lead underwriter for a $65 million subordinated convertible note offering by Westbridge Capital Corp (NYSE:WBC), a Texas marketer of managed health care plans. BCV and ECF each bought $1 million. A few months after the deal closed, WBC reported a quarterly loss from "sharply higher claims submissions". Days later, its president resigned. Three months after that, the company defaulted, failing to make the initial interest payment on the notes. A class action suit ensued, followed by WBC's Chapter 11 bankruptcy.
There is no suggestion here of any impropriety on Peter's part. It takes a high degree of marketing ability to overcome the natural reluctance of a fiduciary to approve a transaction involving an advised fund and one's brother-in-law. Investors should be glad to know that Peter now works for them.
The Payoff: Is management focused on enhancing shareholder wealth? In the past, the Dinsmores and ECF appeared relatively indifferent to the level of the discount, even suggesting that it was a buying opportunity. (For everyone except the existing shareholders, that is, since they would be the ones doing the selling.)
But there is some flexibility, as shown by sister fund BCV's encounter with shareholder activist Phil Goldstein's group back in 2007-08. After accumulating over 5% of that fund, Goldstein proposed that BCV adopt a managed distribution policy to reduce the 12%+ trading discount. The Dinsmores resisted and a proxy contest began, but it was soon resolved by negotiation. BCV agreed to self-tender for 12.5% (later raised to @ 15%) of its shares at 95% of NAV, while the Goldstein group agreed to drop the proxy fight, tender their shares, and just go away. (See BCV Schedule TO-I 1/31/2008 Ex. D.)
A second hopeful sign is last October's announcement by the ECF trustees (Tom, Jane and four independents) of a buyback plan. According to the press release, the fund would purchase 3% of its shares in open market transactions "in an effort to address an undervaluation of the Fund's shares." By the time the program ended last March, ECF had bought in 405,236 shares at an average discount of 16.65%. With the discount still high, now at 15.47%, it may be time to redouble those efforts.
The Logo: There's one more possibility: that something about the fund's public image produced the discount.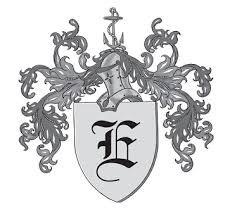 Behold the Ellsworth Fund logo! Here's a CEF with its very own coat-of-arms: a large Olde English letter E, rampant upon a shield, surmounted by a helmet, visor closed, with a boat anchor precariously balanced upon the cranium, and bedecked with wreaths of seaweed sprouting out in all directions. The subliminal message is clear: "Your investment will be under water for a long, long time".
Ask any member of the court of heraldry. They will assure you that this is "certainly not" the official crest of the Ellsworths. Rather, it's the sort of thing anyone can buy, engraved on a set of coffee mugs and matching keychains, for only $31.95 plus shipping and handling. "Deeply pretentious" was one scholar's view.
This is hardly the sort of thing designed to appeal to a Seeking Alpha reader searching for easy money. Who wants a boring old underwater convertible fund yielding 2.8%? The prospect of lending to a Swiss bank at a nominal 18% per annum is far more alluring. Discounts may be the result of "noise traders" following investment fashion, and today's fashion is "yield, yield, yield". Those who pursue it may yet attain:
"The sublime and refined point of felicity called the possession of being well-deceived, the serene peaceful state of being a fool among knaves." (Swift, A Tale of A Tub, 1704)
So - ECF. 85 cents for a dollar, or a dollar for 85 cents? You decide.
Disclosure: I am long ECF. I wrote this article myself, and it expresses my own opinions. I am not receiving compensation for it. I have no business relationship with any company whose stock is mentioned in this article.
Additional disclosure: Long ECF for 14 years. Still waiting...