Stratasys (NASDAQ:SSYS) reported Q1 earnings last week, and investors seemed disappointed. Despite a solid revenue beat, Stratasys finished the day down almost 5%. The main culprits for this kind of reaction are in-line earnings (despite the solid revenue beat) and the lack of upside guidance revision. Stratasys is still investing heavily to capture growing demand and establish a stronger footprint in the market, so investors should not focus on the bottom line yet. There are also some positive profitability trends: gross margin expanded 190 basis points over Q1 2013 and the company expects the operating margin to be flat in 2014. We should see a return to operational leverage in 2015 and beyond. This situation is similar to 3D Systems (NYSE:DDD), but I believe that Stratasys has better overall execution trends, as I will try to explain later in the article. I expect that the causes for concern might dissipate in the next couple of quarters, and that the full-year guidance will be raised in Q2 and/or Q3.
Q1 metrics and valuation show why Stratasys is a better choice right now
In the table below, you can see the basic Q1 metrics for Stratasys and 3D Systems. The overall trends point to Stratasys's better execution and momentum. Even the consumer part is on its side despite the higher growth in 3D Systems' consumer revenue in Q1, because Stratasys's consumer revenue is two times higher than 3D Systems'. Every other growth metric shows that Stratasys is executing its strategy better than 3D Systems and has managed to expand its gross margin 190 basis points as opposed to gross margin compression on 3D Systems' side. Stratasys's EPS decline is also less severe.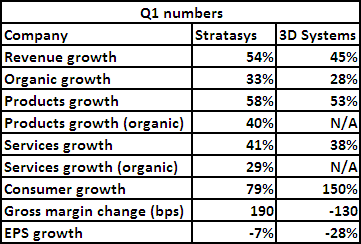 Source: Stratasys Q1 report, 3D Systems Q1 report
Valuation metrics are also in Stratasys's favor. It has lower forward EV/EBITDA and P/E multiples, and I still believe that Stratasys will outperform 3D Systems in the next couple of months, or until their respective valuations are more aligned. One more reason for favoring Stratasys is the expectations for full-year guidance revision in Q2 or Q3 (although I expect the same for 3D Systems, but to a lesser extent). The current full-year guidance does not take into account the recent acquisitions. In addition, I believe that management is being conservative with its guidance, given the current level of revenue and their prior expectations for 40:60 revenue linearity for the first and second half of the year. If we come close to this linearity, revenue should be $20 million to $40 million higher than the current guidance, notwithstanding the acquisition-related guidance revision. If we add the three acquisitions to this number, we arrive at significantly higher 2014 revenue. And if we assume that the margins will stay flat compared to 2013, the overall earnings expectations should rise as well.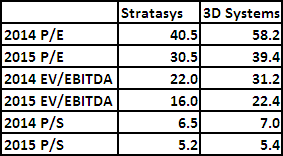 Source: Yahoo! Finance, Sentieo
I believe 3D Systems also has some tailwinds in the second half of the year, which might push the full-year guidance and future expectations higher. I listed several factors in my previous article: "the company has launched 24 new products over the last year, which should ensure higher materials growth rates. Management also indicated that it will take another look at 2014 guidance once it concludes the Robtec acquisition." The negative earnings expectations trends might end soon and higher guidance and upward analyst estimate revisions should help Stratasys and 3D Systems down the road. If things develop according to these assumptions, they might cause the end of their share price declines.
Conclusion
As I stated in my previous article on 3D Systems, I believe that 3-D printing stocks should bottom soon. Additional 10% to 20% downside is possible (for Stratasys and 3D Systems), and the forward valuations are now far from bubble levels. I also expect that we will finally see the end of negative earnings estimate revisions, and that the trends will reverse, together with higher revenue expectations (especially for Stratasys). I still think that Stratasys should outperform 3D Systems, on better execution, concentration and focus, and a lower forward valuation.
Disclosure: I have no positions in any stocks mentioned, and no plans to initiate any positions within the next 72 hours. I wrote this article myself, and it expresses my own opinions. I am not receiving compensation for it (other than from Seeking Alpha). I have no business relationship with any company whose stock is mentioned in this article.