Considerable attention has been given to the role drilling contractors play in executing today's increasingly complex oil and gas wells. Yet, there are other drilling-related services traditionally not provided by drilling contractors that play equally impactful roles in determining the quality, and ultimate profitability, of a well.
For the purposes of EnergyPoint Research's independent surveys, these "drilling-related services" consist of five separate service types: drilling fluids, fishing, cementing, directional drilling, and measurement-while-drilling (MWD). From a high-level perspective, our survey results suggest drilling-related services as a whole are generally well-regarded by oilfield customers.
In fact, since 2004, the category's customer satisfaction scores have outperformed those of both contract drillers and EnergyPoint's broader index of oilfield products and services. It's when one drills down further into the details that ratings disparities emerge across individual service types and suppliers.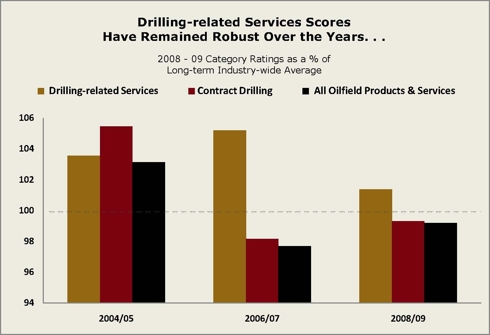 Low Ratings for Some…


Examining customer satisfaction ratings for each of the five service types comprising drilling-related services, we note that directional drilling and measurement-while-drilling services rank at the bottom of the group. While numerous factors likely explain this, we believe a couple of issues in particular are at work here.
First is the fact that both the directional drilling and measurement-while-drilling segments have undergone relatively rapid uptake over the last few years. This is the result of several trends, including: the need for greater productivity in the drilling phase to offset the shrinking size of wells; the industry's growing ability to pinpoint and exploit smaller, but still commercially viable, pockets of hydrocarbons, and; the increased use of horizontal drilling in unconventional wells.

Unfortunately, this rapid growth has negatively impacted service quality and performance, especially when compared to more mature segments like drilling fluids, fishing and cementing services.
Our second observation is that both directional drilling and measurement-while-drilling are drillstring-related activities which require greater interaction with, and dependence upon, third-parties and external factors such as drilling contractors, rigs and bottom-hole assemblies. In other words, multiple inputs must be in sync for these particular services to achieve top performance. The good news is today's suppliers are increasingly looking to improve their abilities to integrate their products and services with others' offerings to improve overall performance.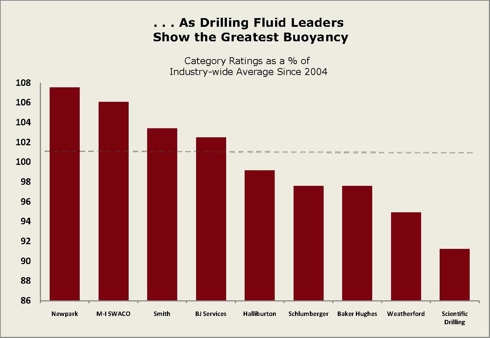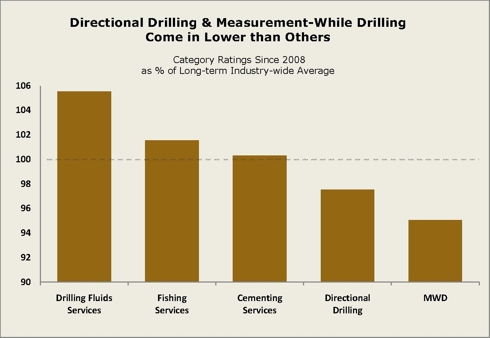 …Others Find Their Groove

Predictably, suppliers with little or no exposure to directional drilling and measurement-while-drilling segments tend to rate higher with customers as providers of drilling-related services. To wit, M-I SWACO, a 60/40 JV between soon-to-be-merged Smith International
(SII)
and Schlumberger
(NYSE:SLB)
and one of the industry's more dominant and focused suppliers of drilling fluids services, has rated first in drilling-related services since 2006.
Pressure pumping specialist BJ Services, now part of Baker Hughes
(BHI)
, rated second in the category during this same period. Newpark Resources
(NYSE:NR)
, also a focused drilling fluids supplier, has received strong ratings from customers over the years as well.
It's a different story for the more integrated service providers. Although Halliburton (NYSE:
HAL
) rates near the group average, it's the exception. Schlumberger, Baker Hughes (prior to its merger with BJ Services) and Weatherford International (NYSE:
WFT
) all fall below the mean.
In terms of drilling-related services segments themselves, drilling fluids and fishing services, two relatively established service types, rank highest with customers overall.

Note - This analysis is derived from 12,000+ customer evaluations of oilfield product and service suppliers collected via EnergyPoint Research's independent surveys since 2004.

Disclosure: No Positions