Facebook (NASDAQ:FB) has grown its revenues more than 10x between 2009 and 2013 (from $0.8B in 2009 to $7.9B in 2013), which represents a CAGR of 78%. Since 2009, it has more than tripled its monthly active user base from 360M to 1.2B users. Its share price has recovered nicely, before pulling back a bit over the last three months (see chart below).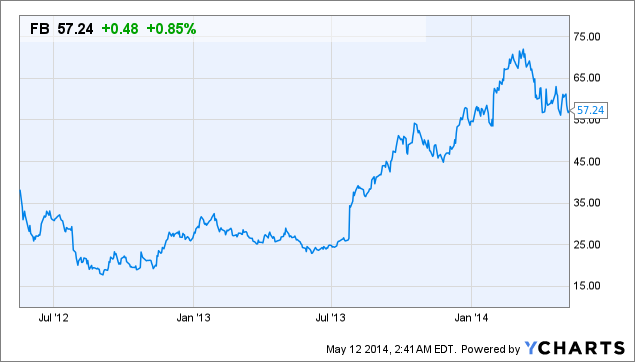 Facebook's market cap is nearing $150B at the time of writing. The run-up in share price led me to analyze Facebook's business in terms of penetration of Internet population and per user monetization. Based on my analysis, I conclude that Facebook is around 15% overvalued, even using pretty aggressive growth assumptions. My bear case is laid out below.
Business overview and metrics
Advertising accounts for the bulk of Facebook's revenues. From a financial perspective, monthly active users (MAU) and ARPU are the key metrics to assess the health of the business. The following chart shows the growth in these metrics by region: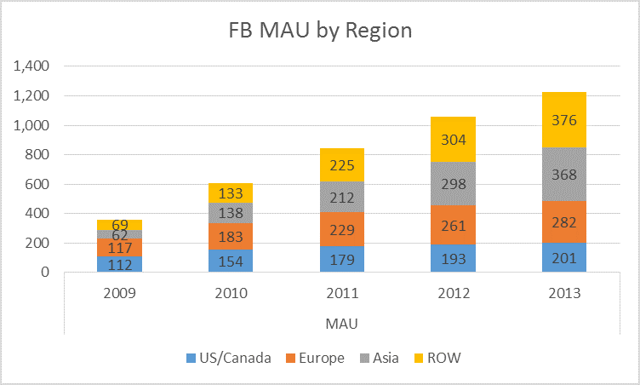 Source: FB 10-K
Monthly Active Users (MAUs) grew from 360M in 2009 to 1.228B by December 2013. As the US and European markets have matured, much of the growth has been from Asia and Rest of World (ROW). This presents a challenge and an opportunity for Facebook, since its monetization (ARPU) is significantly lower in these high-growth regions: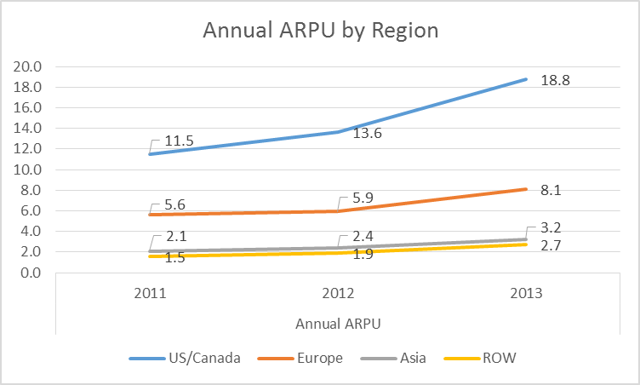 Source: FB 10-K
Facebook has been doing a great job at increasing monetization in all its regions, however, at some point, the ARPU in US/Canada and Europe will taper off and it will need to significantly increase ARPUs in Asia and ROW to maintain the pace of its revenue growth.
Penetration of Internet Population
To model Facebook's growth going forward, I established a baseline by looking at the current Internet penetration and Facebook penetration by each of Facebook's reporting regions. Since Facebook is not meaningfully present in China, we need to take the China statistics out of the Asia base.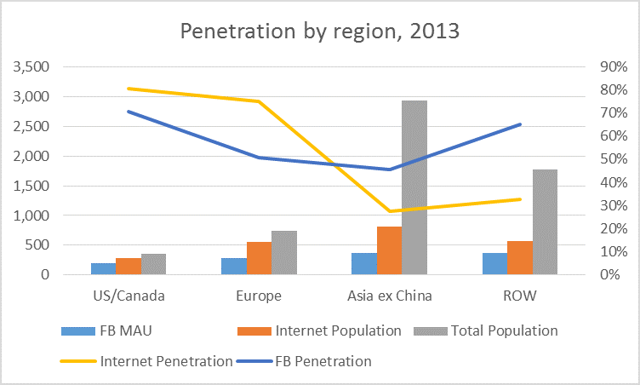 Sources:
en.wikipedia.org/wiki/List_of_continents_by_population
en.wikipedia.org/wiki/List_of_countries_by_number_of_Internet_users
The chart shows that Facebook penetration is pretty high (more than 60% in US/Canada and ROW, and around 50% in Europe and Asia) as a percentage of the Internet population. As the emerging markets get more connected, FB is likely to continue to grow its user base. Here are my projections around FB users and Internet penetration in 2020: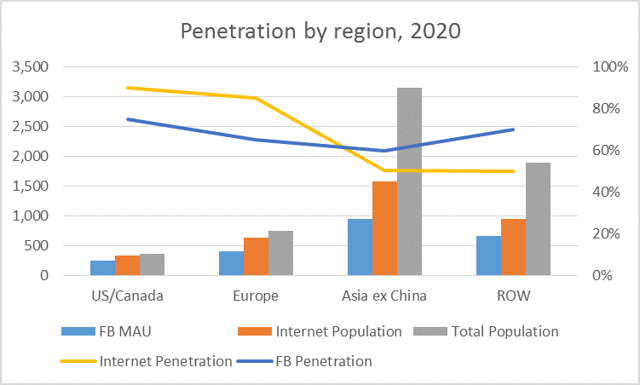 With this, we can now proceed to model out growth in MAU by region. The tables for 2013 and 2020 are below: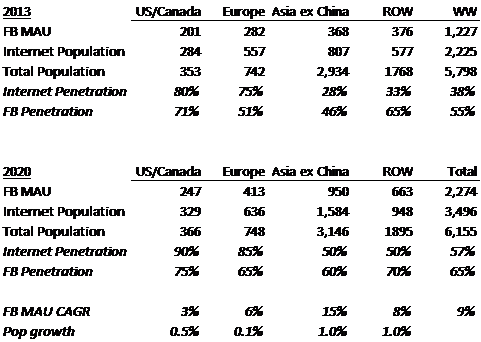 Source: FB 10-K; Population estimates from Wikipedia
Revenue forecast
Facebook's business has been maturing in the US and Canada, as evidenced by its recent quarter, where it added only 1M active users on a base of 200M. I estimate MAU for the US and Canada to grow at 1% per year out to 2020, since these markets are already well-penetrated. For Europe, which is #2 in terms of penetration, I assume 5% annual growth in MAU. For Asia and ROW, I expect MAUs to grow 10% annually as the Internet population in these regions continues to grow. With these assumptions, Facebook would have excess of 2B monthly active users by 2020.
Facebook has been extremely effective in monetizing its user base, as shown is the above chart. I am assuming that these robust trends continue, and ARPU grows 10% every year in the US and Canada and 15% annually in Asia and ROW.
With these assumptions, Facebook's revenue grows from $7.9B in 2014 to $25.5B in 2020, an 18% annualized growth over the next seven years.
Margins and operating expenses
Facebook's management guided to operating expense growth (including cost of sales) of between 35% and 40% for 2014. I am assuming the lower range, which implies that gross margins will dip slightly to the 74% range, down from 76% in 2013. R&D will increase to 20% of sales, while S&M is estimated to grow at 15%. For the out years, I am assuming that R&D expenses will moderate out eventually to 15% of sales, with S&M at 13% and G&A at 8%. These are pretty aggressive assumptions when compared with peers, as can be seen from the comparison below with some of its technology peers (GOOG, MSFT, AAPL and TWTR). Facebook's spending is in line with Microsoft's (NASDAQ:MSFT), but I have assumed a further 5 points of efficiency by 2020.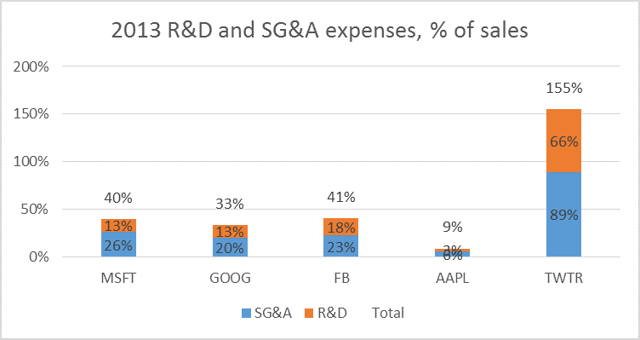 Source: FB 10-K
Valuation Model
To value Facebook, I am using a discount rate of 10% and a terminal growth rate of 6%, which I believe are both on the aggressive side. I also assume dilution of 5% annually - if Facebook keeps making expensive acqusitions such as WhatsApp, the share count could go even higher. The model yields a fair market value of $49, which is a 15% discount to the current share price. This would suggest that FB is overvalued, even with the robust growth assumptions I have modeled. The valuation model and assumptions are below: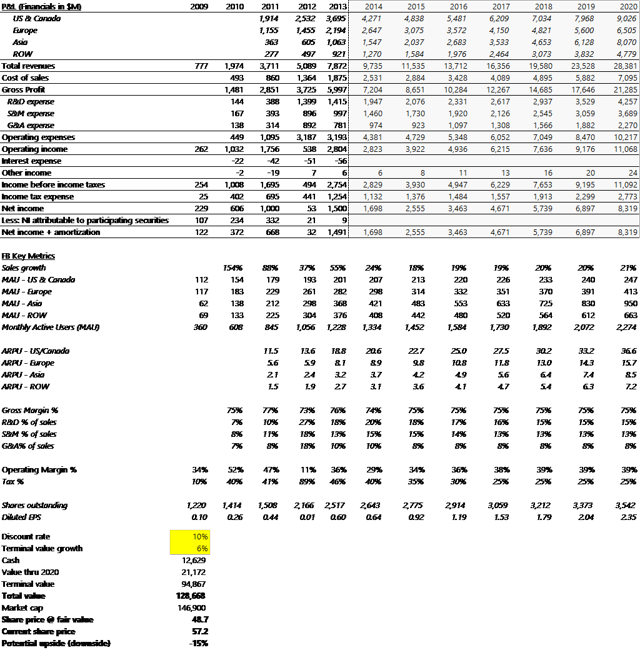 Risks and opportunities
As I have shown, Facebook needs to keep performing at a very high bar to justify its share price. It would need to increase its ARPU in the US and Canada, its most mature markets, by 20% annually to justify its current share price - which would mean an ARPU of $67/active user by 2020. It seems highly unlikely that it would be able to achieve these levels of monetization. One opportunity it has is that the business is highly scalable - so if it improves monetization, its COGS need not grow at the same rate. In order to do so, however, it needs to keep investing in R&D and S&M resources, putting pressure on the opex lines.
Summary
Facebook has truly revolutionized the way people connect. The company has grown rapidly over the past years, and investors have been well-rewarded after its post-IPO hiccups. However, the valuation seems to have gotten ahead of itself, and there seems to be little upside and significant downside in the stock. Keep connecting with your friends on Facebook by all means, but don't invest in its shares now.
Disclosure: I have no positions in any stocks mentioned, and no plans to initiate any positions within the next 72 hours. I wrote this article myself, and it expresses my own opinions. I am not receiving compensation for it (other than from Seeking Alpha). I have no business relationship with any company whose stock is mentioned in this article.
Additional disclosure: I am short FB $25 and $30 puts.