NorthStar Realty finance (NRF) came to market with a $225 million of a new Series E perpetual preferred stock. The details of the offering are: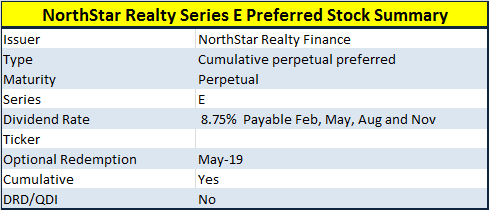 The prospectus is available here.
The issue comes with the following "change of control" language:
Upon the occurrence of a Change of Control, NRF may, at its option, redeem any or all of the shares of Series E Preferred Stock within 120 days after the first date on which such Change of Control occurred at $25,000 per share ($25.00 per depositary share) plus any accumulated and unpaid dividends.

Conversion Rights: Upon the occurrence of Change of Control (COC), each holder of Series E Preferred Stock will have the right (subject to the Company's Special Optional
Redemption) to convert some or all of the Series E Preferred Stock held by such holder on the COC Conversion Date into a number of the common shares per Series E Preferred Stock
NorthStar Realty Finance is a diversified commercial real estate investment and asset management company. Unlike agency mortgage REITs, NRF's investments may take the form of acquiring real estate, originating or acquiring senior or subordinate loans, as well as pursuing opportunistic CRE investments, both in the United States and internationally. I have written about the company here, here, and here.
As per usual, the determination of value should be viewed versus the company's preferred shares and then their peers preferred shares. Let's begin with the company's shares:

As the table above shows, the new issue yields more than all other preferreds in the NorthStar Realty complex, with the exception of the NRFPrC. It must be noted that the duration of the new issue is my estimate of the duration based on other comparable issues.
As many will attest, it is often possible to buy the new issues "on the break" at a discount to par. While this is not guaranteed, it happens often and should be considered. Below, I have created a grid which will show the various yields (current, strip and to call) at various prices within a "normal band" of pre-listing discounts.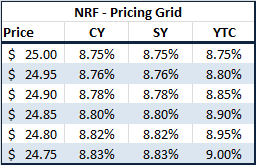 Again, the discount is not guaranteed, but should be considered.
Another way to view the NorthStar preferred complex is by unit of interest rate risk, i.e.. duration. I have been trying to incorporate duration as an "analytical arrow" in the quiver, and have settled on basis points per unit of duration, or put differently, basis points per unit of interest rate risk (I will be going through other preferred issuer complexes with this measure). Based on an investors interest rate outlook, positions should be taken with this in mind as well. In this capacity, here is the NorthStar preferred complex expressed on a duration basis: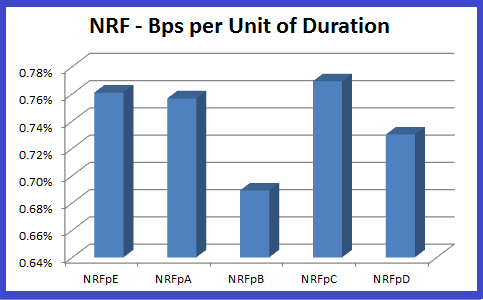 Based on the above chart, the NRFPrC provide an investor with the most yield per unit of interest rate risk.
Next, we move on to value versus peers. Peers in this analysis are Hatteras Financial (NYSE:HTS), Annaly Capital (NYSE:NLY), Armour Residential (NYSE:ARR), Colony Financial (CLNY), American Capital Agency (NASDAQ:AGNC) and Dynex Capital (NYSE:DX). There are very few true "peers" for NorthStar due to their business mix and new asset management focus (which this preferred will not benefit from), but these are well known mREITs which will help form the basis of comparison.

As the table above shows, the NorthStar preferred issues have a higher yield than the majority of their "peers". This is partially due to their business profile as they are involved in multiple levels of the capital structure across various real estate investments. By the nature of its complexity, additional yield is both demanded and appropriate.
Finally, an equity view of the company and its peers.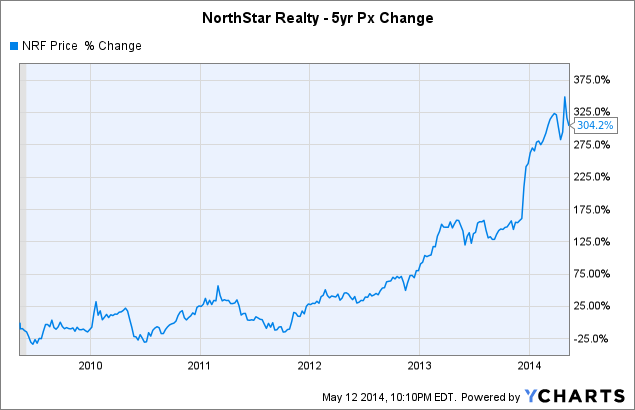 The last five years have been lucrative ones for holders of NRF, with a significant increase coming after the company announced the spin-off of the asset management company (that entity which has been the company's focus even prior to the announcement). Versus peers we see: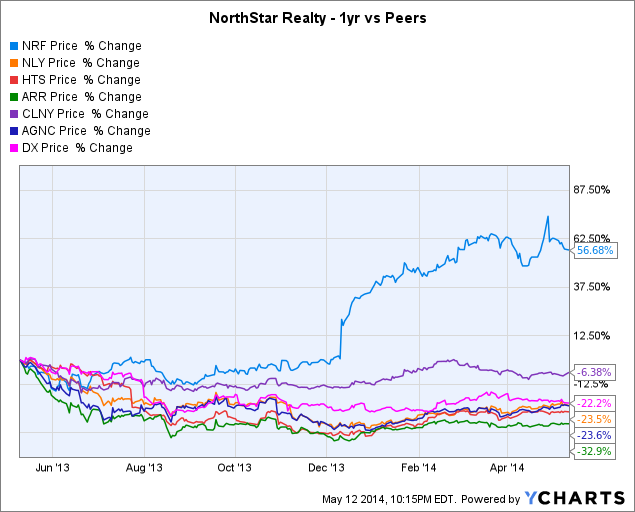 And the dividend yield of the equity: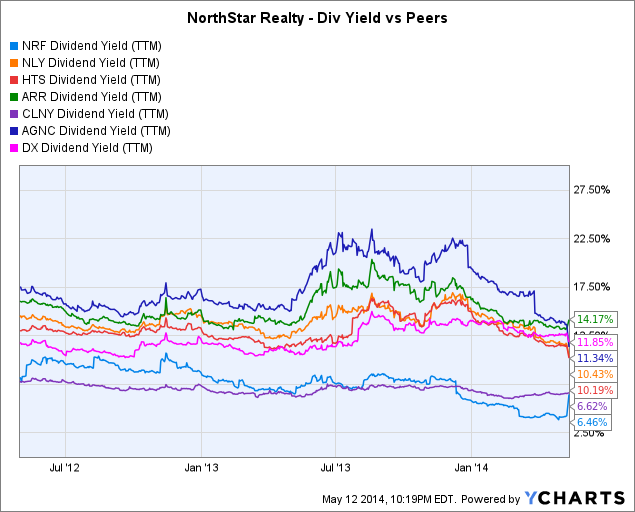 NRF Dividend Yield (TTM) data by YCharts
Bottom line: The NorthStar Realty Finance Series E preferred stock is attractive versus peers, but without an "after the break" discount, an investor might want to consider the Series C preferred stock to reduce interest rate risk (albeit marginally).
Disclosure: I am long NRF. I wrote this article myself, and it expresses my own opinions. I am not receiving compensation for it (other than from Seeking Alpha). I have no business relationship with any company whose stock is mentioned in this article.
Additional disclosure: This article is for informational purposes only, it is not a recommendation to buy or sell any security and is strictly the opinion of Rubicon Associates LLC. Every investor is strongly encouraged to do their own research prior to investing.