Since Ameresco, Inc. (NYSE:AMRC) went public several years ago, with the exception of an immediate upward move culminating in a high of $16.78 on January 10, 2011, the company has been on a downward spiral, pointing to the fact its IPO occurred at the height of its performance. Today it's trading for under $6.00 per share.
Now the question is whether or not the company can regain market share in the midst of a number of larger competitors; including Chevron Energy Solutions, Constellation Energy, Johnson Controls and Siemens Building Technologies, among others.
At the time when Ameresco was pricing its IPO in 2010, it announced in the first quarter of the year its overall revenue had soared to $105.6 million, a gain of 43.9%. In the first quarter of 2014, revenue came in at $101 million, falling from the $110 million generated in the first quarter of 2013.
It's obviously not a good sign to see a company generate less revenue almost four years after it went public.
Worse yet, at the end of 2010 the backlog for Ameresco was a fairly hefty $651 million. That plummeted to $362 million at the end of 2013. One glimmer of hope is at the end of the first quarter of 2014 that showed signs of improvement, as the contracted backlog was up 15% to $395 million.
What remains to be determined is whether or not this was an anomaly or a sign of the beginning of a turnaround for the company.
source: Yahoo Finance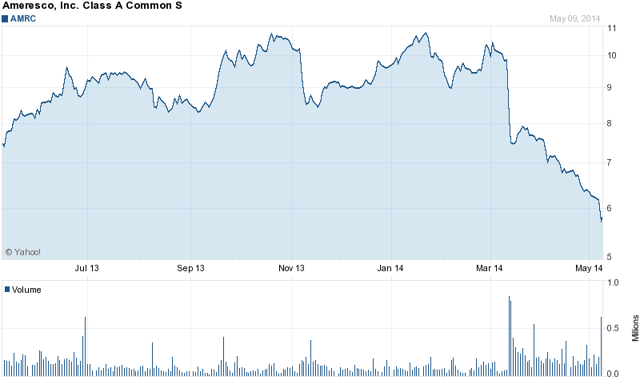 Recent Performance
Since last writing about Ameresco on July 2013, the next quarter was a disaster because of numerous delays, with one major project being cancelled. Surprisingly, the share price of the company still jumped soon afterwards, climbing to $10.19 per share on September 23, 2013.
Other than a brief period in November and December of 2013, when it dropped below $9.00 per share, it rebounded again and traded in the $9.00 per share to mostly $10.50 range until March 12, when it plunged to $7.52 per share on March 14. Since then it has continued to decline, trading at $5.82 per share at the end of trading on May 9, 2014.
I'm surprised the company has been able to maintain its share price this long, as quarter after quarter it guides to a better performance, and quarter after quarter it fails to meet expectations.
Project overruns continue to be a problem, pointing to ongoing execution problems.
There is only so long Ameresco can point to its supposed "comprehensive" solutions and not be able to deliver against its competitors in the market. After all, if that was a real differentiator, it would be making headway and taking share from them.
Public and Private Business
Ameresco serves the public and private sectors. In the public sector, as of the latest quarter the amount of business remained level, while business from the private sector has declined.
The implementation of its plan to diversify its customer mix will take another four years, specifically concerning its C&I customers. So there will remain revenue risk for some time going forward.
Most of the business performed by Ameresco is via its PPA and ESPC contracts. How they work are its clients are guaranteed from the first day that it will save them money. The contracts also have minimal upfront requirements.
From those parameters, it is puzzling why Ameresco can't secure its share of business. Either it's doing so at the expense of revenue or earnings for those contracts it does win, or its much larger competition is a more attractive alternative in light of the execution problems Ameresco has been prone to.
Even so, those minimal upfront expenses can take a long time to recapture. I pointed that out in my last coverage of Ameresco concerning county buildings in Lewis and Clark County, Montana, which required an upfront cost of only $1.6 million.
The annual savings there would be $77,000 per year, but it would take 20 years to recoup the costs. This is why there is some resistance to these types of projects, as doing this in existing buildings, which deteriorate over time, means there's no guarantee they'll be operational long enough to make it worth the money and effort.
But as mentioned earlier, the major story for the performance of Ameresco is its backlog. In order to convince investors of its viability concerning a possible turnaround, that is what must successfully improve the outlook of the company.
Legislative Reliance
The reason it's underwhelming to hear the company say it'll take at least several years to diversify its customer mix is because of its over-reliance on government contracts.
A lot of its future performance in that segment then requires the passing of legislation requiring mandated energy savings within specific time periods for them to be finished. That is a toss of the dice and not an agenda that is driving politicians at this time.
Even if there are more favorable laws implemented, there is no guarantee Ameresco would win contracts in light of its current execution problems. It would be likely to win some of them, but it may not be enough to move revenue and earnings much.
Again, that's assuming all that were to happen, which is unlikely.
One thing that would help the company would be if it was able to expedite the product mix initiative and able to surpass expectations, something it hasn't been able to do since becoming a publicly traded company.
Possible Acquisition Target
With the inability of Ameresco to sustainably grow in any way, I see it as a possible acquisition target by its larger competitors. It's particularly susceptible after falling near to its lowest share price since going pubic.
On the other hand, if you see the glass as being half full, it could be considered a good entry point, although Ameresco would have to do more to show it can grow its backlog consistently before I would acquire it. Just because its share price has plunged doesn't mean it won't drop further.
Another poor quarter and it could test the $3.50 per share mark, or possibly even lower. I base that upon the strength or weakness of its backlog and how shareholders have responded in the past.
As for being an acquisition target, I think of that as being in the earlier stages of interest if that is even on the minds of some of its competitors. It would have to linger at these low levels for awhile in order to form a price base for companies to make an accurate offer.
I wouldn't count at all on an offer being made soon, as that would artificially prop up the share price if the market started to think that way. That isn't going to happen.
My point is the company can't continue to perform as it has, especially if it can't improve its backlog, without it having to consider the few remaining options it has to generate shareholder value.
It appears the company is weak enough for that to happen if it takes one more big hit. At that time the company would lose a lot of credibility with shareholders and investors.
Conclusion
Ameresco is a company in trouble. After four years it has yet to prove it can profitably compete in this very competitive market.
Its profit margin (TTM) is only 0.42%; its operating margin 1.16%; return on assets 0.65%; and return on equity only 0.90%, and there's little to suggest these numbers will change any time soon.
These are the numbers of a company just treading water.
When searching for a catalyst for Ameresco, it's simply not there to be found. It has to do much better on landing contracts, as well as executing on those it does land. Continual delays are costing the company, and it must do something about that in the near future.
With the diversification of its product mix years away, the major thing to watch for the health of the company will be its backlog. If it isn't able to turn that around, Ameresco isn't going to be able to be a turnaround story.
For those thinking Ameresco has turned the corner, consider where it has fallen from in regard to backlog from shortly after it went public. While it's tempting to look at its current share price and consider it a good entry point, it's far too early to draw that conclusion.
It could be considered a short-term play if it is believed it will get a bounce off of its recent low, but for any type of sustainable performance there is nothing to suggest that is the place the company has finally reached.
I would hold off on Ameresco until there is more clarity as to whether or not the recent improvement in its backlog is a sign of recovery or not.
Disclosure: I have no positions in any stocks mentioned, and no plans to initiate any positions within the next 72 hours. I wrote this article myself, and it expresses my own opinions. I am not receiving compensation for it (other than from Seeking Alpha). I have no business relationship with any company whose stock is mentioned in this article.