Recently Prospect Capital (NASDAQ:PSEC) disclosed that a there is a possibility that the SEC may require the company to restate its financials and consolidate certain holding companies within its portfolio. This article will not discuss the merits or accounting impacts of a potential restatement that are covered in Scott Kennedy's "Prospect Capital's Potential Financial Restatements: Explaining The Current Situation And Its Impacts - Part 1" and Part 2 when it comes out later this week. My key concerns are dividend coverage from recurring interest and dividend income vs. other income and the ability for PSEC to continue to grow or sustain other income through originations that drive onetime fees to support dividends. This article will focus mostly on historical income and dividend coverage and Part 2 of this series will cover my projections for PSEC on a more detailed level.
Increasing Reliance on Other Income
Over the last 12 months I have become increasingly concerned about yield compression in the BDC industry due to increased competition. This has impacted all BDCs especially the ones with higher yields. PSEC is not immune to declining yields and management has driven many strategic initiatives to preserve portfolio returns through its "7 Yield-Oriented" origination strategies (sponsor finance, direct non-sponsor, lending, one-stop operating buyouts, one-stop finance buyouts, structured credit, real estate and syndicated debt investing). These programs have helped to stabilize its portfolio yield but PSEC has still become heavily reliant on other income to cover dividends. The table below shows the historical weighted average interest rate, breakdown of income, dividend coverage and undistributed net investment income ("NII").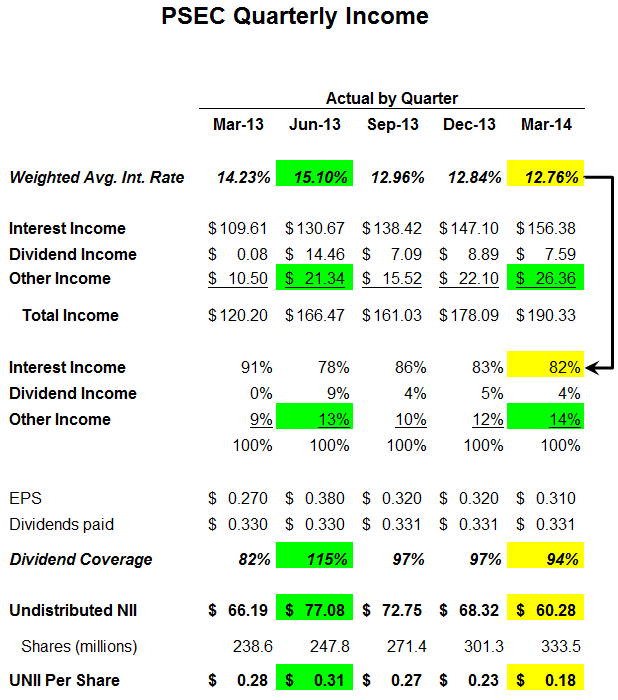 During the June 2013 quarter, PSEC had high amounts of originations that drove most of the structuring fees for the quarter and correspondingly higher amounts of other income to 13% of total income. There was also over $14 million in dividend income (significantly higher than average) along with a higher average interest rate on investments, driving EPS to $0.38 and was the last quarter that the company covered dividends with NII and increased its undistributed NII. During March 2014, PSEC had record originations of $1.34 billion driving record amounts of structuring fees and over $26 million in other income or 14% of total income. However PSEC was still short of covering dividends and used part of its undistributed NII as projected in my "PSEC: February 2014" report. These originations were funded with both equity and debt capital.
Growth Capital
The good news is that PSEC is finally using increased amounts of leverage to maximize returns to shareholders and now has a debt-to-equity ratio of 0.76 and higher than recent quarters (usually below 0.60). Recently PSEC has suspended its at-the-market ("ATM") equity issuance and some of its other capital raising programs, stating on the recent call "It's nice to have those options but we feel it's prudent while we are having discussions with regulators concerning our appeal that we suspend those programs. And hopefully we will have the option to employ all of the tools at our disposal at some time in the near future, but we'd rather be too conservative than not conservative enough." I believe this is the right thing to do for many reasons and will give the company a chance to reposition its portfolio for higher risk adjusted returns as well as utilize other "tools at its disposal" including its revolving credit facility with an accordion feature expanding its commitments to $1 billion.
One of the analysts on the recent call asked "with that ability to still draw on the credit facility now, what leverage level are you comfortable with taking the balance sheet to at least for a period of time where you can't issue any equity with this SEC issue?" The president responded with "I would say somewhere in the 0.75 range as we talked about in the past and leverage will move a little bit up and down around some type of a band, but we think since we pioneered so many of these longer dated liabilities in the industry, as really the first to open up these possibilities to the industry, whether it's converts or straight bonds or our program notes."
Timing
One of my concerns is the amount of time that it will take to resolve these issues with the SEC. On the recent call when asked about a potential time frame the president responded with "We believe that the process will be about a month." This was quickly followed up by the CEO with "But we have emphasize we really don't know, we don't control these processes." Various professionals have weighed in on the timing issue and most agree that this could take 6 to 9 months and is a very involved process especially given that the next reporting period is a fiscal year end requiring more scrutiny than other quarters.
During this time frame PSEC will be more capital constrained than previous quarters, which could lead to lower amounts of originations, structuring fees and other income. If the stock continues to trade under its current net asset value ("NAV") per share this could be a longer term problem.
In Part 2 of this series I will provide projected income and EPS over the coming quarters as well as the resulting dividend coverage and undistributed NII. Investors should only use this information as a starting point for due diligence.
Disclosure: I have no positions in any stocks mentioned, and no plans to initiate any positions within the next 72 hours. I wrote this article myself, and it expresses my own opinions. I am not receiving compensation for it (other than from Seeking Alpha). I have no business relationship with any company whose stock is mentioned in this article.