Summary
The United States Supreme Court is about to rule on the legality of the Aereo television service.
National Broadcasters NBC, CBS, ABC and FOX are trying to quash the technology for various reasons depending on the business activities.
We think that a recent joint venture and licensing transaction announcement regarding Single Touch Systems is a buy signal independent of the Supreme Court ruling.
Smart insider investors have taken large positions and board participation in Single Touch.
We wrote an article regarding the Aereo technology and its service back in July 2013. A lot has happened since then, both in the cable/broadband universe and the world of Aereo and video streaming in general by the likes of Netflix (NASDAQ:NFLX), Amazon (NASDAQ:AMZN) and Hulu.
A recent Forbes article does a nice recap of what Aereo has achieved and the pending decision from the Supreme Court which is hearing the case launched against Aereo last year by the big national broadcasters. Here is an excerpt from the article:
...(Aereo) started renting those tiny TV antennas that capture local broadcast channels and beam them to customers' computers, tablets and phones, Kanojia has been called a hero-and a thief. Rebel entrepreneur that he is, he has disrupted the TV business to the delight of an estimated 350,000 subscribers in 11 U.S. markets, people who are sick of ever-rising cable bills. But he has also enraged the big four (ABC, NBC and for threatening their livelihood: the billions of dollars cable operators pay the networks in carriage fees. They have pursued him with the fury of gods taking after Prometheus but have lost case after case.
Clearly, the broadcasters - CBS (NYSE:CBS), FOX (NASDAQ:FOX), ABC (NYSE:DIS) and NBC (NASDAQ:CMCSA) - are outraged by what Aereo is doing. Estimates have been made that the broadcast networks collect up to $5 billion in retransmission fees from cable operators. When current contracts with cable operators expire, the fees demanded by the networks escalate. Recently we saw a pseudo display of brinkmanship by the cable operators which resulted in a temporary black out of NY JETS games in New York City last September when Time Warner (TWC) and CBS squared off in their negotiation of those fees and TWC ironically encouraged customers to seek the Aereo service.
So how can investors get exposure to the hockey stick ramp-up for the streaming of traditional video content as an alternative to national and affiliate broadcast TV before the Supreme Court's decision adjourns in June 2014? We have written before about Single Touch Systems (NASDAQ:SITO) which is a OTC bulletin board stock with a market-cap of only $54 million today. That market-cap could be poised to rise very quickly in a number of scenarios after the Supreme Court decision on Aereo, independent of which way the decision goes. Here is a snapshot of several of their patents surrounding video streaming:

We have 5 compelling reasons to be long SITO based on what they have released publicly over the last few weeks concerning this intellectual property and other events. Each individual reason has its own set of risks which we will summarize in italics at the end of each catalyst. In addition, we have 5 generic risk factors that come with investing in micro-cap technology stocks and more specifically SITO.
1. SITO did a press release on April 23 announcing "...Formation of VideoStar to License Intellectual Property in the Digital TV Broadcast Markets". The significance of this news was the joint venture partner they picked to bolster their streaming IP cited above: Personalized Media Communications, LLC.
Here is a brief description from a recent PMC press release:
Personalized Media Communications owns a fundamental intellectual property portfolio developed over thirty years by its chief inventor and founder John C. Harvey. The patents cover the use of control and information signals embedded in electronic media content to generate output for display.

All 74 of the company's active patents have either 1981 or 1987 priority dates as a result of patent office delays in re-examining them. They will not begin to expire until 2027. PMC's inventions are platform agnostic. They can be delivered via the Internet, intranet, cellular wireless or cable/satellite networks, and run on PCs, laptops, tablets, smartphones, set-top boxes, televisions, game consoles, and other electronic-media delivery systems. Licensees include Motorola Mobility, Panasonic, Sony, Zynga, Rovi Corporation and DirecTV.
PMC and SITO are not patent trolls. Their patents are home grown and based on R&D done by the inventors.
Risk: PMC has a long list of successful IP licenses and may decide to terminate this relationship with SITO if it's in their best interest. We have not seen the contract between PMC and SITO which is most likely treated as confidential for competitive reasons, so buyer beware.
2. SITO and PMC with their VideoStar joint venture announced:
JERSEY CITY, N.J., April 28, 2014 /PRNewswire/ -- VideoStar LLC, a licensing vehicle established with OTCBB: SITO) today announced it has completed a milestone patent license agreement, effective April 21, 2014, with a leading US broadcasting entity.
This announcement is cryptic at best. In our opinion, it is purposely cryptic because it is a license with a big broadcaster who has required nondisclosure because of the sensitivity of the Supreme Court case. To see the potential economics from this deal, we examined the 8K SITO filed with the SEC and we quote:
Item 1.01. Entry into a Material Definitive Agreement

On April 21, 2014 (the "Effective Date"), Single Touch Interactive R&D IP, LLC ("Interactive"), a wholly-owned subsidiary of Single Touch Systems Inc., through a joint venture arrangement organized as a limited liability company (the "JV") with Personalized Media Communications, LLC ("PMC"), entered into a Joint Licensing Program Agreement (the "Agreement") with a national broadcasting entity ("Licensee") pursuant to which the JV grants the Licensee a term-limited license ( the "License") to all patents licensable by the JV ("Patents"), including an exclusive license to assert the Patents against certain infringing parties in the media distribution industry.

In exchange for the License, the Licensee will pay an annual fee of $1,250,000 for a minimum of three years ("Annual Fee"). Commencing three years from the Effective Date, the Licensee may each year, at its sole option, pay a $1,250,000 license fee to renew the License for every year for four additional years. Once the Licensee has paid a total of $8,750,000 in license fees, either in one lump sum or after paying $1,250,000 annually for seven years, the License is deemed to be perpetual. For Patents infringement actions provided for under the License, the Licensee will pay 20% of the gross proceeds from settlements received less any Annual Fee amounts paid and litigation costs incurred ("Share of Proceeds"). Interactive and its joint venture partner will serve as co-plaintiffs with the Licensee in infringement actions under the License and the Licensee will be responsible for any out-of-pocket costs of the JV associated with being a co-plaintiff in supporting Licensee in such litigation, including attorneys' fees.

The Licensee will pay the Annual Fee and any Share of Proceeds to the JV. Proceeds received by the JV are shared by Interactive and PMC on a 30% and 70% basis, respectively.

In the event that the Licensee does not assert any infringement actions under its rights in the License within five years of the Effective Date, the JV may, at its sole option, choose to terminate Licensee's exclusive right to assert infringement claims with no reduction or adjustment to the Annual Fee.
SITO gets 30% of the upfront $1.25 million and potentially of the full $8.75 million from this one broadcaster who has the right to assert VideoStar's patents against someone (our guess here is Aereo and maybe Netflix, Amazon and others in or entering the streaming space). But the real upside for SITO is 30% of the 20% of the gross proceeds from potential patent infringement suits which are alluded to above without having to fund expensive legal costs for patent litigation. In addition, SITO has other patents and is not precluded from doing other creative licensing/joint venture transactions with other parties including broadcasters in the future.
Risk: Licensee has not been specifically identified, but we assume it must be one of the big four national broadcasters. Until their name is disclosed, we really cannot be certain what their strategy will be to assert the JV's IP. It could walk away from the agreement altogether and the JV will have received only the first $1.25 million payment.
3. We think SITO is a unique company in that it is not just a patent licensing entity. It has a growing operating business utilizing mobile marketing technology it developed using SMS messaging. Earlier in April, SITO announced that it had signed FreshDirect, a grocery home delivery service to its Reminder Messaging SMS service. We look forward to seeing SITO's operating results which historically have been trending towards breakeven on a cash flow basis despite funding their patent/IP initiatives from operating cash flow.
Risk: As an operating company, SITO could be subjected to allegations of patent infringement by other IP holders. If they are, this may hamper their existing SMS marketing business which has shown increasing promise in generating needed cash flow.
4. We see SITO making the necessary technical requirements to get on a more liquid and institutionally friendly stock exchange such as Nasdaq by putting forth a consent for shareholders to approve a reverse stock split via their latest SEC preliminary proxy statement filing. Here is an excerpt:
We are soliciting your consent to approve an amendment to the Company's Amended and Restated Certificate of Incorporation to effect a reverse stock split of the our common stock the "Reverse Stock Split") at any time prior to March 31, 2015, with the Board of Directors (the "Board") having the discretion as to whether or not the Reverse Stock Split is to be effected, and with the exact ratio of any Reverse Stock Split to be set at a whole number within the above range as determined by the Board in its discretion (the "Proposal").
The primary intent of the reverse stock split is to increase the market price of our common stock to enhance our ability to meet the initial listing requirements of either the NASDAQ Capital Market or NYSE MKT LLC. The goal of seeking to list on one of these national exchanges is the potential for increased visibility and liquidity as well as making our common stock more attractive to a broader range of institutional and other investors.
Risk: Reverse stock splits are controversial. Many money managers avoid companies that have done a reverse split because they argue there must be an inherent problem with the business. Furthermore, there are more reverse split companies that fail than succeed, although Citigroup (NYSE:C) and AIG (NYSE:AIG) have been success stories.
5. Insider ownership reported in the same proxy filing cited above shows "smart money" coming into SITO. Here is a chart from the filing above: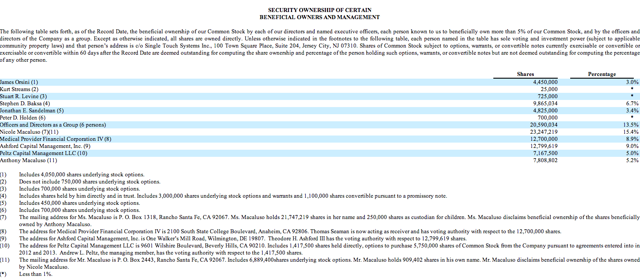 The names Peltz and Sandelman give us comfort that someone else has vetted the company and is preparing them to gain wider exposure to investors to create shareholder value. Moreover, the filing also explains that founder Anthony Macaluso's holdings has seen a drop of from 31.6 million shares including options last year to slightly over 7.8 million shares in the current filing. Although some investors may view this as a negative, we can only surmise that Macaluso was embroiled in a costly split from his wife which prompted the need for liquidity. Moreover, Macaluso is down to approximately 900,000 shares excluding out of the money options now, which means the selling is likely almost over. Furthermore, the large drop in Macaluso's holding is probably why the stock is close to its 52 week low price of $.315 closing at $.38 on May 9th,2014.
Risk: SITO is a small company and perhaps may represent a nuisance at some point for the "smart money" insiders who seem to have rolled up their sleeves and put real resources behind the company. If things do not move as quickly as these investors believe they should, they may tire and harvest a lost in their SITO investment against gains in their numerous other activities.
There are considerable risks investing in OTC stocks such as SITO. First, there are liquidity issues with the OTC exchange which could make exiting a long position very difficult in times of market turbulence. Second, you have a long list of insiders who have large positions and they could be hitting the exit for this stock subject, of course, to SEC Rule 144 limitations, at the same time new shareholders may want to sell the stock. Third, the company will not have institutional holders until it gets listed on a major exchange like Nasdaq and presumably trades above $5 per share. Fourth, the technology patents and underlying business platform for SITO can be leapfrogged by a larger, more capitalized player. And fifth, there is always the risk that the patents can be fought by alleged infringers and deemed to be invalid.
In conclusion, we think SITO is priced as a binary option with the upside being a multiple of today's price and a limited downside of $.38. The price today provides a capped downside exposure versus a significant return from the exploding video streaming services sector on the Internet. Although there are numerous risks in SITO, we a conservative size investment in this emerging technology operator with a seasoned and valuable patent/"IP" portfolio may be for those investors who like "wild catting" with a small portion of their portfolio.
Disclosure: I am long SITO. I wrote this article myself, and it expresses my own opinions. I am not receiving compensation for it. I have no business relationship with any company whose stock is mentioned in this article.
Editor's Note: This article covers one or more microcap stocks. Please be aware of the risks associated with these stocks.