Healthcare Trust of America (NYSE:HTA), real estate investment trust and pure-play on the rental of medical office buildings, has been on quite a roll lately. In the first quarter, the trust saw a general trend of acceleration marked by:
A normalized FFO increase of 12.5% year over year. This is up from 7.5% growth last quarter
Same store revenue was up 2.5% year-on-year, up from around 1% or so the year before.
Similarly, net operating income was up 3% compared with the 1%-2% number from last year.
Much of this acceleration can be accredited to implementation of the Affordable Care Act, which brought an additional 7 million people 'into the system,' so to speak. Accelerating earnings, in this economy, are not easy to find from a company, and that is exactly why Healthcare Trust's results are so impressive. Perhaps even more reassuring is that management sees the 3% NOI and same-store sales growth, and 10% FFO growth, as a continuing trend. There were no promises from management, but things are looking better as healthcare spending increases relatively and the Affordable Care Act brings people into the system.
But looking only at these operational results, I believe, is to miss a very important trend, and that is declining cost of capital in an acquisition market that remains fairly benign. Highly accretive acquisitions remain the big driver for Healthcare Trust, and I believe that this trust is separating itself from the pack in a few ways. This article will cover the ways in which Healthcare Trust is doing so.
A big market in which to acquire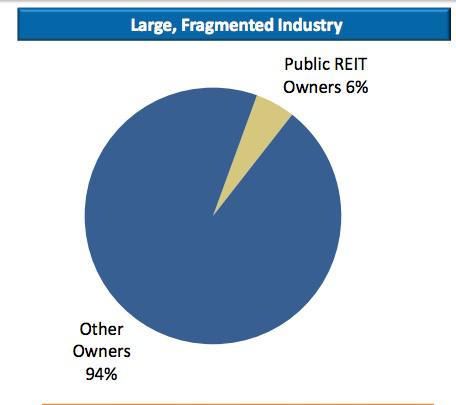 Courtesy of Investor Relations
As we can see, the medical office building industry is still highly fragmented. Real Estate Investment Trusts have a lot of acquiring left to do. Last year, Healthcare Trust acquired $398 million worth of properties. This year management expects only $200-$300 million in acquisitions, which is still quite a bit considering that the trust's market cap is still only $2.87 billion. I believe that management can now continue these acquisitions over several years, and that these acquisitions will continue to be accretive and will drive growth for a long while even if interest rates go up.
Competitive Advantage
In acquiring properties, the important factor in determining profitability is the spread between 'cap rates,' which is revenue divided by sale price, and cost of capital. Unfortunately, Healthcare Trust does not disclose cap rates, but we do know a few things. Most of the trust's 12.5% FFO growth this quarter had to come from accretive acquisitions. After all, same store sales revenue grew by only 2.5%.
So, if accretive acquisitions are obviously driving growth, the spread between cap rates and cost of capital must be substantial. Recently the trust's weighted average cost of debt was pegged at 3.9%, so the cap rates on recent acquisitions had to have been substantially higher than that.
The spread between cap rate and cost of capital is often effected most by just two factors: Interest rates and real estate prices. Higher rates and a higher real estate prices both eat away at the feasibility of acquisitions. On the company's most recent conference call, there were a few implications that cap rates were declining, which would most certainly be a result of rising real estate prices. This would go a long way to explain the company's reduced acquisition expectation.
However, the one good thing Healthcare Trust has going for it's decreasing cost of capital. As with many REITs, there comes a point when the market recognizes a REIT's maturity and value-creation ability, and subsequently rewards that REIT with a lower cost of capital through higher bond and equity prices. As a result, the said REIT can then use this to make even more profitable acquisitions. It is a virtuous cycle.
Not only has Healthcare Trust reached this point in its development, but the market is also currently putting a premium on shares of HTA, and I believe that it is doing so for good reason. First, the trust's cost of capital has declined to just 3.9%. Of course, that can increase if rates, in general, move upward.

YCharts
As you can see, shares of HTA have finally 'broken out' of the pattern they were in through mid 2013. What is so significant about this? The trust can now raise more capital from issuing the same number of shares with less dividend obligation.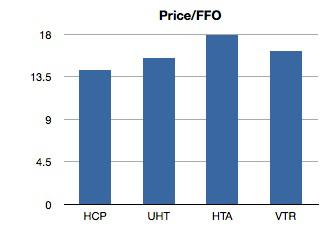 Info from FAST Graphs
While Healthcare Trust may now be more expensive than most peers, it is exactly that higher equity price which can enable more profitable acquisitions and really put 'growth momentum' behind a REIT, thereby attracting further buyers. And while such a phenomena may be a 'self-fulfilling prophecy' of sorts, the results are quite real. This is how the market separates the REIT wheat from the REIT chaff. On the retail side, Realty Income (NYSE: O) is a shining example of this phenomena among REITs, especially in the early part of 2013. The higher valuation which Realty Income commands allows it to acquire at a cheaper price. I believe that the same force is at work with Healthcare Trust.
Acquisitions this year will be less than last because overall cap rates are declining. This is an industry-wide issue and will effect every player in this sector. Management has elected to be choosy with its acquisitions this year, but the acquisitions it does make will likely be comparably profitable to those of last year, as the trust's lower cost of capital somewhat offsets a decrease in cap rates.
Dividend growth is imperative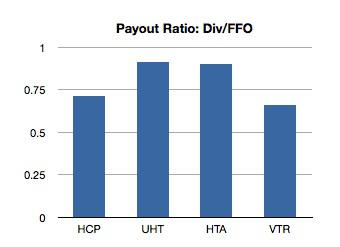 If rising equity prices and subsequent decline in cost of capital are a virtuous cycle, then the biggest threat to that cycle is displeasing shareholders. That's why dividend growth is so important for Healtcare Trust right now. In this market, investors place a premium on not only a dividend but also consistent dividend growth.
Currently, Healthcare Trust's dividend is 90% of total FFO. That may seem very high, but in this industry such coverage is not unheard of, as you can see above. Last year management indicated that it wanted to wait awhile for the dividend ratio to drop before increasing its dividend.
With recent growth in FFO, I believe this year is the time to give shareholders at least a nominal dividend increase. While a small increase may not make much difference on paper, it will, at least, signal to investors that management is serious about increasing the dividend when it can. And, to be sure, I believe that we will see some kind of nominal dividend increase this year, if only to keep the stock price at a premium to its peers. More sizable increases will likely come when the coverage rate drops below 80%.
Prospects
Healthcare Trust's ideal acquisition would be the following: Medical office buildings at or near their respective medical campuses, in a metropolitan area with relatively low unemployment, and staffed with large physician's groups. Despite its selectivity, Healthcare Trust still has quite a bit to pick from. It is this 'pure play' attribute that makes Healthcare Trust an attractive, easy-to-understand play on the growth of healthcare spending in the US.
Conclusion
The medical office buildings market is still a very fragmented one, with a lot of consolidation ahead. Healthcare Trust, with its low cost-of-capital and pure-play expertise, has the inside track in this market. Although the trust is relatively expensive, that low cost of capital allows it to acquire at lower relative cost, thereby allowing a certain 'growth momentum.'
Disclosure: I am long HTA. I wrote this article myself, and it expresses my own opinions. I am not receiving compensation for it (other than from Seeking Alpha). I have no business relationship with any company whose stock is mentioned in this article.