Offshore drilling giant Seadrill (NYSE:SDRL) gave a presentation at the Howard Weil 42nd Energy Conference that was held at the end of March. The presentation itself was posted on the company's web page on Thursday, April 3. Seadrill always does an excellent job on these presentations and covers both the overall state of the industry as well as the company's position in it to considerable depth. I do apologize for taking so long to get an article on this presentation posted on this site but alas, other projects ended up taking a considerable amount of my time.
Seadrill is one of the largest offshore drilling contractors in the world, boasting a diverse fleet of 69 offshore drilling rigs (including rigs owned by Seadrill's partially-owned subsidiaries.) This fleet consists of 34 ultra-deepwater floating rigs, 32 jack-up rigs, and three tender rigs. This fleet gives Seadrill the ability to operate in any region of the world in which offshore oil and gas exploration or production operations are performed, including harsh-environment regions such as the North Sea and in the Arctic. Seadrill has taken advantage of the breadth of its fleet capabilities in order to globally diversify itself throughout the world.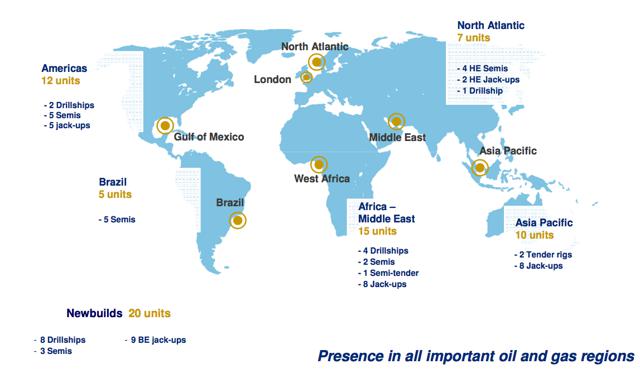 Source: Seadrill Ltd.
As the map shows, Seadrill has operations in every major oil and gas-producing offshore region. This provides the company with a number of advantages. Chief among them is the protection that these global operations offer to the company against regime risk. Regime risk is the risk that any given government will impose a new regulation, pass a law, or take some other action that will have an adverse effect on a company's operations. The energy industry in particular is one that is highly exposed to this risk as we have seen in recent years with the government of Argentina nationalizing YPF, the actions of the Brazilian government following Chevron's (NYSE:CVX) spill at the Frade field, and the actions of the American government following the Macondo disaster. If Seadrill's operations were located in only a single country then any negative action taken by that government towards either the energy industry in general or offshore drillers in particular could have a strongly negative impact on Seadrill's operations. By diversifying its operations globally, Seadrill has greatly reduced the percentage of its fleet that operates within a given government's territory and thus reduced the likelihood of the policies of any one government having a significantly negative impact on the company as a whole.
In addition to having one of the largest fleets, Seadrill also has one of the newest fleets among all of the offshore drilling companies.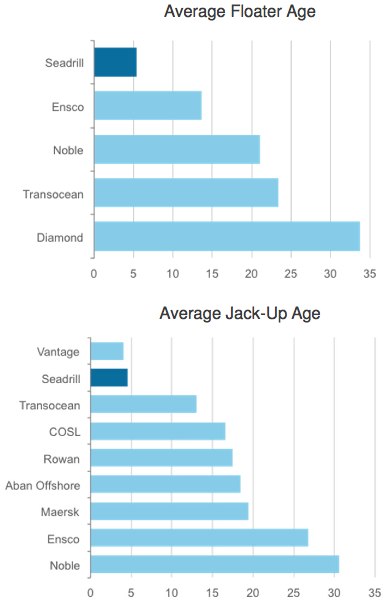 Source: Seadrill
As the chart shows, both of the company's major rig types are among the newest in the industry. Admittedly, Seadrill did not include some companies like Pacific Drilling (NYSE:PACD) which has an overall newer floater fleet but Pacific Drilling is also much smaller than Seadrill. Seadrill has the newest floater fleet out of any of its similarly-sized competitors. This provides the company with a number of advantages, one of which is bargaining strength. As I have written about several times before, the oil and gas companies that hire offshore drilling rigs have expressed a marked preference for modern rigs. Typically, these companies prefer to contract rigs that are sixth-generation or newer. This is due to the greatly improved safety features on these rigs compared to older ones as well as their improved performance in the more demanding downhole conditions today. We can see evidence of this by looking at the utilization rates of Seadrill's floater fleet compared to those of its peers.

Source: Seadrill, ODS Petrodata
As the chart shows, Seadrill's ultra-deepwater fleet has been enjoying 100% utilization since January 2011. This means that every rig that the company has that is capable of operating (so excluding rigs under construction) has a contract. This is in stark contrast to its peers. In fact, Ensco (NYSE:ESV) and Noble (NYSE:NE) are the only companies that have a higher percentage of their floater fleets under contract than they did in January 2011. Not coincidentally, these two companies also have the newest floater fleets of these five, other than Seadrill. Transocean (NYSE:RIG) enjoyed some increase in utilization over the period but overall its utilization rate today is the same as it was in January 2011. Diamond Offshore (NYSE:DO), which has the oldest floater fleet out of this group), has seen its utilization rate steadily decline over the period. Thus, we see evidence that it is indeed the most modern rigs that are in the highest demand and this gives Seadrill a very strong competitive advantage.
We see much the same trend in the jack-up market, with the most modern high-specification rigs commanding much of the demand. However, here we see another interesting dynamic and that is the age of the existing jack-up fleet among all companies worldwide. Today, there are 208 jack-ups worldwide that are at least thirty years old, with ten of those rigs being at least forty years old. This number will grow relatively quickly over the next six years until it reaches 232 rigs being at least thirty years old.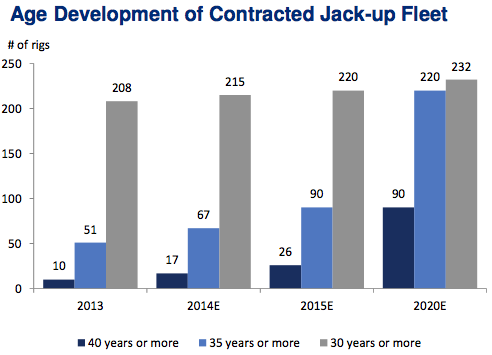 Source: Seadrill, Pareto Securities
As this is past the useful age for many of these rigs, the companies that own them have begun to scrap them. This chart shows the rate at which these rigs are being scrapped: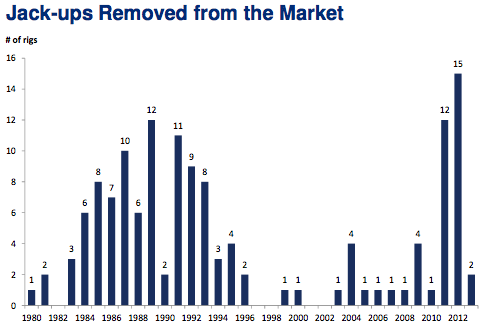 Source: Seadrill, Pareto Securities
As the chart shows, the rate at which offshore drilling contractors were scrapping old rigs greatly accelerated in 2011 and 2012 compared to the previous years. Seadrill stated in its presentation that analysts at Pareto Securities expect this trend to continue despite the fact that the scrapping of older jack-ups slowed down considerably in 2013. These analysts are likely to be correct though, since the worldwide jack-up fleet will continue to age at a steady pace. The scrapping of these rigs will quite clearly reduce the size of both their owners' and the worldwide fleet. Thus, in order to keep the size of these fleets steady, new rigs will need to be constructed to replace those that are scrapped. According to a presentation given by Vantage Drilling (NYSEMKT:VTG) at the DNB Capital Markets Seventh Annual Conference, there are currently 138 jack-up rigs under construction that are scheduled to be completed between now and 2017. Clearly, this is not enough rigs to replace all of those which are reaching the end of their lives. Thus, we are likely to see either an enormous capital outlay by those firms with aging rigs to replace those which are being scrapped, large capital outlays by these firms to rebuild these rigs in order to bring them up to modern standards, or rising dayrates for those newer rigs as oil and gas companies bid up prices to secure rigs from a shrinking worldwide pool. Seadrill has an advantage in all three of these scenarios as it does not have to lay out the capital to replace aging rigs and higher dayrates would result in higher revenue and cash flow.
Several analysts have expressed concerns over the past several months about a slowdown in the offshore drilling industry. While even the companies themselves have stated that they too are seeing a slowdown, this slowdown will not affect all companies in the industry in the same way and it is not as broad as the market seems to think. For example, the slowdown is being felt much more acutely at the lower end of the market, which is where the older rigs can be found, and even then only among those rigs that have expiring contracts this year. Because of this, Seadrill is quite well-positioned to weather the downturn. As Seadrill points out in its presentation, nearly all of the company's ultra-deepwater fleet is under contract for the entirety of 2014. In fact, out of the company's entire floater fleet, only the West Tellus is not under contract for the entire year.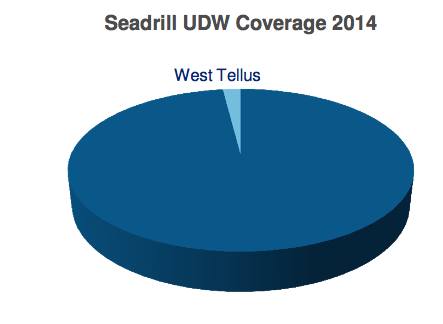 Source: Seadrill
One of the nice things about the offshore drilling industry is the guaranteed revenue that rig contracts provide. If an oil and gas company puts a rig under contract then it must pay the agreed upon dayrate until the end of the contract. This is true regardless of the conditions in the broader market. As the West Tellus, which comes off contract in July, is the only one of Seadrill's rigs that is not currently contracted for the entire year, the vast majority of Seadrill's current revenues from its ultra-deepwater fleet are guaranteed to stay stable throughout 2014.
Fortunately, it does not appear that the slowdown will persist much beyond this year. This chart shows the projected supply-demand balance for ultra-deepwater rigs going forward: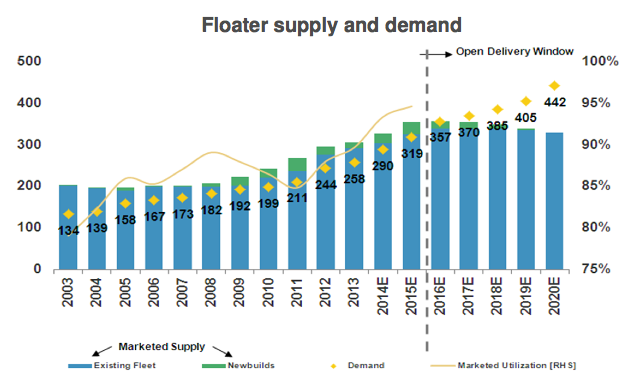 Source: Seadrill, Morgan Stanley, Rystad Energy
As the chart shows, the demand for rigs is likely to be very close to the available supply of rigs next year. After that point, demand begins to exceed supply which should both start pushing dayrates up and make it easier for contractors to secure contracts for their rigs. Thus, it appears that this year will be the worst of the downturn and Seadrill is quite well-positioned to ride through until 2015.
Disclosure: I am long SDRL, PACD. I wrote this article myself, and it expresses my own opinions. I am not receiving compensation for it (other than from Seeking Alpha). I have no business relationship with any company whose stock is mentioned in this article.