Last week the entertainment community was abuzz when it was announced that Apple (NASDAQ:AAPL) was acquiring Beats, the headphone company led by Dr. Dre and Jimmy Iovine, for $3.2 billion. There were videos of Dr. Dre and singer, Tyrese Gibson, celebrating the news and urging updates to the "Forbes List." They also threw shout outs to the West Coast for Dre becoming the first billionaire hip hop mogul - a subliminal message to moguls Jay-Z and Sean Combs? How much of this is actually true, who knows? Seven months ago, the Carlyle Group paid $500 million to Beats for a stake just under 50%. How the transaction values Dr. Dre's remaining stake is uncertain. However, here is what we do know: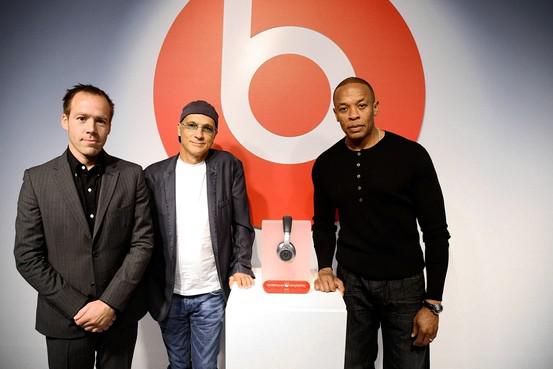 Sizeable Transaction Sharp Departure For Apple
Apple is known for making smaller acquisitions in a quest to buy technology and managerial talent. Its largest acquisition prior to Beats was a $400 million deal for Next Software when Steve Jobs was the CEO of Next. Beats is privately held; however, sources have quoted the transaction at 3x sales. Given Apple's $150 billion cash hoard, an acquisition of this size and scope would be little more than a rounding error.
Beats Premium, High Growth Product
Over the past year, Apple has experienced declines in its profit margin as it has been forced to reduce prices on certain of its premium products in order to remain competitive. The quarterly unit growth of the iPhone - the company's most profitable product - has declined precipitously over time. To that end, Beats is currently everything Apple is not. According to sources, revenue for Beats grew to over $1 billion from less than $200 million in 2010. Furthermore, customers still appear willing to pay premium prices (Beats were originally marketed for $350/unit) for the bass Beats headphones are known for delivering.
Beats Are a Status Symbol
Beats are to headphones what the iPod is to music players - a status symbol. While media players existed before the iPod came along, Apple made the iPod the "must have" unit. Not only was Apple the cooler brand, but through its expertise in design, it made the iPod more user friendly than competitors like SanDisk and Creative Zen. That said, companies like Bose may have revolutionized the premium headphone market (priced at $99 or higher), but Beats gave it mass appeal; consumers used to Apple earbuds have been blown away by Beats' bass-heavy sound. Furthermore, by having its headphones associated with hip hop artists like Little Wayne or Team USA, Beats has become a status symbol. For the hip and trendy, headphones say as much about a person as the brand of jeans or sneakers one wears. A recent CNN article, How Beats headphones changed the audio world, framed the matter:
'To a lot of people, the fact that someone took our hobby and our industry and vastly perverted it to the public at large borders on offensive for a variety of reasons,' added another poster. But the audiophiles might be missing the point. What Beats has done, suggests Tyll Hertsens, is expand the market for better-quality headphones -- as witnessed by the countless headphone makers jockeying for space at the International Consumer Electronics Show in Las Vegas last week ... 'What they did was brilliant,' says Hertsens, editor of InnerFidelity, a site devoted to personal audio. 'They somehow knew that people were aware enough of headphones that they could make them have some cachet.'
With its brand awareness and focus on style and comfort, Beats has commanded 57% of the premium headphone market according to the NPD Group. Premium headphones are the company's present, yet it is betting its streaming music service, Beats Music, will be a large part of its future. Beats launched the music service in January of this year and it will compete with the likes of Spotify, Pandora (NYSE:P), Apple and Google (NASDAQ:GOOG). Beats thinks the U.S. market for on-demand streaming is 50 million - 10 times its current size. The company plans to use its powerful headphone brand to differentiate itself from the competition. With the decline in sales of digital downloads - the focus of iTunes - Apple may be partnering with Beats at an opportune time.
Conclusion:
Though the acquisition of Beats has yet to be officially announced by Apple, I think the transaction makes sense strategically. It aligns Apple with a premium brand in headphones, with the potential to exploit the live streaming market as a sweetener.
Disclosure: I have no positions in any stocks mentioned, and no plans to initiate any positions within the next 72 hours. I wrote this article myself, and it expresses my own opinions. I am not receiving compensation for it (other than from Seeking Alpha). I have no business relationship with any company whose stock is mentioned in this article.