After a bright start to the year, biotechnology stocks have found themselves on the wrong end of a hiding. The SPDR S&P Biotech Index ETF (NYSEARCA:XBI) currently trades near where it began the year, after gaining 30% at its high in February. The speculative furor has eased, but what have been some of the contributing factors to the losses from March?
Weakness in Large-Cap Biotechnology Stocks
There are few safe havens for investors within biotechnology, with only a handful of large-cap stocks within the sector. Only eight of the 175 stocks in the biomedical sector have market caps greater than $10 billion. So weakness in these eight can quickly tarnish the sector as a whole.
With its $122 billion market cap, Gilead Sciences (NASDAQ:GILD) is top dog. And what goes for it, goes for the sector as a whole. In February, the company had to recall a small number of vials for its HIV treatment, Atripla. This quickly spooked investors, as antivirals accounted for over 70% of Gilead Sciences' total product sales. The doubts were confirmed when earnings, which surpassed any prior quarterly estimate beat over the last seven quarters, was slow to attract buyers. However, other large-cap biotechnology stocks remain in the doldrums.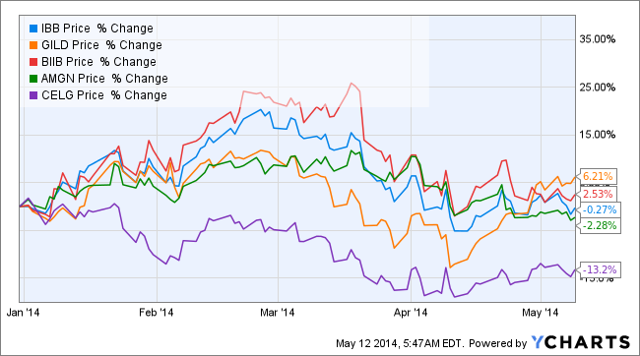 Overblown Expectations
Below the top tier of large-cap stocks are a number of smaller biotechnology companies. Many of these trade at billion-dollar market caps, but not all of these valuations look warranted upon further inspection.
MannKind Corp. (NASDAQ:MNKD) is a recent social media darling and $2.4bn market cap stock. The company is riding off a positive FDA assessment for Afrezza, a treatment for type 1 and 2 diabetes. but within a week of this assessment the FDA decided to delay final approval by three months to review additional data. This delay could prove costly. In 2013, MannKind ate a $191.5 million loss, burned $133.5 in cash, and was left with just $70.8 million in cash and cash equivalents by year end. With approval delayed, and questions over Afrezza's commercial viability, the company could find itself on the back foot at a time it's looking to raise cash.
For MannKind to maintain a P/S evaluation equivalent to the sector average (10), Afrezza would need to bank $240 million in sales; a sales figure perhaps better suited to the end of next year than this. Even for companies with commercial treatments in play, valuations may be high.
InterMune Inc.'s (NASDAQ:ITMN) Esbriet is currently available in the EU and Canada, but Esbriet has yet to be approved for the more lucrative domestic market. Investors have been buoyed by poor results in a rival treatment, but FDA approval is essential if it's to fulfill its potential. Esbriet generated $30 million in sales for the first quarter of this year, and is guiding up to $135 million for the year, but the flip side was a 48% jump on Q1 SG&A, where expenses are likely to top $300 million by year end. FDA approval can't come soon enough, but it's questionable whether InterMune is worth a P/S nearly four times the sector average.
Pricing Pressures
Treatments produced through biotechnology carry significantly higher price tags than conventional drug treatments, sometimes running into six-figure outlays over the year. These expenses can be justified as the focus is usually on rare diseases where few alternative treatments exist. Insurance companies and public health systems will pay out because the number of sufferers is low, so absolute costs are manageable.
However, Gilead is about to an unwanted spotlight on this relationship with the launch of Sovaldi to treat Hepatitis C. Sovaldi is a $84,000 a year treatment with the ability to cure Hepatitis C. The problem for payees is that Hepatitis is not a rare disease, so the cost to insurance companies and public health providers could be substantial. Cheaper treatments exist, but none have the potential to cure the disease.
Gilead had already banked $2.3 billion in Sovaldi sales for the most recent quarter and is on track to break $10 billion by the end of year. In the absence of federal or national pricing guidelines, and with Obamacare in place, there will be increasing pressure on legislators from tax payers and health insurance companies to set treatment maximums. This could prove bad news for the majority of smaller names in the sector, who depend on the higher treatment costs to cover their expenses.
Recovery?
Gilead Sciences has already recovered most of what is lost during April and March, and even the likes of InterMune are again knocking on the door of new all-time highs. However, the aforementioned issues remain a concern for the sector, and careful assessment is needed before jumping in on this volatile sector.
Disclosure: I have no positions in any stocks mentioned, and no plans to initiate any positions within the next 72 hours. I wrote this article myself, and it expresses my own opinions. I am not receiving compensation for it (other than from Seeking Alpha). I have no business relationship with any company whose stock is mentioned in this article.