One question that clients and subscribers frequently ask me is "Can I use yield alone to pick the best dividend stocks?" This is an easy question to answer because the answer is all of two letters long: No! This is one of the most valuable lessons from the market meltdown of 2008: An investor can not use yield alone to make investment decisions. Remember the days when Bank of America (NYSE:BAC), JPMorgan Chase (NYSE:JPM) and scores of other financial services firms looked like inviting propositions because of their juicy yields?
Well, we all know how that story ended. Those juicy yields were packed with sour juice because putting those stocks into your portfolio would have been a return buster. Once those banks (and some other stocks in other sectors) reached what appeared to be "attractive" yields, what followed was anything but attractive. The dividends were slashed and shareholders suffered. Making matters worse, many the dividend offenders from 2008-2009 have yet to restore their payouts to their former glory.
Here's what you have to remember about a stock's dividend yield: It goes up when the share price goes down. So a $20 stock with an annual dividend of $1 per share has a yield of 5%. If that stock falls to $10, the yield doubles to 10%. You may be thinking to yourself "Wow, a 10% yield. That looks good." Guess what? A 10% yield does look good on paper, but do yourself a favor and analyze the stock market the same way you would a sporting event. The team that looks the best on paper doesn't always win the game. If paper mattered, the games wouldn't be played and every high yielder would go up.
Here's an interesting example of why yield cannot be your only consideration when buying dividend stocks. A recent U.S. News and World Report article on dividend investing said there is a stock out there that yields a whopping 1,940%. To that I say don't be fooled. The article goes on to explain this stock has a market cap of just $340,000 and the company isn't profitable. There's a lesson here: Avoid dividend stocks that are consistently losing money. How long can the company keep sending money out the door to shareholders if it isn't turning a profit? Not very long.
Take a look at an example that my research team turned up that proves yield can often be a red flag, not an invitation to commit your hard-earned cash to a stock. In the chart below, the red line represents an oil company that currently yields over 10%. The blue line is a small regional bank that yields close to 16%.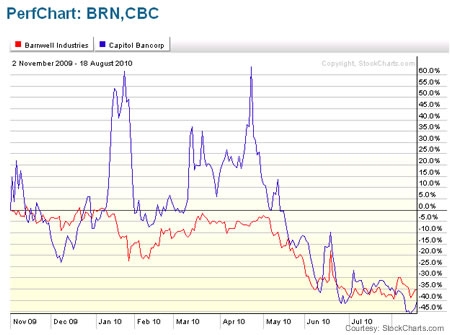 Those performances are downright disturbing. When I see a chart like that, I throw yield out the window because I know the stock is broken and the story can only end one way: Badly.
Disclosure: No positions