On April 29th, 3D Systems (NYSE:DDD) reported earnings that were in line with Wall Street expectations. The firm reported a revenue total of $147.8 million for the first quarter of 2014. This represented a 45% increase from the first quarter of 2013. The revenue total surpassed the $145.5 consensus estimate by Wall Street analysts as well as the $146.74 estimate made by the good folks at Estimize Research. 3D Systems posted significant growth across key revenue segments. 3D System's printers' revenue segment increased by 53% for the quarter. The Materials and Services revenue segments increased by 41% and 38% respectively.
Additionally, 3D Systems reported a 53% increase in its Healthcare segment and a 150% increase in its Consumer segment.
3D Systems' EPS total of $0.15 was two cents short of the Estimize consensus, yet was directly in line with the expectations by Reuters analysts. However, 3D System's EPS for 1Q 2014 declined 29% y-o-y. This was the second quarter in a row that 3D Systems posted an EPS decline of at least 10%. Yet, the EPS decline could be attributed to the firm's aggressive spending in sales and marketing and research & development.
According to their latest 10-Q, 3D Systems' increase in SG&A expenses were largely due to increases in sales and marketing. Aggressive investment in sales & marketing and research & development are typical strategies for a firm that is operating in an industry which is in its growth stages of the industry life cycle. Needless to say, the 3D Printing industry is in the growth stage. The following charts illustrate 3D Systems' significant increase in SG&A and R&D for the last three years as well as the last four quarters respectively. Notably, 3D System's R&D total for the first quarter represented a 165% y-o-y increase.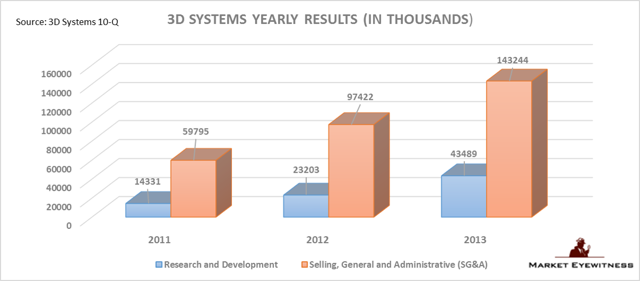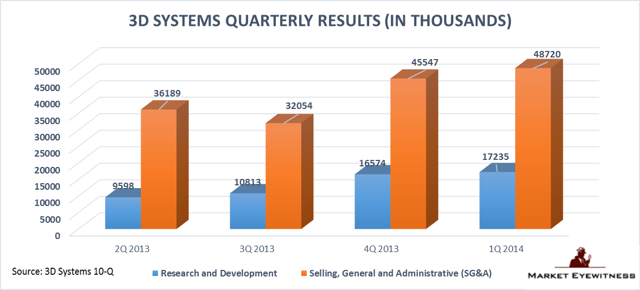 3D Systems' shares fell by 9.1% upon news of the report as reporters were looking for totals that exceeded Wall Street estimates significantly. Moreover, they were looking for results that would cause an increase in the outlook for 2014. Instead, 3D Systems only reiterated its prior guidance.
Over the last three quarters, 3D Systems took a hit in terms of profitability and gross profit margin.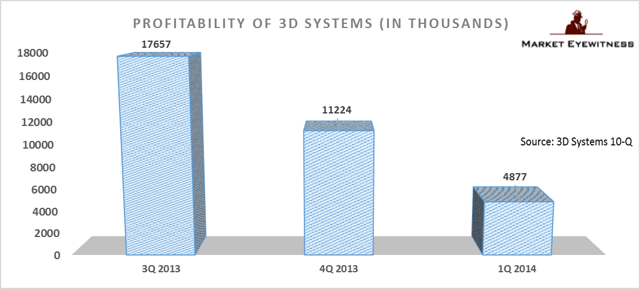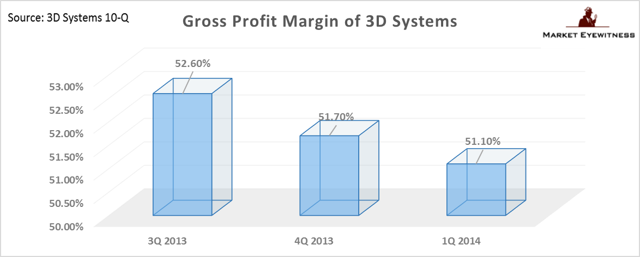 Since 3D System's investment strategy is a key catalyst for these declines, this should mitigate concern over the graphs above for investors. Yet, there is another reason to consider.
3D Systems' decline in gross profit margin could also be attributed to the fact that sales in 3D Systems' printers segment have grown at a faster pace than sales in their materials segment.
The following graph shows a year-over-year comparison of the revenue, gross profit and gross profit margin generated by each of 3D Systems' revenue segments. As you can see, 3D System's materials segment generates a much higher gross profit and gross profit margin than the printers and services segments.
Yet, the materials segment declined as a % of overall revenues despite its substantial revenue growth for the quarter. Despite the fact that revenues in the printers segment were the strongest year-over-year, one can see that the printers segment is the least profitable for 3D Systems. Thus, lower margins were largely a result of the change in sales mix.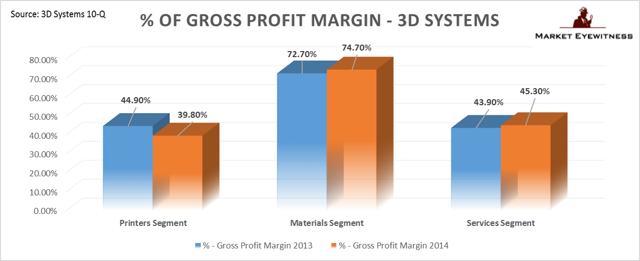 The silver lining is still clear. There is still strong growth in the materials segment. Furthermore, the current growth of the printers segment will have a positive effect on the future success of the materials segment. Consumer demand for materials (and with that, gross margins) will increase as a result of explosive printer sales.
HERE'S SOMETHING TO WORRY ABOUT:
Potential investors of 3D Systems should have an eye on the firm's operating cash flow. There is a growing divergence between the firm's operating income and its cash from operations. This issue was really brought to light by Beth McKenna of the Motley Fool and is evidenced below.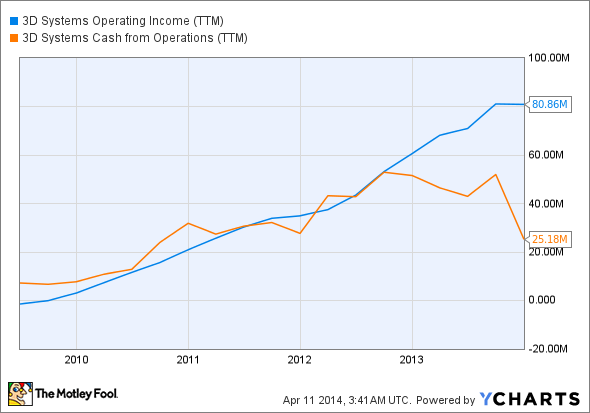 This divergence only grew during the 1st quarter of 2014. 3D Systems generated an operating cash flow of $308,000 in spite of its reported operating income of $9.517 million dollars. Operating cash flow provides a clearer picture of the current business operations of a firm as opposed to operating income. In this case, it is evident that 3D Systems is highly vulnerable in this area.
BOTTOM LINE:
All-in-all, 3D Systems' strong revenue growth and long-term potential are still evident in their recent earnings report. I'm bullish on the long-term prospects of 3D Systems and the 3D printing industry in general. Patience is needed as 3D Printing stocks will eventually reach valuations that are far more reasonable. Once these valuations are reached and firms begin to mature within the 3D Printing space, I feel that 3D printing stocks will thrive in the marketplace for a significant period of time.
For the foreseeable future, 3D Printing stocks such as 3D Systems will continue to feel the pain. It is clearly evident that 3D Systems is still overvalued in spite of its YTD decline. Currently, 3D Systems has a trailing P/E Ratio of 113.53 and a Forward P/E ratio of 39.91. I would also be quite concerned with the firm's operating cash flow as well. It will be interesting to see if that vulnerability persists in future quarters.
The firm still has downside left and I feel it will continue to be swept up in the decline of 3D Printing stocks and momentum stocks in general. I feel that 3D Systems is headed for a drop to the $35 level.
Disclosure: I have no positions in any stocks mentioned, and no plans to initiate any positions within the next 72 hours. I wrote this article myself, and it expresses my own opinions. I am not receiving compensation for it (other than from Seeking Alpha). I have no business relationship with any company whose stock is mentioned in this article.