If you've been following junior uranium miners lately, you've probably noticed that one in particular has been getting a lot of special attention.
An Analyst Concerto
Following a bearish article by a contributor here on SA about the risk of dilution to shares of Uranium Energy Corp. (NYSEMKT:UEC), published at the start of April, there has been a spree of bullish articles in support of the company. Three articles by three different SA authors appeared between that bearish article and the end of the month. Zack's Steven Ralston and Casey Research's Marin Katusa also came out to bat for the company. Needless to say, this is a huge amount of interest for a company with a sub 150M market cap at the time (and less than 90M as of this writing).
To briefly outline the bullish arguments:
Uranium demand is poised for long-term growth, which should increase the spot price for uranium, to which UEC is highly leveraged
UEC has sufficient capital to survive until an upturn in uranium's spot price without serious dilution to shareholders
UEC has a fantastic management team and a business model that has been vetted by some of the best in the industry
UEC is now significantly undervalued compared to peers (which is very often attributed to the bear article that started it all off)
One glaring problem with this thesis: the market seems to strongly disagree. Take a look at the YTD chart of UEC versus some of its close peers and industry, with the leader Cameco (NYSE:CCJ) for reference. While the whole industry has slumped recently, the performance difference between UEC and its peers, even in the midst of much promotion and hoopla, is apparent.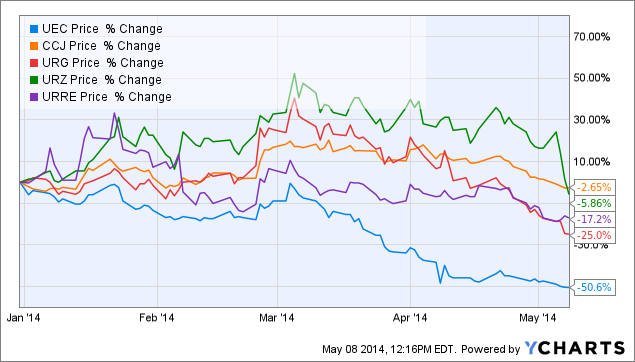 Even if a single article on SA were responsible for UEC getting hammered of late, wouldn't the market have swiftly bid shares back up if the bulls were right? Shouldn't the deluge of positive responses have had more impact than the initial lone dissenter? Is it as it appears, that one blogger is dictating the stock's melody while an orchestra of stock analysts are relegated to the background?
All Uranium Energy Needs Is Higher Spot Prices...
At the heart of the differing outlook on UEC is a disagreement over whether it will take a dilutive round of financing for the company to survive to profitability. Listening to the bulls, higher uranium prices are the only panacea the company needs--so long as it can weather a few more quarters, the cash will start to roll in. There are two issues with this view that I'll elaborate on.
Most concede that the timing of the renaissance of uranium prices is difficult to predict and may still be some ways off. However, I suspect that many of UEC's investors took solace from this statement in their latest quarterly report (period ended January 31, 2014):
Existing cash resources and available sources of financing are expected to provide sufficient funds to meet our obligations and carry out our plan of operations for the next twelve months.
At first glance, this encouraging statement can be a bit misleading to readers in two ways. First, the timeline for the company's finances is not synonymous with the timeline for the company to see improvement. In other words, UEC will not wait 12 months to see if uranium rebounds before attempting to raise more money--doing so would be reckless, and could seriously limit its options. Therefore, in order to avoid raising more funds, UEC's management would have to have sufficient confidence that the uranium price has rebounded sustainably, considerably earlier than the end of 2014.
Then there's the phrase "...and available sources of financing..." neatly tucked into the statement. This refers to, well, sources of financing other than its current operating cash. Sure, that could include selling down its inventory and also, no doubt, drawing down the other $10M under its existing credit facility, which happened in March [PR]. But it also leaves wide open room for a myriad other options, including taking on additional debt or equity financing, as those are also "available sources of financing." In essence, the sentence reassures that UEC will not enter bankruptcy in 2014, and little else.
The second issue with the view that UEC's 12-month window can outlast the uranium slump is that uranium could easily remain depressed into 2015. Why do I say this when there's so much buzz about Japanese reactor restarts, highly-enriched uranium leaving the market, and environmental problems in China? Well, I have an article written on another site that shows my thinking more fully (and the situation has deteriorated considerably since then), but I'll summarize here quickly.
The Japanese reactor restarts are not a sure thing, at least not this year. Even once they are restarted, they will have quite a supply of uranium to work off before they add to market demand, since many of the reactors continued to buy uranium under long-term contracts.
Additionally, many uranium projects have been delayed or ceased production as they await a better pricing environment; it's not just UEC who's not selling. That means that a non-trivial amount of supply can come online more or less immediately if the situation improves, which could delay the better part of the recovery once it is underway.
Now as for how the situation has gotten markedly worse, the Financial Times recently reported that Japan is now unlikely to restart any reactors before this summer at the earliest, while it was previously assumed that limited restarts would occur prior to the summer's peak energy months. Well, I guess we can't count on that catalyst to make headway for a couple of months. If, as bulls often promote, UEC is a leveraged play on uranium's spot price, you would probably want to stay away in the short term.
... And More Cash
But now let's assume, for argument's sake, that uranium's spot price does shoot up to $75 /lb, the pre-Fukushima price and almost twice the $41/lb average price UEC realized in FY 2013.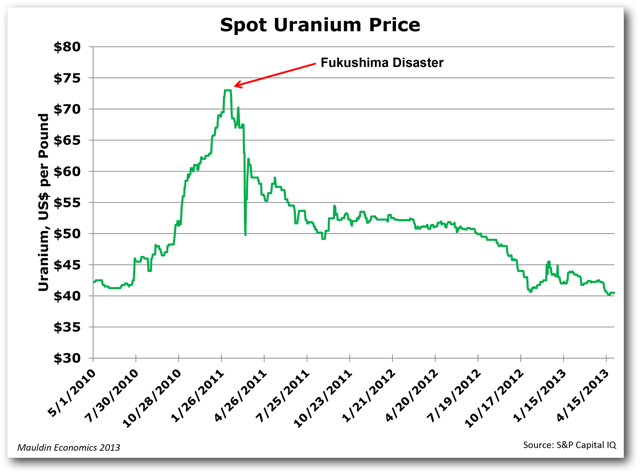 Taking a look at the company's latest 10K, UEC's cost of goods for 2013 (FY ends July) came in at around $38/lb, but this improves to $26/lb factoring out royalties, depreciation, and write downs. It also recorded expenses of $22,395,481, down from around $30M for 2012.
Taking the optimistic assumption of a $75/lb average selling price, $26/lb COGS, and $20M in expenses, UEC would have to sell about 408,000 lbs of uranium in 2014 to break even. Assuming it sells a more realistic 250,000 lbs of uranium, UEC is likely to come up around $7,750,000 short for the year.
The table below summarizes the assumptions for 2014 compared to the results of 2013 (however, keep in mind that UEC's fiscal year ends in July and the 2014 numbers are meant to be taken as a calendar year, i.e. 12 months after 2Q 2014).
Operating Performance
| | | |
| --- | --- | --- |
| | FY 2013 | 2014 Optimist |
| Uranium Sales /lb | $41 | $75 |
| lbs of Uranium Sold | 220,000 | 250,000 |
| COGS | 38 | 26 |
| Expenses | 22,395,481 | 20,000,000 |
| Operating Loss | $(21,810,629) | $(7,750,000) |
Now let's take a close look at UEC's cash position. It closed FY 2013 with just over $14M in cash. By the end of Q2 2014 (end of January) it still had $9M in cash. This was versus about $9M in current liabilities, including $5.8M in debt payments. It is to the management's credit that UEC was able to push back interest payments to Sprott and CEF by two years, thus postponing a large portion of the firm's current liability. Combined with the $10M it was able to draw down from its credit facility, that brings us to around the following:
9M (cash) - 9M (current liabilities) + 10M (drawdown) + 5.8M (deferred debt payment) = $15.8 M
If the above optimistic scenario can be achieved, then UEC would have a cash position of $8.05 M ($15.80 - 7.75) at year-end. That's a pretty good result, but unlikely to be sufficient to fund expanding operations. With a buoy of cash and high uranium prices, UEC could find new sources of financing on positive terms.
As I said before, however, I think that the optimistic scenario is very unlikely, and less likely now than the at the end of Q2. Hence I would make the assumptions on the table something like this:
| | |
| --- | --- |
| | 2014 E |
| Uranium Sales /lb | $50 |
| lbs of Uranium Sold | 250,000 |
| COGS | 31 |
| Expenses | 22,000,000 |
| Operating Loss | $(17,250,000) |
Obviously this result, while notably stronger than FY 2013, would still force UEC to seek additional financing before the end of the year.
Conclusion
Bulls of Uranium Energy Corporation are no doubt encouraged by its bolstered cash position and delayed debt repayments announced in March. However, an examination of the uranium pricing environment as well as the company's operational metrics should lead investors to believe that UEC is much more likely to require additional financing than not. That is not to say that financing will occur on very poor terms--if the price of uranium rises and UEC's stock responds, then an equity offering could occur or new debt issued at favorable prices compared to today.
That said, there are very good reasons for the fall in UEC's share price recently, which bullish analysts seem to be either ignoring or countering with far too optimistic operating assumptions. Even for one bullish on uranium in the medium-to-long term, UEC is a very risky investment at this time.
Disclosure: I have no positions in any stocks mentioned, and no plans to initiate any positions within the next 72 hours. I wrote this article myself, and it expresses my own opinions. I am not receiving compensation for it (other than from Seeking Alpha). I have no business relationship with any company whose stock is mentioned in this article.
Editor's Note: This article covers one or more stocks trading at less than $1 per share and/or with less than a $100 million market cap. Please be aware of the risks associated with these stocks.