This series has offered readers a take on 4 "All-American" stocks. Investors subscribing to the view that the U.S. economy has entered a period of sustainable recovery may agree these companies are worth a more thorough analysis.
For purpose of this series, we will define "All-American" to mean companies that are not just based in the States, but generate the vast majority of their sales and earnings here, too.
In addition, I've selected large-cap stocks that are generally not followed as closely as some industry peers. This is intentional: to provide readers with exposure to some good American companies outside many of the more popular tickers.
Part 1 of the series covered U.S. Bancorp (NYSE:USB).
Part 2 of the series covered Nucor Corporation (NYSE:NUE).
Part 3 of the series covered Express Scripts Holding Company (NASDAQ:ESRX).
In this installment, we will review utility provider Consolidated Edison, Inc. (NYSE:ED).
What Does ConEd Do?
Consolidated Edison is a holding company that owns Consolidated Edison Company of New York, Inc. (CECONY) and Orange and Rockland Utilities, Inc. (O&R). CECONY's business operations are its regulated electric, gas and steam delivery businesses. O&R's business operations are its regulated electric and gas delivery businesses. In addition, ConEd also owns several CEBs (Competitive Energy Business). However, less than 10% of the company's total revenues come from these non-regulated businesses.
Gauging Success
Consolidated Edison is a slow-growth, high-dividend, regulated public utility.
Revenues and Earnings
ConEd is a tortoise, albeit a consistent one. Over the past 15 years, revenues and earnings have inched upwards, booking gains averaging less than 2% a year. Not flashy, but just what investors have come to expect from the company. Notably, sales have flattened since the Great Recession. Shareholders may find that as the New York metro area experiences accelerating general economic improvement, so will Consolidated Edison's top and bottom lines.
Operating Margin
Operating Margin, or EBIT (Earnings Before Interest and Taxes), is a measure of a company's pricing and operating efficiency. For regulated utilities, OM is a helpful metric because it measures how successfully a company has negotiated rates and controlled expenses. In these respects, ConEd management has done well. Since the recession, and despite stagnant revenues, ED operating margins have trended upwards.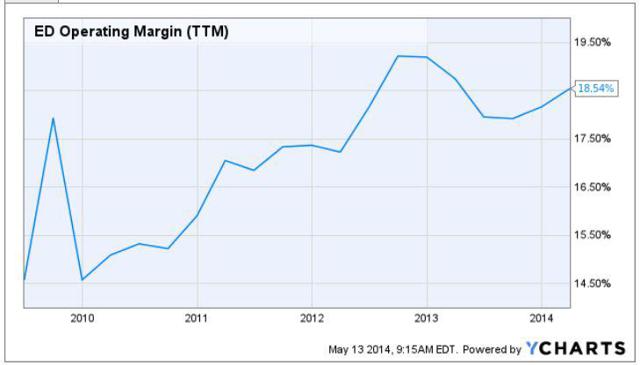 Return-on-Invested Capital and Book Value
Regulated utilities require enormous amounts of capital to manage its business and serve customers. Typically, investors focus upon RoIC, indicating management has stewarded funds well. Consistent growth in book value, also called shareholder equity, further demonstrates that senior leadership is building the business.
Emerging from the recession, of which New York City was the epicenter, Consolidated Edison has shown good gains in both RoIC and book value per share.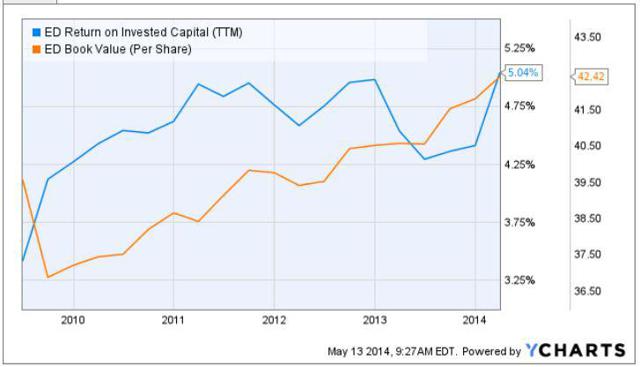 Dividends
At its core, many investors evaluate regulated utilities as a function of the cash dividend. Utility sector stocks are often considered "bond equivalents." Shareholders demand a steady income stream. Here Consolidated Edison shines: the stock has been designated a Dividend Aristocrat, or one of a select few equities that have increased the payout for at least 25 consecutive years. In the case of ED, the cash dividend has been bumped 40 years in a row. While dividend growth has been paltry (only about a percent or so a year), the overall yield has been strong - it currently sits at ~4.5%.
Prospective investors may find the 10-year F.A.S.T. graph below most interesting. It compares ConEd's total return with that of the S&P 500. Please note when the dividend has been reinvested, the returns are nearly identical to the benchmark. This should not be underestimated. Indeed, there is remarkable power in compounded cash dividends.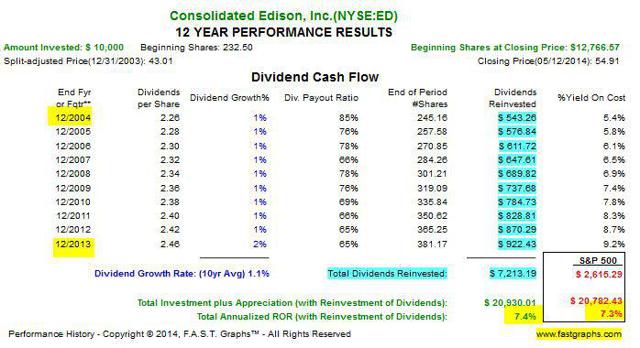 Recent Events
Manhattan Gas Line Explosion
Here is an excerpt from the most recent 10-Q report about the subject tragedy:
On March 12, 2014, two multi-use five-story tall buildings located on Park Avenue between 116th and 117th Street in Manhattan were destroyed by an explosion and fire. CECONY had delivered gas to the buildings through service lines from a distribution main located below ground on Park Avenue. Eight people died and more than 48 people were injured. Additional buildings were also damaged. The National Transportation Safety Board is investigating. The parties to the investigation include the company, the City of New York, the Pipeline and Hazardous Materials Safety Administration and the NYSPSC (which is also conducting an investigation). Several suits are pending against the company seeking generally unspecified damages for personal injury and property damage. The company has notified its insurers of the incident and believes that the policies in force at the time of the incident will cover the company's costs, in excess of a required retention (the amount of which is not material), to satisfy any liability it may have for damages in connection with the incident. The company is unable to estimate the amount or range of its possible loss related to the incident. At March 31, 2014, the company had not accrued a liability for the incident.
Upon release of this report, the share price fell 3.5%. I found the strong reaction notable, especially after parsing the wording. Focusing upon "the company is unable to estimate the amount or range of its possible loss...," it seems traders were clearly concerned about claims of operator negligence. If proven true, it could overshadow the preceding sentence, whereas the company states it believes insurance policies may "satisfy any liability it may have for damages in connection with the incident."
I understand the gas lines in the vicinity of where the explosion occurred are very old. These may be difficult and expensive to replace. However, it appears the company did have a plan to systematically refresh these assets (though it may be argued the plan was too slow). Separately, reports indicated utility response time to investigate a call about the gas leak (prior to the explosion) was handled reasonably. Claims that the gas lines were leaking well in advance of the incident were countered with an assertion the old ConEd distribution service lines cracked as a result of the explosion, not as a precursor to it.
Valuation
Consolidated Edison is one of the easier stocks to evaluate. Price and earnings track each other quite closely, and have done so for years. The share price has followed a 15x normalized average P/E multiple multiplied by the operating EPS. A F.A.S.T. graph illustrates this: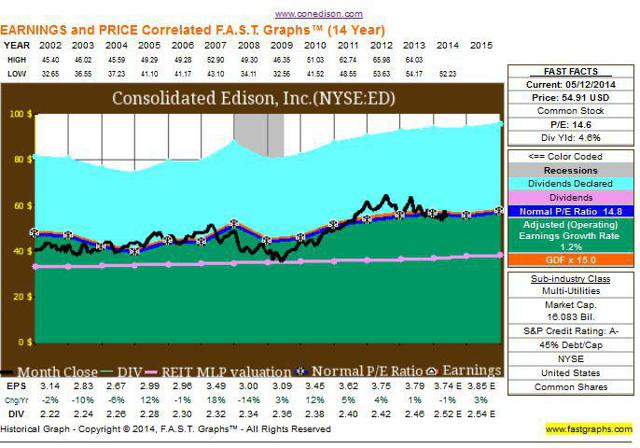 The black line is price. The blue line is the average P/E - currently just under 15x. Operating earnings are shown by the green shaded area. We see price and earnings track each other tightly. Rarely does the price stray very far from the P/E marker. When it does, it soon returns back to "fair value."
Since operating earnings have followed a fairly predictable pattern, and management has an outstanding record of making quarterly earnings estimates, investors may simply take management's EPS forward guidance and multiply by 15 to obtain a reasonable FV estimate.
For 2014, the company has guided to an EPS midpoint of $3.75, which translates an approximate fair value of $56 a share. Having just gone ex-dividend, the stock now trades about 2% below this.
The continued NYC business renaissance may result in somewhat higher forward EPS growth, perhaps as high as 3% to 5% a year for the next few years. This premise could be part of a sound stock ownership thesis.
Summary and Conclusion
ConEd, the major "Big Apple" utility provider, offers investors WYSIWYG (what you see is what you get). The regulated utility is effectively a bond equivalent, but has included a gradually increasing cash dividend, and generally slow but consistent earnings growth. All its businesses are generated within the New York City metro area.
The shares appear slightly below fair value on 2014 earnings and currently yield more than 4.5%. While a recent rate case ruling has provided some near-term stability, the tragic March gas line fire and explosion that killed 8 and injured 48 remains an overhang.
Please do your own careful due diligence before making any investment. This article is not a recommendation to buy or sell any securities. Good luck with all your 2014 investments.
Disclosure: I am long ED. I wrote this article myself, and it expresses my own opinions. I am not receiving compensation for it (other than from Seeking Alpha). I have no business relationship with any company whose stock is mentioned in this article.