By Sumit Roy
We take a look at key areas of the commodity markets.
There's been no shortage of volatility in commodity markets this year. From coffee's spectacular surge to copper's brutal plunge, there's been ample opportunity to generate hefty returns or losses. Here we take a look at year-to-date performance in a number of the most important commodities and analyze where they could go in the coming months.
| | |
| --- | --- |
| | |
| Coffee | 64.77% |
| Nickel | 43.69% |
| Corn | 18.01% |
| Wheat | 16.36% |
| Soybeans | 14.32% |
| Palladium | 12.22% |
| Gold | 7.49% |
| Natural Gas | 4.96% |
| Platinum | 4.71% |
| Coffee | 2.42% |
| WTI | 2.17% |
| Silver | 0.41% |
| Brent | -2.20% |
| Copper | -7.35% |
In terms of sector performance, agriculture has been far and away the best performer so far in 2014. Led by coffee—which at one point was up a whopping 95 percent year-to-date—the sector has delivered fantastic returns for investors.
At the heart of the increase in coffee prices has been the severe drought in Brazil. What has been called the worst drought in decades is expected to sharply reduce coffee supplies in the world's largest grower and exporter. Analysts estimate that global coffee supplies may fall short of demand by more than 10 million bags this year—a significant amount in a world that consumes roughly 130 million bags annually.
But are these bullish fundamentals priced into coffee?
Bull case: If Brazil experiences heavy rains this summer during the harvest, the country's coffee yields could suffer more. That would lead to a bigger gap between supply and demand and send prices spiking above $2/lb, perhaps even $3 (where they traded as recently as 2011).
Bear case: On the flip side, the world's second-largest producer, Colombia, is expected to have a stellar harvest, which could help fill some of the gap left by Brazil. At the same time, global coffee surpluses during the past four years have left inventories at comfortable levels. Those could provide a buffer despite this year's expected supply deficit.
Prediction: While it's possible coffee prices may not rally much more from here, it's hard to see them falling back to levels below $1.20/pound where they were at the beginning of the year—at least in the short term.
Coffee (YTD)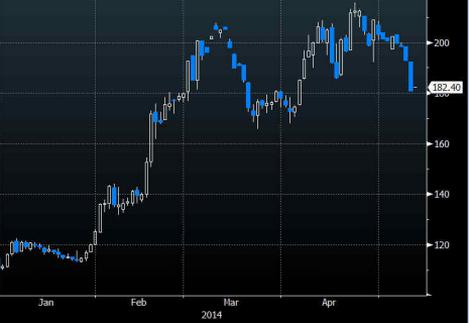 Coffee hasn't been the only ag commodity to spike this year. The grains—corn, soybeans and wheat—have also done extremely well. This year's pop has been aided in large part due to the tensions between Ukraine and Russia. Ukraine, in particular, is a top-five exporter of corn and wheat, and the United Nations' Food and Agriculture Organization expects that its production of grains will fall as a result of its conflict with Russia.
The risk of reduced supplies in Ukraine has offset a rather abundant supply picture in the U.S. Just last Friday, the USDA projected that this year's corn crop will hit a new high of 13.9 billion bushels, edging up from last year's record. U.S. soybeans production is also expected to be at record levels.
That said, there is always the risk that U.S. supplies could be crimped by a drier or hotter-than-expected summer, as has happened on a few occasions in recent years.
Bull Case: The Russia-Ukraine conflict has already taken a bite out of Eastern European corn and wheat supplies, but exports could drop much more dramatically in the event of a significant escalation of tensions. Meanwhile, if this year's U.S. harvest is less robust than expected, grain prices could continue higher from here.
Bear Case: If the Ukraine crisis resolves itself and the U.S. sees record production, prices will likely head back to lower levels.
Prediction: Upside and downside risks for the grain complex are balanced, with equal likelihood of gains or losses from here.
Wheat (YTD)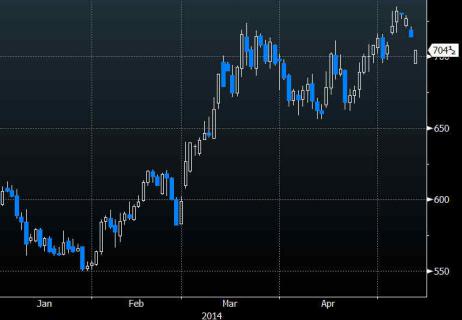 While it's been all rosy for agriculture, for base metals, performance has been more mixed. On the one hand, some of the metals have performed phenomenally. Take nickel, for example; it's rallied a whopping 44 percent since the start of the year. On the other hand, copper has lost 7 percent, making it the worst performer of the commodities we follow.
It's not uncommon to see a lot of variation in the performance within base metals, but this year has been exceptional in that regard. In January, Indonesia surprised markets by banning exports of raw nickel. Indonesia is the world's No. 1 producer of the metal, and analysts at Citigroup said, "The effective removal of Indonesian nickel ore exports is akin to the removal of Saudi Arabia from crude oil exports in terms of importance to the nickel market."
At the same time, concerns about Russian nickel supplies, as the country continues to be embroiled in its conflict with Ukraine, has given another shot in the arm to that commodity in recent weeks.
Bull Case: Analysts are forecasting massive nickel deficits in the wake of Indonesia's export ban. Analysts at Macquarie say that "in the absence of a change in Indonesian policy, we think that by 2016, the market will get tighter than in 2006-07, when prices traded in the $30,000-$50,000 a metric tons range." Those prices are significantly higher than the $20,000 that nickel currently trades at.
Bear Case: An end to Indonesia's nickel ban would lead to a dramatic decline in prices. Industry groups are challenging the ban in the courts, and thousands of workers have been laid off, which is sure to put pressure on the government to reverse course.
Prediction: The nickel rally isn't over, and prices will spike dramatically before selling off from loftier levels.
Nickel (YTD)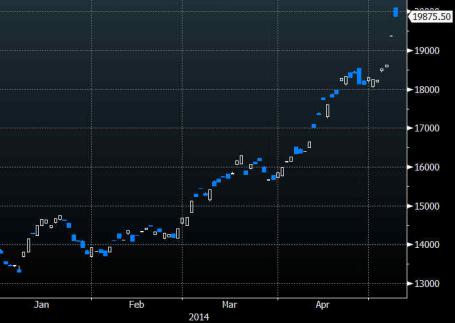 At the same time that nickel has moved steadily higher in 2014, copper has done just the opposite. The red metal has been the worst performer of all the commodities we follow, though it has attempted to rebound somewhat in recent weeks.
Copper (YTD)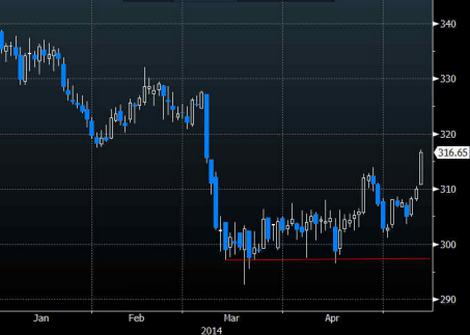 For copper, the problem has been China. Accounting for 40 percent of global consumption, the slowdown seen in China's economy has been a major drag on copper. But it hasn't just been China's slowdown per se that has hurt copper. Rather, it's also been hit by fears that the enormous copper stockpiles tied to financing deals in the country could be unwound.
Speculation that there could be a great unwinding of copper-backed deals began when news of China's first-ever onshore corporate bond default broke in March. Analysts estimate that perhaps one-third of China's copper imports and one half of its copper stockpiles are used for financing. Thus, if a string of companies began to default in China, that would be bad news for copper.
Bull Case: Still, perhaps these fears have been overblown. It's unlikely that the Chinese government would allow too many corporate defaults, which could destabilize the economy. Moreover, there is nothing to say that copper won't continue to be used as collateral in financing deals. In a year in which most commodities are up, copper may be a bargain at these levels.
Bear Case: If the worst-case scenarios envisioned earlier this year come to pass, enormous amounts of copper could be liquidated, putting significant downward pressure on prices. Analysts at Goldman Sachs estimate that 1 million metric tons of copper could be liquidated over the next year or two, which would certainly be bearish for the market.
Prediction: The copper unwind story is already priced in after copper's underperformance so far this year. Prices won't fall much further barring a notable deterioration in China's economic outlook.
In the middle of the pack in terms of performance this year has been precious metals such as palladium and gold. But they've risen for different reasons.
Gold is, of course, seen as a monetary metal. The yellow metal plummeted 29 percent last year as the Fed began orchestrating the end of its ultra-loose monetary policies put in place since the 2008 financial meltdown. This year, prices have rebounded on hopes that the end of the Fed's quantitative easing (QE) has already been factored into prices.
Gold (YTD)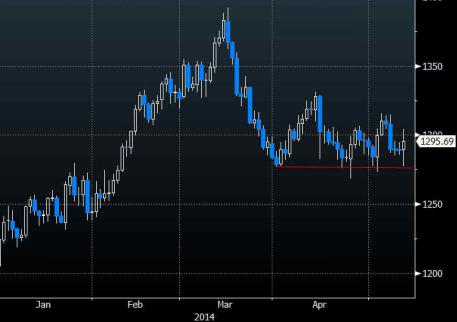 Yet it remains to be seen whether gold is merely consolidating before another big decline or attempting to bottom out and rally from here. So far, price action has been encouraging for bulls. Stock markets have hit record highs, economic data has improved and the Fed has steadily pared back its monthly bond purchases throughout the year, yet gold has hung in there.
Bull Case: Though quantitative easing may end this year, the Fed's monetary policies remain loose by any measure, a supportive factor for gold. Furthermore, the European Central Bank has indicated it could begin its own QE program as soon as next month. Easy monetary conditions, particularly at a time when the unemployment rate is coming down, is a recipe for inflation. If inflation indeed accelerates from here, gold will surely surge to much loftier levels.
Bear Case: The Fed will continue to taper QE, and by early next year, the central bank will begin to raise interest rates. Meanwhile, inflation remains low, and below the Fed's 2 percent target. Those are ideal conditions for risky assets such as stocks, but bearish for safe havens such as gold. Prices are merely consolidating before they begin falling again, as analysts such as Goldman Sachs predict.
Prediction: The bottom is in for gold. Prices will continue to consolidate in 2014 before rising in the coming years.
In contrast to gold's reputation as a monetary metal, palladium is seen primarily as an industrial metal. Its main use is as an autocatalyst in vehicles, which accounts for about three-quarters of total demand for the metal. Autocatalysts reduce vehicle pollution and are often mandated by governments.
As global vehicle sales have surged on the back of emerging markets such as China, the demand for palladium has likewise surged. Demand for palladium in the autocatalyst segment has nearly doubled over the past decade, according to data from Johnson Matthey.
The supply outlook for palladium has also supported prices. South Africa, the world's second-largest producer of the metal, has been crippled by labor unrest over the past few years. In fact, a four-month strike is still ongoing in the country as of this writing.
The situation isn't much better for the world's larger producer, Russia. Aside from the risks to output from the current geopolitical situation with Ukraine, Russia was already seeing a big drop in its palladium production. Over the past 10 years, Russian supply of palladium has nearly halved.
Bull Case: The trends of rising demand and falling supply will keep upward pressure on palladium prices, which may eventually break the $1,000/oz mark. Potential sanctions on Russia will merely accelerate the rise.
Bear Case: Labor issues in South Africa are resolved and/or global economic growth sputters, reducing auto sales and palladium demand.
Prediction: Palladium's bull trend will continue for the foreseeable future.
Palladium (YTD)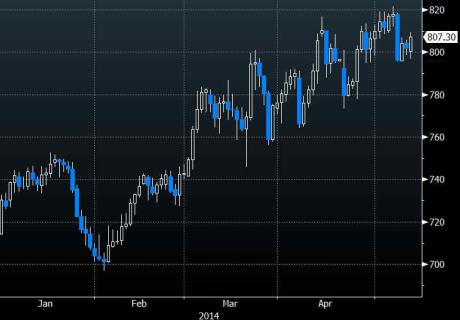 The best-performing commodity of 2013, natural gas has fallen to the middle of the pack so far this year. But it hasn't been a quiet ride. Notoriously volatile, at one point price were up by 54 percent, as frigid winter temperatures sent inventories plummeting. Those storage levels eventually bottomed out at 11-year lows last month, and they are now on the rise during the low-demand spring "shoulder season."
Natural Gas (YTD)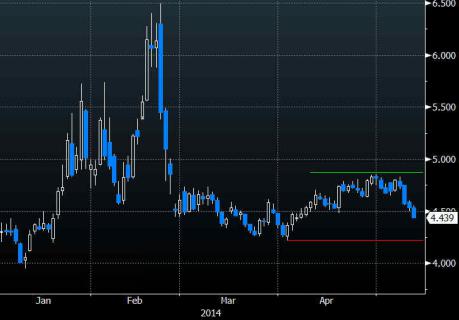 There is a stark divergence of opinion when it comes to natural gas, with bulls and bears far apart in their views.
Bull Case: Inventories are at nearly half of normal levels, and it will be nearly impossible to refill them to normal levels near 3,800 bcf by the start of next winter. While natural gas production may be on the rise, the increase won't be as robust as many are hoping for.
Additionally, demand is also on the upswing, which will eat into any output gains. The market must also account for the risk of a hotter-than-normal summer, which will reduce storage builds in the coming months and make it harder to achieve comfortable inventory levels before winter. The risk of a price spike during the peak demand periods of summer and winter are high.
Bear Case: Inventory levels don't matter as production surges. Associated natural gas, a byproduct of drilling for crude oil, will ensure that gas output continues to rise. Moreover, the build-out of pipelines and other infrastructure will lead to a big jump in the amount of natural gas coming to the market from prolific shale plays such as the Marcellus.
A cooler-than-normal summer may dampen demand and lead to outsized injections. Bears expect a record injection season will ensure there are ample natural gas supplies heading into next winter.
Prediction: Natural gas will be supported above $4/mmbtu, with the potential for spikes above $5 in the event of a hot summer.
In contrast to the extreme volatility in natural gas, oil has been rather well behaved this year. Brent has fallen 2 percent, while WTI has risen by the same amount. Not even the Russia-Ukraine conflict—and the potential that the world's second-largest crude producer (Russia) could be hit by sanctions—has shaken oil prices out of their range.
Growing output in the U.S. has largely insulated the market from supply disruptions, at least for now.
Bull Case: If Russia gets hit by sanctions that affect its energy sector, the impact on prices would be immediate and bullish. That could be the catalyst that sends Brent above the upper end of its recent $105-112 range. Meanwhile, if the global economy continues to recover, oil demand could rise more than currently expected.
Bear Case: The glut of crude oil in the U.S. will continue to grow as output in the country hits new highs. Libya's production will also recover as unrest in that country dies down. That could quickly add 1 million barrels per day of supply to the market. Brent would fall below $105 in that case.
Prediction: Brent will remain trapped in its trading range for the rest of the year amid relatively balanced supply-and-demand fundamentals.
Brent (YTD)