A Fortunate Confluence of Events
Overview
Gilead Sciences (NASDAQ:GILD) is a biopharmaceutical company focused on the research, development, marketing, and sale of primarily anti-viral medicines with a historic focus on HIV treatment. Gilead's record of innovation, stability, and strategic acquisitions led the firm to become a poster child for the Biotech industry that caught fire and overheated in 2013, leading to a steep sell-off during the first quarter of 2014. Gilead's share price has recently recovered from its April lows but still presents one of the most attractively priced opportunities in the S&P 500, offering investors an opportunity to buy strong and sustainable growth over both the near and medium term. This opportunity is the result of a confluence of several distinct circumstances that have worked to depress Gilead's share price far below its market value as measured by nearly any valuation metric.
Remarkable Innovation
Market Leading HIV Franchise
Gilead has developed some of the most important HIV treatments currently available to patients; ground breaking drugs that have transformed HIV infection from a death sentence to a manageable medical condition. Gilead's Truvada received FDA approval in 2004 and quickly gained a market leading position in the newest generation of HIV drugs. The latest iteration of Gilead's HIV franchise is Stribild, a wholly owned combination pill that includes both the company's older drug Truvada as well as investigational compounds elvitegravir and cobicistat. Stribild received final regulatory approval by the European Union in mid-2013 and has seen sales increase ten-fold from 2012 to 2013. With Truvada, Atripla, and now Stribild, Gilead will continue to hold a market leading position in HIV treatment in the coming decade.
Revolutionizing Hepatitis C Treatment
The World Health Organization estimates that between 130-150 million people are currently infected with Hepatitis C, a RNA virus that leads to chronic liver infection, cirrhosis, and in most cases death or the need for liver transplant for those lucky enough to be deemed a suitable candidate. In the United States alone there are between 3-5 million Hepatitis C patients, a number that is widely expected to grow as public health officials step up their efforts to identify the infected.
First generation antivirals used to treat Hepatitis C were largely ineffective, with cure rates well below 50% for most patients. Gilead is poised to turn the bleak Hepatitis C story around thanks to its revolutionary Sofosbuvir compound (Sovaldi) it acquired from the Biotech firm Pharmasset. Sofosbuvir received FDA approval in December 2013 for treatment of Hepatitis C (Genotypes 1-4) either as a standalone treatment or in combination with ribavirin and an interferon. Sofosbuvir promises to alleviate the pain and suffering of millions of Hepatitis C patients facing the prospects of chronic liver disease and has shown a staggering 95% cure rate in clinical trials. Gilead will use Sofosbuvir as the center piece of an evolving Hepatitis C franchise. Currently the FDA is poised grant final approval for a Sofosbuvir drug that is a combination of Sofosbuvir and Ledipasvir that does not require the use of interferon, an important step in reducing patient side effects that led to the FDA fast tracking the drug with its "breakthrough therapy" designation.
Pipeline
Gilead has a robust and promising pipeline of drugs that are in various stages of the FDA approval process. The company currently boasts ten compounds that are in either Phase 3 trial or that have been submitted for final regulatory approval. None of these future drugs are expected to have the "game changing effect" of Sovaldi, but they will contribute to a growing and diversifying portfolio of Biopharmaceuticals for the company in coming years.
The $1,000 Pill
Gilead set pricing for its Hepatitis C drug Sovaldi at $1,000 a pill, making the recommended 12-week treatment regimen (recommended for the majority of Genotypes) a seemingly absurd $84,000! Spurred on by the eye popping price tag health insurers, government oversight committees, and the media reacted with outrage. The maelstrom culminated with retiring California Representative Henry Waxman sending a public letter to Gilead asking for an explanation of the company's pricing of the break through antiviral. Shares of Gilead plummeted nearly ten percent in the two-day period after the letter became public.
A more constructive analysis of Sovaldi pricing shows that $84,000 is a bargain for curing a patient of Hepatitis C and the chronic liver disease it engenders. The toll a person with chronic liver disease takes on the healthcare system may be difficult to quantify, but most experts have suggested that it runs far higher than the $84,000 cost of Sovaldi. Managing chronic liver disease, the far higher incidences of cancer, and the eventual need of transplant can easily double the price for the 12-month cost of Sovaldi. Dr. Camilla Graham of Beth Israel Deaconess Hospital in Boston was recently quoted in a NPR report:
"People were very shocked by the price, because it hit a psychological barrier in terms of. 'This is too expensive…We have a lot of drugs where we spend in that $80,000 to $100,000 range -- and the outcome is not cure,"
The current national focus on reducing costs in the system will likely lead to continued pressure on the seemingly easy '$1,000 a pill' Sovaldi, but the concern isn't really the cost of the drug but the number of patients who could potentially need the drug. Insurers are rightly nervous at the costs of $84,000 per each of the estimated 3-5 million Americans currently living with Hepatitis C. This could very well lead to negotiated reductions in Sovaldi pricing in the medium term.
The Biotech Sell Off: Guilt by Association
As the first quarter ground on through early disappointments in performance of the U.S. economy, the so-called polar vortex, and geopolitical instability in Ukraine Gilead and its high flying Biotech brethren fell out of favor with investors after being the darlings of the 2013 equity boom. Gilead saw its share price plummet from the low eighty dollar range to the mid-sixties as nervous investors took profits from the previous year's run-up and concerns over Sovaldi pricing intensified.
Yet the greatest catalyst for the Gilead sell-off was a kind of guilt by association, as the market sold Biotech ETFs (some heavily weighted with Gilead stock) and Gilead was lumped in with the lot. At the high end of its 12-month price range (low eighty dollars), Gilead shares seemed richly valued at around forty four times trailing earnings and the lumping in with other Biotech seemed reasonable. Yet Gilead was poised for a meteoric rise in both revenue and EPS thanks to the wildly successful launch of Sovaldi. Analysts attempted to model the adoption of the revolutionary Hepatitis C treatment and predict how it would impact the company's performance, but it would turn out that even the most optimistic estimates were in fact too conservative.
Q1 and the 'Show me Again' Market
Stock Halted in After Hours: Jaw Dropping Performance
Gilead's Q1 earnings were nothing short of spectacular as they exceeded the most optimistic Analyst's earnings and revenue estimates by over twenty percent, and beat the consensus by over fifty percent on EPS. While the company's HIV franchise showed continued growth, the phenomenal rise in revenue and earnings were driven nearly entirely by the launch of Sovaldi. Gilead's revenue doubled to five billion while earnings sky rocketed to $1.48 per share excluding one-time items, tripling its first quarter performance from a year earlier. In its first full quarter of sales, Sovaldi pulled in an astonishing 2.3 billion dollars in sales. The spectacular results caused the stock to be temporarily halted in afterhours trading.
"Yeah, but…"
Despite the initial euphoria that led to the afterhours halt of Gilead trading the day it reported Q1 performance, the market quickly adopted an underwhelmed stance on the clearly overwhelming quarterly results. To be sure, Gilead's share price has been slowly climbing in an overall choppy market, but it has yet to reach its previous high from February of this year. This underperformance of the stock compared to the company's dramatic sales and earnings performance is a consequence of three main factors. 1. The persistent weakness in the biotech and so-called "momentum" stocks largely traded on the NASDAQ. 2. Continued concerns about Sovaldi pricing in light of pressure from the government, media, and health insurers. 3. The threat of competitors' drugs that show similar performance to Sovaldi and that may be granted FDA approval in the coming year.
A Large Enough Pie
It is very likely that Gilead will not be able to sustain its current Sovaldi pricing due both to competition from emerging drugs with similar clinical trial results as well as pressure from insurers and governments who will shoulder the burden of the wonder drug's current price. While this may have near-term concern for the rate of earnings growth, a modestly lower Sovaldi price will still permit robust earnings and revenue growth as the drug reaches a larger patient population over time. Gilead has already made major price concessions on Sovaldi around the world in developing countries (most famously in Egypt) but spread of Sovaldi's use and growing pool of patients will likely blunt the effect of lower pricing in the U.S. and the rest of the developed world. The market's concern over Sovaldi pricing is overdone and misses the larger growth picture for Sovaldi.
A Unique Value Opportunity
The rapid adoption of Sovaldi, the continued growth of Gilead's HIV franchise, and the company's strong pipeline of drugs have transformed shares of the company from a speculative investment with anticipated future growth (e.g. Tesla, Facebook, Twitter, and a slew of small Biotech firms) to those of a dramatically undervalued company with strong and sustainable earnings growth, high free cash flow, and a commitment to increasing shareholder value.
Earnings
Gilead's fundamental earnings outlook is uniquely strong as it has locked in a long-term driver of earnings and revenue growth with Sovaldi. The global Hepatitis C market is enormous and growing in the developing world, with approximately 2-3% of the world's population currently living with Hepatitis C infection. Sovaldi's debut quarter hardly scratched the surface of the 3.5-5 million Hepatitis C patients in the United States and has essentially not even reached the wider global market where the company's pricing will not be nearly as lucrative. The potential effect of Sovaldi on Gilead's earnings is so great that it is difficult for professional analysts to accurately and responsibly model. Current consensus estimates peg the company's earnings for the current year at $6.21 per share and 2015 earnings at $7.71 per share. There is a wide spread between the most pessimistic and optimistic analysts simply because the growth of Sovaldi and its pricing are difficult to model with the limited first quarter data currently available (See Below). While analyst modeling of Sovaldi sales will likely improve over time, it is not very likely that earnings estimates will be revised down from the current more conservative estimates of $4.21 per share this year and $5.62 per share for 2015. It is far more likely that actual earnings will trend more towards the high end of estimates.

(Source: Yahoo Finance)
Valuation
Gilead is currently undervalued to dramatically undervalued based on nearly any common market metric one wishes to apply. The company is currently priced at approximately 10.5x forward consensus earnings estimates and less than 9x its sales. Compared to its peers, Gilead is ludicrously undervalued and likely presents the best pure value play in the S&P 500.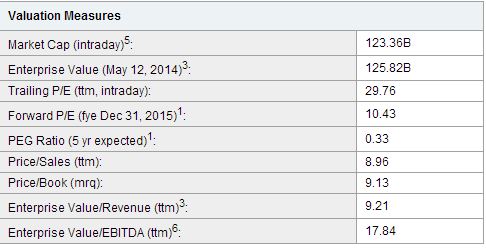 (Source: Yahoo Finance)
Gilead's current valuation when compared with the market or Biotech index clearly indicates a high potential for appreciation in the company's stock price. Current 12-month price targets range from between $65 to $135 with a consensus target of 99.50. The wide range of these estimates indicate analysts are currently unsure how to properly model the impact of Sovaldi on Gilead earnings. Based on the first quarter Sovaldi performance, the cost/benefit position of Sovaldi over comparable Hepatitis C treatments, and the large population of Hepatitis C patients, these estimates are likely far too conservative.
Summary
Gilead Sciences represents one of the best investment opportunities in the S&P 500. The company presents investors with a strong and growing portfolio of products securely anchored by the game changing Sovaldi. The earnings potential for Sovaldi and its forthcoming Sovaldi/Ledipasivir cousin are currently difficult to model but will likely surprise to the upside of analyst estimates. At the current share price even the most pessimistic of analysts' earnings estimates are predictive of considerable share appreciation. A fortunate confluence of events, including political and media pressure on pricing, a sector sell-off, a near-term investor aversion to so-called momentum names, concern over Sovaldi competition and a misplaced market skepticism over the sustainability of recent revenue and EPS growth, has led to a unique investment opportunity in Gilead Sciences.
Disclosure: I am long GILD. I wrote this article myself, and it expresses my own opinions. I am not receiving compensation for it (other than from Seeking Alpha). I have no business relationship with any company whose stock is mentioned in this article.