As per a 2011 report by the World Health Organization (WHO), an estimated 2 billion people consume alcoholic beverages around the world. The size of the global alcoholic beverage market is expected to reach an estimated $1,369.5 billion by 2018, with China and India accounting for nearly 85% of this projected growth.
Key growth factors:
A large portion of the population in these countries will reach the legal drinking age over the next few years.
There has been a consistent rise in the level of disposable incomes.
Social acceptability of women consuming alcoholic beverages has increased.
Top Five Global Distilled Spirits Companies (by Volume)

Source: ShankenNewsDaily.com.
Among the beer companies, Anheuser-Busch InBev (NYSE:BUD) leads the market with a 20.06% market share.
Market Share of Leading Beer Companies in the World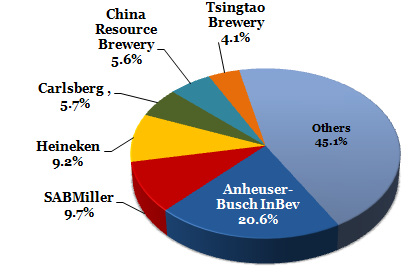 Source: Business Insider.

The top five beer companies represent more than 50% of the global beer market (vs. 32% in 2003). The last six years have witnessed an accelerated consolidation process in both spirits and beer market.
Major M&A activity in the last six years:
There was InBev's acquisition of Anheuser-Busch in 2008.
There was also Heineken's (HEIA) acquisition of Asia Pacific Breweries in 2012.
In 2012, Diageo (NYSE:DEO), the world's largest spirits company, acquired an ~29% stake in United Spirits Ltd., the world's second largest spirits company. Diageo has made an open offer for an additional 26% stake in United Spirits Ltd. If successful, Diageo's total stake will rise to 54.78%.
Next Big Opportunity in India: IMFL and Beer
The Indian alcoholic beverages market is the second-largest market in the world by volumes and third largest by value. The biggest component of the Indian market is locally made country liquor, which contributes ~ 48% to the overall market. Indian-made foreign liquor is the fastest growing segment and is estimated to grow to 56% of the total market size by the year 2015. Domestic companies in India like Tilaknagar Industries are planning to re-brand and upgrade their country liquor offerings and sell them as Indian-made foreign liquor.
Why There Will Be Consolidation in the Indian Beer Market
India is the fourth largest beer consumer in the Asia-Pacific region by volume. According to Beeronomics report, India's per capita consumption of beer will rise to 2.6 litres by 2016. The Indian beer market is dominated by United Breweries Limited (UBL), which is a part of the broad based BSE 100 index, followed by SAB Miller India Limited.
Click to enlarge image.


Source: United Breweries IR Presentation.
Given the potential in the Indian beer market, many international companies have tied up with domestic players. Major alcoholic beverage companies like SABMiller (NYSE:SAB), Anheuser Busch InBev, and Carlsberg (OTC:CGBWF) have launched their brands in partnership with Indian companies.
Large potential consumer base: India is a young country, with around 60% of the population between the ages of 15 and 55 years. The median age of India's population is ~ 26 years. A large part of this population will attain legal drinking age over the next few years.
Rising disposable incomes: India is one of the fastest growing consumer markets in the world, alongside China. By 2020, India is projected to be the world's third-largest middle class consumer market after China and the U.S. By 2030, India is expected to enjoy a consumer spend of around $13 trillion, higher than China and the U.S.
Changing social attitudes toward liquor consumption: This is happening among urban, upper middle class families. There has been an increase in the social acceptability of women consuming alcoholic beverages.
Consolidation: This is the only workable method to enter Indian market, as obtaining a new liquor license and setting up distilleries are extremely time consuming and capital intensive processes. A new company must obtain separate licenses to sell alcoholic beverages in each state. There is also a ban on advertising of liquor products other than at the point of sale, which makes it extremely difficult for a new entrant to create brand awareness. The acquisition of an existing company with valid licenses to sell in most states is a far easier solution, even if that may involve the payment of a huge premium.
Stocks to Watch Out For
Companies likely to make an acquisition in the future are Diageo, Anheuser Busch InBev, SABMiller, and Carlsberg. Companies likely to sell stakes are United Breweries Limited and Mount Shivalik.
Disclosure: I have no positions in any stocks mentioned, and no plans to initiate any positions within the next 72 hours. I wrote this article myself, and it expresses my own opinions. I am not receiving compensation for it (other than from Seeking Alpha). I have no business relationship with any company whose stock is mentioned in this article.