On a pure valuation basis The Walt Disney Company's (NYSE:DIS) stock may look fairly valued but for investors who realize the virtue of investing in growing companies with great future prospects Disney surely has a lot of appeal.
Share Price
Disney's stock is trading around $81.7 as of May 7, 2014 up 0.6% after announcing its second quarter FY 2014 results on May 6, 2014. The stock generated a return of more than 17% in the past six months compared to 6% return for the S&P 500 index.

Source: Google Finance
Record Profits in March 2014 Quarter
Walt Disney is a diversified entertainment company with operations in five business segments: Media Networks, Parks and Resorts, Studio Entertainments, Consumer Products and Interactive.
Disney posted its Q2 FY 2014 results beating analysts' estimates. Revenue increased 10% YoY to $11.65 billion led by a 35% surge in Studio Entertainment from blockbusters Frozen and Thor: The Dark World Frozen opened in numerous markets including Japan, China, and South Korea in the Jan-Mar quarter of 2014. Since opening in Nov 2013, Frozen has recorded $1.8 billion worldwide making it the world's highest grossing animated film of all time. YoY segment-wise revenue and operating income breakdown is detailed in the table below.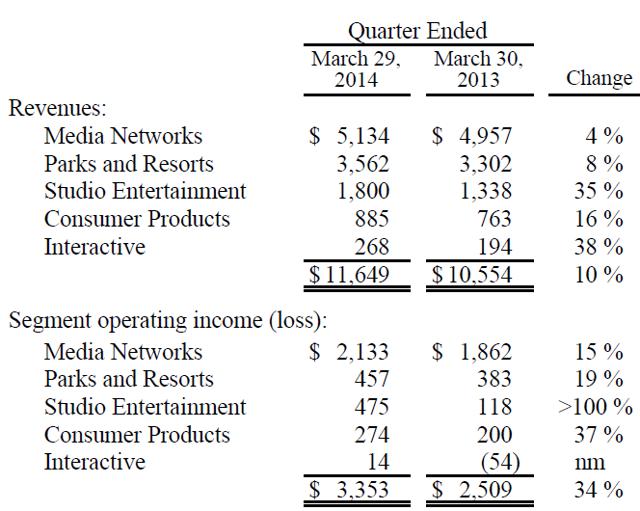 Source: Disney's Q2 FY 2014 Results
The company also posted double digit growth in the operating margins of each of the five segments. The improvement in margins is very encouraging especially for the Media Networks segment where growth is a little slow at only 4% YoY.
Diluted EPS for Q2 increased 30% to $1.08 from $0.83 in the prior-year quarter. Adjusted EPS for the quarter increased 41%YoY to $1.11 from $0.79. Disney CEO, Bob Iger, termed the earnings as the highest in the history of the company.
Disney: A Growth Story
Disney is a typical growth story. The company's revenues have been increasing continuously for the last 20 years, if we agree to set aside 2002 and 2009 due to recessionary periods. Since 2002, the annual revenue has increased from $25.4 billion to $45.04reflectinga growth rate of over 9% despite the 2008 recession in between.
Similarly, the company's earnings have constantly been on the rise since 2002 with a brief pause for the 2008 recession. For the last three years, Disney's earnings growth rate has been over 12% with an EPS growth of more than 18%.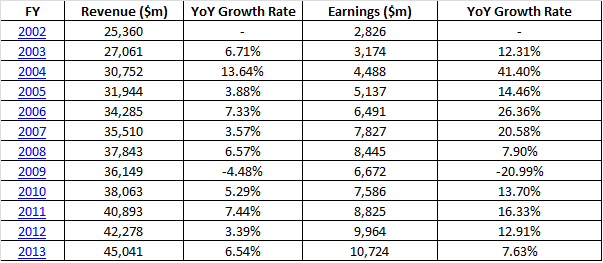 Source: Wikipedia
Bright Prospects in the Foreseeable Future
Disney has a strong business model. It builds rich global brands for its characters, and cashes in on them through theme parks, merchandise, toys, and games. The company has Avengers 2 as well as Star Wars 7 in its pipeline. The 2012 Avengers movie earned $1.52 billion at the box office while Star Wars 6 has generated $475 million since it was released in 1983.Star Wars 7 is expected to be a bigger project as the company is investing six times the budget of its predecessor, Star Wars 6. The company has also agreed to an extra $800 million investment to expand its Shanghai Disney Resort with 43% of the additional amount coming from Disney and the rest from the Chinese joint venture partner. In the Interactive business, Disney has announced Disney Infinity will include Marvel superheroes in fall 2014. Two new animated movies are also in the pipeline from Pixar: Inside Out (expected in Jun 2015) and The Good Dinosaur (expected in Nov 2015).
So, considering these several projects in the queue, I would say, Disney is headed in the right direction. Since a number of these projects are expected to materialize in 2015 next year is bound to be phenomenal for Disney!
Disney's Valuation is Fair Considering its Past and Attractive Factoring in the Future
Disney currently trades at a trailing twelve month P/E of 20.7, compared to Viacom Inc.'s (NYSE:VIA) 15.5 and Time Warner Inc.'s (NYSE:TWX) 15.4. However, I believe Disney deserves to trade at premium multiples compared to these competitors owing to its higher growth rate, diversified businesses. and lower debt to equity ratio. Furthermore, looking at the future earnings prospects Disney is trading at a forward P/E multiple of just around 17. Reuters estimates Disney's FY 2014 earnings stands at $4.05 and $4.59 for FY 2015 with a long-term EPS growth rate of over 16%.
What adds to its attraction is the fact that Disney is generous with buying back its stock. In recent years, the company repurchased $4 billion worth of its shares annually and has enhanced the target for FY 2014 to $8 billion. This will positively impact the earnings per share in the future. The company also offers a 1.06% dividend yield with a 5 year dividend growth rate as high as 19.7%.
Conclusion
Disney is a world leader in mass media entertainment. The second quarter of FY 2014 the company posted double digit or higher operating income growth across all five of its business segments. With the world economy quickly recovering from the negative impacts of the recession the entertainment industry's revenues are once again catching up. Keeping in mind the number of projects ahead Disney's earnings are expected to show further increases. The share repurchase program has become more aggressive thus boosting EPS. Disney is a perfect stock for investors who love to buy stable, growing companies and have the patience to hold onto them to see their investments prosper.
Disclosure: I have no positions in any stocks mentioned, and no plans to initiate any positions within the next 72 hours. I wrote this article myself, and it expresses my own opinions. I am not receiving compensation for it (other than from Seeking Alpha). I have no business relationship with any company whose stock is mentioned in this article.