INDIA: IS "I" BACK IN BICs?
The Indian market hit an all-time record high on May 12. Some of the analysts have termed this stock rise as Modi rally, named after the potential prime minister of India and leader of BJP (Bharatiya Janta Party). India's economic growth ebbed in the last decade and resultantly investors lost interest in "I" of BRIC. Indeed, the "R" country in BRICS, Russia, is now considered by many to be more of a "trader's bet' rather than comfortable for long term investors. So, even more attention is ready to be focused on India. Investors pulled out about $7.8 billion out of Indian equities over the previous 12 months, according to EPFR Global. But the Modi rally has motivated global investors to put money back into the market in last few months as foreign institutional investor poured in almost $1.3 billion January 2014 in the Indian market. The S&P BSE Sensex, India's major stock index, is hitting a record high in May; it's up 8.8% in 2014 (Source: Yahoo finance), aided by renewed enthusiasm about change in government.
Investors believe that Modi would de-bottle neck projects and economic growth would surge. This is an overly-simplistic notion as many stalled projects have more to do with various state governments than the central government. It is important to understand India's lost decade under the UPA (United Progressive Alliance-existing government of Congress party and its allies) to develop a reasonable framework for India's future growth and potential options for Modi, assuming he becomes the prime minister of India.
India's lost decade-2004 to 2014
The UPA inherited an economy that was growing at 7% in 2004-05, and it will bequeath an economy that is likely to drop below 5%. The lost decade of India under the UPA rule has been blamed for a majority of stifling factors including corruption, expensive populist schemes, and lack of institutional infrastructure.
Total black money outflow from India was nearly $343 billion during 2002-2011, according to Global Financial Integrity Report. Most of the corruption charges relate to the period of UPA-1 (between 2004 and 2009). India saw about $96 billion of outflows in 2004-2008, almost three times compared to $32 billion under NDA's (National Democratic Alliance-BJP and its allies) regime in 1999-2003.
UPA government had come out with various entitlement schemes like the right to education, right to employment, right to food. These populist measures helped the government to win the second term. But these schemes suffered from faulty conception and inept implementation. They have increased the volume of subsidies under UPA, from 1.6% of GDP in the last year of NDA to 2.6% in 2012-13, according to Economic and Political Weekly.
Under the UPA, infrastructure spending as a percentage of GDP actually increased from 5% to 7-8%, according to London School of Economics. The UPA generated additional funding by opening up venues to private capital and public private partnerships. The mega scandal that now plague the UPA, especially "coal gate" and 2G spectrum allocation, emanate from infrastructure expansion, not its stagnation. The UPA failed to put in place a strong institutional infrastructure to keep leakages at bay.
Can Modi bring back life in "I"?
So the major question remains whether Modi can bring back "I" in BICs. Considering Gujarat as an example, I believe Modi's strength lies in developing a strong institutional infrastructure and an accountable bureaucracy to promote industrialization and privatization of key sectors like ports, water, and power to bring back India on the growth path. Although many critics point out that Modi got a well-developed Gujarat to run, he clearly steered it in a better direction unlike the UPA that made a mess of India.
Growth: Overall, Gujarat's gross state domestic product has progressed at an average of 16.6% a year from 2001 to 2010 under Modi's rule, up from an annual average of 5.1% from 1980 to 1990 and 8.2% from 1991 to 1998, according to India's Planning Commission.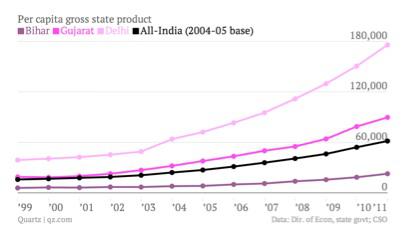 By another measure, gross state product per capita, Gujarat's domestic product has also grown faster than the overall average, but remains behind Goa, Maharashtra, Tamil Nadu and others (Source: Central Statistical Organization). However, the leading states also benefit from presence of major growth-centric cities such as Mumbai and Chennai, and higher level of industrialization.
Unemployment rates: Gujarat's unemployment rate is low since the 1990s, according to the latest unemployment survey for the 2012-2013 fiscal year. Overall, Gujarat ranks fourth in lowest unemployment rates based on the Labor Bureau data, which dates back to 2009. Based on NSSO data, Gujarat's rural unemployment ranking in 2011 was second compared to fifth in 1999, and urban unemployment ranking was first in 2011 compared to first in 1999.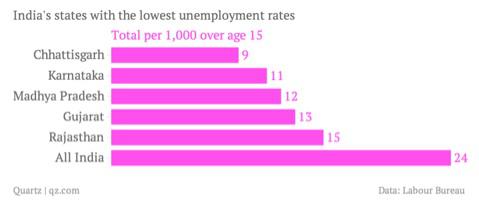 Foreign Direct Investment: Modi has made significant efforts in bringing investments in Gujarat, a push implemented by high-profile investment summits and the construction of new factories by Bombardier and other foreign manufacturers. On FDI inflows, though, Gujarat has been top five destinations in India but lags behind traditional "gateways", according to a Reserve Bank of India. The report is based on RBI offices in major cities, so these cities can be considered a proxy for their respective states.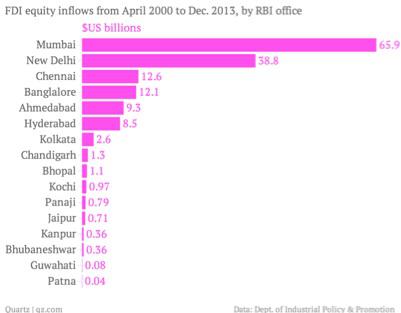 How Modi's Gujarat works?: Gujarat's success in implementing large scale project lies in integrating state regulators in the process to build a realistic plan. Modi has leveraged on Gujarat's entrepreneurialism and a responsive bureaucracy and has kept the local politicians away from harassing officials. Recently, in an Accenture survey of the business environment in the states, Gujarat earned the credit for the best land acquisition polices with very limited government participation.
What Modi can do?: Modi is not interested in personal enrichment which is an anomaly as many of the politicians who have shaped India's economic policies to date have amassed personal wealth. Unless Modi's party wins the 272 seats necessary to govern alone, Modi will probably need the support of at least one of the "three ladies," a strong group of horse-traders that includes Ms. Jayaram; Mamata Banerjee, the leader of West Bengal; and Mayawati, a former leader of Uttar Pradesh. Modi's party has had difficulties in the past in building a coalition government. Its first taste of national power in 1996 ended within 13 days after failing to attract enough allies. However, I believe that Modi's most likely collaborator Ms. Jayaram must have learned the lesson from her withdrawal of support from Modi's party in 1999, noting that after her impulsive decision she could not form an alliance with a ruling central government coalition for a decade.
The other major hurdle in front of Modi is getting enough support in India's parliament system to pass laws and amendments. India has two houses of the parliament. The lower house of the parliament (the Lok Sabha) consists of 543 members, where many expect NDA to win the minimum 272 seats needed. However, the upper house of the parliament (the Rajya Sabha) with its 250 members also needs to pass any bills and amendments before they are adopted. These members follow six year terms, and presently NDA has only 61 members. Other parties, and particularly the Congress Party, which alone has 72 seats, have the power and the incentive to put a wrench in Modi's plan.
As the head of central government, Modi will be able to meet at least part of the expectations of renewed growth if not any major structural changes in the short run. In long run, I can expect Modi to leverage on his Gujarat model experience to sort out structural issues like state-government confrontations over land-acquisition issues which has accounted for about 55% of India's delayed projects constituting about 5% of nation's GDP, according to a JPMorgan report. Moreover, tight monetary policies and a central-government budget deficit (4.6% of GDP for FY 2013) won't provide much room to Modi to ramp up stimulus spending.
Long term outlook on India
It is still a low-growth world, so if India manages to increase its growth rate up to 6%-7%, it can become meaningful again in global markets because it's a $2 trillion economy. For too long, Indian politicians have allowed inflation as a necessary feature of growth. Raghuram Rajan, the new central banker in India, has started to shake up inflation and most likely NDA would retain him because of his formidable stature. He has already started setting right priorities for example, basing India's monetary policy on more relevant consumer inflation, which coming off from 11.24% in Nov 2013 to 8.30% in March 2014. Since his appointment, the rupee has strengthened from 68 to about 60 to the dollar, and India's foreign-currency reserves have risen markedly as a result of his policies.
The other long term fundamental factors for India are still intact. According to Nadel from Royce funds, in eight years, India will have as many households with disposable income of $10,000 or more as the U.S. or the euro zone. India also has low penetration across major categories, for example, the penetration rate for cars, computers, laptops, and air conditioners is less than 5%, and for refrigerators, washing machines, and motorbikes, below 15%, according to Edelweiss India. In fact, rural areas that have about 70% of India's population are booming. Wages have risen by close to 15% per annum over the past ten years, compared to urban wages which are down more than 2% over the same period. Since India is coming from such a low base, it has more scope to surprise than other countries in BICs. With GDP per capita of just US$1,250, India still has a lot of catching up to do with the rest of the developing world (GDP per capita of close to US$10,000).
Another Seeking Alpha contributor-Asia Confidential has pointed out how India is bottoming-out across major indicators and any positive changes by the new government will only add to growth.
The current account deficit has come down significantly. The last quarter saw the lowest CAD number in five years due to improved exports and lower gold imports. Bank of America Merrill Lynch forecast India's CAD will be 2% this fiscal year compared with 5% in 2013.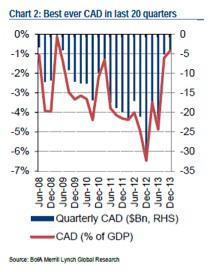 Corporate earnings seem to be improving. The earnings revision ratio has been rising for the past eight months. Yes, it's still not great but at least it's heading in the right direction.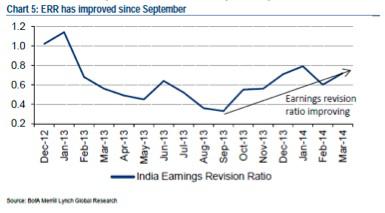 Besides changes across major indicators and potentially better leadership from Modi, India has also seen some proactive measures by its legal system in curbing down corruption. The Supreme Court of India has given more teeth to CBI (Central Bureau of Investigation)-India's prime investigation body-to treat all the government officials with equality and make them face the same process of inquiry in graft cases under the Prevention of Corruption Act.
Assuming Modi comes to power, it will certainly be a welcome change for India. Since the country has been languishing for so long, any changes in shaking up the system will be productive for investments which can boost economic growth and keep inflation in check. Thus, even with factoring in the recent rise, India looks ready for long term investors to at least begin putting a modest portion of investment money to work here.
Disclosure: I own no Indian Equities. Investment is purely through funds.
Disclosure: I have no positions in any stocks mentioned, and no plans to initiate any positions within the next 72 hours. I wrote this article myself, and it expresses my own opinions. I am not receiving compensation for it. I have no business relationship with any company whose stock is mentioned in this article.