In Q1 2014, Anheuser-Busch Inbev's (NYSE:BUD) cost of sales decreased, driving EBITDA margins up 10.8%. EPS beat estimates by $0.08 at $1.16. Revenue of $10.61B beat estimates by $90M and signifies a year over year growth rate of 15.7%. The Super Bowl marketing campaign was highly successful, and Bud Light and Budweiser generated nearly half of all social media traffic during the game across all categories, paving the way for a summer marketing program.
In Mexico, EBITDA grew 27%, fueled in part by a World Cup related promotion. EBITDA in Mexico grew 15%, and market share was 75.5% compared to the 67.5% historic average. An important part of the Q1 call was the company's presence in China. In China, EBITDA increased over 47%, and EBITDA margin increasing to 20.4%. Anheuser-Busch is now shifting focus, and plans on having a significant presence at the 2014 World Cup in Brazil, which kicks off in a little over a month.
2014 World Cup
As mentioned in the Q1 call, BUD has a tremendous opportunity to capitalize on the influx of revenue surrounding the World Cup happening in Brazil in just about a month. As shown by the chart below, Brazil is BUD's third largest market by volume and holds the highest share of the market there. We can expect to see a bump in sales during these next few weeks and into mid-July.
| | | |
| --- | --- | --- |
| Country | Total Volume (million hectoliters) | Estimated Market Share |
| China | 442.9 | 14.1% |
| United States | 234.3 | 47.2% |
| Brazil | 122.1 | 67.9% |
| Mexico | 65.4 | 58.4% |
| Russia | 76.7 | 15.1% |
| Germany | 82.8 | 8.8% |
| United Kingdom | 44.4 | 17.2% |
Source: Form 20-F, effective date Dec. 31, 2013.
Long-term Growth in China
In the Q1 call, CEO Carlos Alves de Brito addressed a question regarding market penetration in China and the future of the company there.
Again, the premium segment in China is growing way ahead of the total industry. We've always said 15% because that's what we see on the markets. They're comparable, but we still have lots to do to get there. So that's going to be -- again, that's exciting because, I mean, we have all these results, all this growth the last 5 years and the premium segment is still underdeveloped compared to some other markets, so that's very good. And Budweiser has more than 50% of this premium segment and growing, so that's very encouraging. So again, strategy is working, we'll continue to support it. And now, on top of that ... we'll have Corona that will also be arriving in our hands at some point in China. So that's also very exciting.
China is the world's largest market by volume, but Anheuser-Busch has yet to gain a significant market share as they have in the US, Brazil, and Mexico. If Q1 results of growth in China continue into the coming years, this is something to be excited about.
The Rise of Craft Breweries
There has been an emergence of craft breweries in recent years, rising in volume by 15% from 2011 to 2012, and 18% from 2012 to 2013. Overall dollars rose 17% from 2011 to 2012, and 20% from 2012 to 2013. As of March 12, 2014, the Brewers Association is aware of 413 brewery openings in 2013, compared to only 44 closings. Craft brewing sales share in 2013 was 7.8% by volume and took up 14.3% of sales by dollars. The rise of craft breweries presents a great opportunity for the company to continue utilizing its expansion model by acquiring some of these new brands.
Valuation and Technicals
BUD currently has a P/E ratio of 12.42 and a forward P/E of 18.18. Compared to competitors such as Boston Beer Co. (NYSE:SAM) and Molson Coors (NYSE:TAP) with P/Es of 44.42 and 20.76, respectively, and given the industry average of 19.5, the stock is well-priced. Net profit and operating margins are also much larger than both SAM's and TAP's, and at 28.24% in 2013, better than the industry average of 27.2%. However, the stock is trading at 98.7% of its 52-week high.
Click to enlarge image.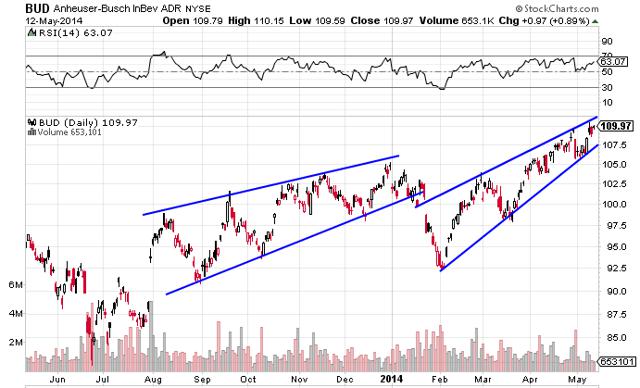 The RSI has been toying with overbought territory for a few months now, and is still approaching overbought conditions now. Additionally, the rising wedge pattern we saw from this past August to January is repeating itself, indicating another dip could come soon. I recommend getting in on the dip to come. Hopefully, this will come before the World Cup is in full swing, and the dip will give investors a solid discount.
The Takeaway
Anheuser-Busch's global scale and margins allow it to perform significantly better than its peers. Q1 showed a bright outlook, and management gave good insights regarding both the upcoming World Cup in Brazil where BUD controls 67% of the market, and the expanding markets in China. These signs point to increased revenues in both the short and long term.
Additionally, with the popularity of craft breweries on the rise, the company has a great opportunity to continue its pattern of expansion through M&A by adding craft brews to its already extensive portfolio. Although fundamentals indicate BUD is trading at a discount to peers, the technicals indicate a bearish pattern, and a dip in price could be in sight. If the pattern from August to January repeats itself soon, I recommend that investors use it as an opportunity to pick up shares.
Disclosure: I have no positions in any stocks mentioned, and no plans to initiate any positions within the next 72 hours. I wrote this article myself, and it expresses my own opinions. I am not receiving compensation for it (other than from Seeking Alpha). I have no business relationship with any company whose stock is mentioned in this article.