The gold market is reaching a point of maximum frustration, in terms of forecasting future price moves.
The SPDR Gold Shares ETF (NYSEARCA:GLD) started the year by jumping out of the gate with a 15% bounce from oversold levels that lifted the spirits of many long-term investors. However, subsequent language from the Fed confirming the pace of tapering and interest rate policy led to a reversal of fortunes that has been slowly bleeding the price lower.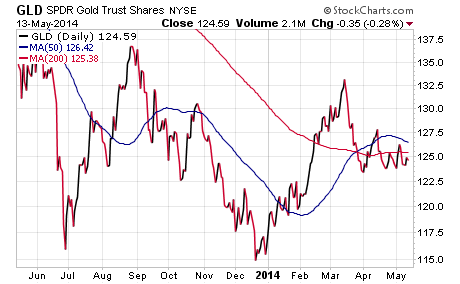 One of the more interesting changes in the price action of gold this year is that it has completely decoupled from stocks, bonds, and currencies, in terms of relative price action. It has not been viewed as a flight to safety or inflationary hedge, which has confounded many traders that like to glean an edge with respect to price trend.
More recently, the biggest drivers for intra-day jumps in both GLD and the iShares Silver Trust ETF (NYSEARCA:SLV) have been geopolitical risk with respect to Russia and Ukraine tensions. However, with calmer heads seeming to prevail, those brief rallies rapidly fizzle in subsequent trading sessions.
Right now, GLD is trading mostly sideways, with its 200-day moving average flattening out considerably. This is indicative of an asset that has lost its way in terms of bullish or bearish momentum. In my opinion, the tightening consolidation is adding a level of frustration for investors that are looking for a break in either direction to confirm their trading bias.
Another interesting data point has been fund flows, which show very little net change in the total assets attributed to GLD since the beginning of the year. According to ETF.com, GLD has lost $671 million in investor redemptions in 2014.
While that may sound like a large number to many ETFs, when you consider that GLD has $32.5 billion in total assets, it represents a net change of only 2%. The weekly data shows a tug of war between redemptions and inflows that has yet to attract significant new money.
From a fundamental perspective, current trends suggest that demand in Asia is continuing to drive the majority of purchase activity, with China and India as the leading consumers. However, further price increases will need to be supported by stronger consumer and investment activity in developed nations as well.
A look at a 3-year price chart shows a much different picture than recent trading activity has indicated. Many market technicians are pointing to the double-bottom formation that has supported GLD at $115, and the potential for much higher prices after years of sustained declines.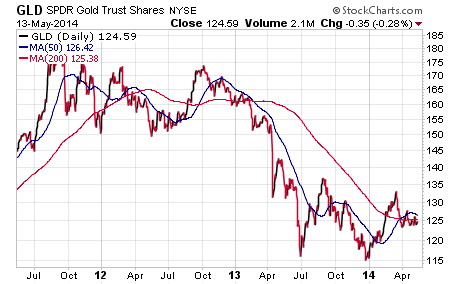 The caveat is whether or not those lows can hold and ultimately support another leg higher.
The same can be said for gold mining stocks, as represented by the Market Vectors Gold Miners ETF (NYSEARCA:GDX). This ETF has accumulated a similar technical pattern, and appears to be trading primarily on the price action of gold bullion, rather than the broader stock market, which is making new highs. Gold mining stocks are typically more volatile and subject to wider price swings than bullion.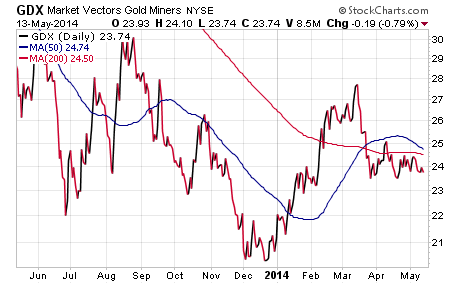 Ultimately, this directionless precious metal will find a new course, and I will be able to assert a much stronger conviction for implementing it in my clients' portfolios. However, for the time being, I am continuing to stand aside and wait for a more meaningful opportunity. While I freely admit that the wait can be frustrating, I believe patience will pay off as we get additional data to support a bullish or bearish case.
If you do decide to dip a toe in the murky waters that surround this sector, I recommend that you do so with a trailing stop loss or sell discipline to mitigate downside risk.
Disclosure: I have no positions in any stocks mentioned, and no plans to initiate any positions within the next 72 hours. I wrote this article myself, and it expresses my own opinions. I am not receiving compensation for it. I have no business relationship with any company whose stock is mentioned in this article.
Additional disclosure: David Fabian, FMD Capital Management, and/or clients may hold positions in the ETFs and mutual funds mentioned above. The commentary does not constitute individualized investment advice. The opinions offered herein are not personalized recommendations to buy, sell, or hold securities.