Alibaba's recent IPO filing has been discussed at great length with valuation estimates mostly ranging from $136 billion to $250 billion. The upcoming Alibaba IPO has garnered a lot of attention for a number of reasons including the size of the offering, the growth potential of the business, the rich valuation, and Yahoo's large stake. To make matters even more interesting, the Alibaba IPO is coming at a time when high growth high valuation stocks have been under heavy selling pressure. I believe the best way to play the upcoming Alibaba IPO is with a pairs trade: long Yahoo (YHOO), short Amazon (NASDAQ:AMZN).
Yahoo: The bull case
The bullish case for YHOO based on the upcoming Alibaba has been well discussed already on Seeking Alpha so I will not spend too much time discussing it other than to reiterate the main thesis. The bullish thesis for YHOO is based on the idea that the company is worth significantly more than its current valuation due to monetization of the Alibaba stake. YHOO owns about 24% of Alibaba, so if the IPO were to value the company at $200 billion YHOO's stake would be worth close to $50 billion before tax. YHOO, currently trading around $35 per share, is currently being valued at about $35 billion. In addition to Alibaba, YHOO also has its traditional U.S. business which, while profitable, appears to be in decline. YHOO also owns a 35% stake in Yahoo Japan. Of course, playing the valuation game with YHOO is difficult because, right now, we really don't know what Alibaba is worth.
Yahoo Stock Falls
As shown by the chart below, YHOO shares have fallen over the past few months despite the announcement of the Alibaba IPO. It is difficult to say why YHOO shares have not fared well of late but there are a number of explanations. Firstly, a lot of momentum tech names have come under pressure over the past few months and some of that selling may have spread to YHOO. Another possible explanation of YHOO's lackluster performance is the question about what exactly YHOO will do with the cash it receives from the partial sale of its Alibaba stake. YHOO's $1.1 billion purchase of Tumblr has raised the possibility that shareholders will not receive all of the proceeds from Alibaba in the form of a buyback or dividend. Finally, another possible explanation for why YHOO shares have been under pressure of late is the possibility that the market is factoring in a lower valuation for Alibaba due to recent weakness in comparable stocks.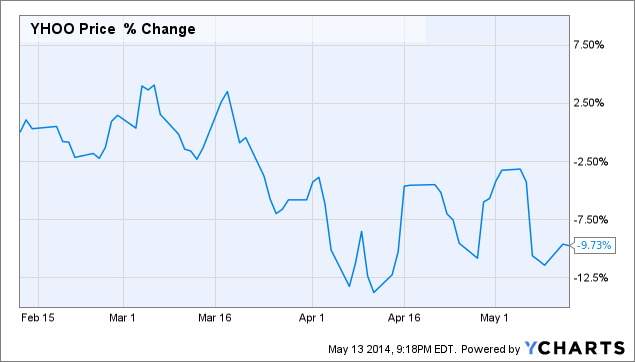 My View
For the most part, I believe in the YHOO bull case. I believe the sum of the parts is worth more than the whole. However, I also believe the reasons behind YHOO's recent decline should be closely examined. I think it is easy to argue that YHOO shares are worth $50 per share but much harder to argue that YHOO shares are worth $20 per share. In other words, to summarize my thinking, I view YHOO as having an asymmetrical risk/ reward profile with the skew being in the bullish direction.
What Worries Me
As a YHOO bull, my biggest worry is that the Alibaba IPO will disappoint and the company's valuation will be closer to $130 billion than $200 billion. In particular, the idea that Alibaba's valuation estimate has moved up over the past few months while other high valuation high growth names have come under significant selling pressure is questionable. As shown by the chart below, high flyers such as Twitter (NYSE:TWTR), Amazon , Yelp (NYSE:YELP), and SINA (NASDAQ:SINA) have come under heavy selling pressure.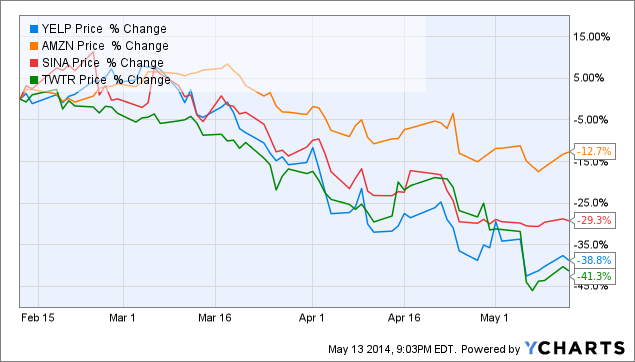 That being said, I still believe Alibaba will have a strong showing because I believe the IPO will be well managed in terms of supply. By controlling the size of the offering, the banks managing the IPO process can better ensure that the company trades a specific valuation. Of course, any engineered valuation will quickly fade away as more shares become eligible for trading. An interesting example of this is Twitter: the IPO was strong and the stock traded very well until recently when the lockup expired leading to a significant increase in the float.
Why Shorting Amazon Makes Sense
In my opinion, going short AMZN against a long position in YHOO makes sense because it hedges the most important risk: Alibaba valuation risk. If growth stocks continue to see selling pressure then AMZN shares should move considerably lower. On the other hand, if the sun again shines on high flyers such as AMZN then the Alibaba valuation will likely be close to the upper end of the range leading to a sharp rise in YHOO shares. AMZN is also an interesting short on the Alibaba IPO because it will likely be used as a source of funds. The money that goes into Alibaba will need to come from somewhere and AMZN seems a likely place. Alibaba and Amazon are somewhat similar and growth managers who already own AMZN will need to make room in the portfolio for Alibaba.
Conclusion
While I am bullish on YHOO, I am not uber-bullish and believe a short position in AMZN is a good hedge. If the Alibaba IPO disappoints and results in a lower valuation then I believe a short position in AMZN will pay off due to market conditions. On the other hand, if the Alibaba valuation is towards the higher end of the range AMZN may not do well due to selling pressure resulting from the need to raise funds for initial investments in Alibaba.
Disclosure: I have no positions in any stocks mentioned, but may initiate a short position in AMZN over the next 72 hours. I wrote this article myself, and it expresses my own opinions. I am not receiving compensation for it (other than from Seeking Alpha). I have no business relationship with any company whose stock is mentioned in this article.